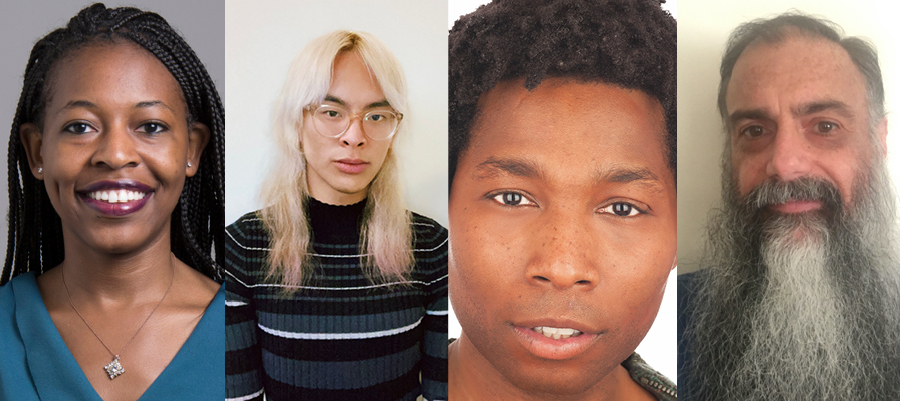 Dance Alumni Chat Series: Anyone Can Dance!
Friday, September 24, 2021 at 12:00pm
Zoom
FREE! RSVP required for access to virtual event.
The Dance Department's second Alumni Chat Series event features four amazing Wesleyan alumni, discussing the benefits of a dance degree and how their dance education at Wesleyan transformed their lives beyond the University. Featuring Trinithas Boyi '16, MA '18; elle hong '17; John Jordan '86; and Abdul Lateef Rasheed '97. Moderated by Artist in Residence in Dance Patricia Beaman, with an introduction by the Center for the Arts' Associate Director for Programming and Performing Arts Fiona Coffey.
Trinithas Boyi is a third-year medical student at the University at Buffalo's Jacobs School of Medicine and Biomedical Sciences. She is a recipient of the University of Buffalo's Social Justice and Equity Administration and Leadership Fellowship, John J. and Janet H. Sung Scholarship, and the R25 Summer Research Experience in Oncology at Roswell Park Comprehensive Cancer Center. Boyi received her B.A. in Neuroscience and Behavior and Dance and M.A. in Neuroscience from Wesleyan University, where she was a QuestBridge Scholar, Charles B. Ray Scholar, Thomas Ardnt Fellow, and Ronald E. McNair Scholar. She considers herself a refugee turned global citizen who aspires to provide medical services internationally: born in Rwanda and raised in Nairobi, Kenya, and Buffalo, New York.
elle hong (they/she) graduated from the University of Colorado Boulder with an M.F.A. in Dance and a Graduate Certificate in Emergent Technologies and Media Arts Practice. They received dual degrees in Dance and Sociology from Wesleyan University in 2017, and have shown performance work both nationally and internationally. Their recent M.F.A. thesis work "Bull in a China Closet" was featured in Movement Research's online publication Critical Correspondence for their May 2021 issue. They continue to show work, curate, and serve as a dramaturg for dance artists in the greater Colorado area.
John Jordan Ph.D. is a lecturer in the Department of Theatre and Dance at California State University, Fresno, where he teaches dance history, philosophies of dance, world dance, and introduction to dance. He received his Ph.D. in Dance History and Theory from the University of California, Riverside in 2001. Dr. Jordan is currently developing a course in dance and somatics based on the work of Moshe Feldenkrais, as well as helping to revive the Fresno Dance Collective to support dance performance in Fresno.

Abdul Lateef Rasheed (Movement Director/Teaching Instructor/Choreographer/Dance Producer) launched his performing arts/creative projects management team and company Abdul Latif-D2D/T during the tenure of his 2012-2014 Lincoln Center Institute guest artist residency and inaugural Rockefeller Brothers Fund Fellowship, for which he was its founding fellow and architect. He double majored in CSS and Theater and founded Precision Dance Troupe and Ensemble in his sophomore year at Wesleyan. Professionally Abdul Latif, he apprenticed with Alvin Ailey 2nd Company, was a company member of Donald Byrd/The Group and Jennifer Muller/The WORKS with whom he performed around the world before transitioning to performing on Broadway in the productions of The ion King, Hairspray, and the original La Scala Opera House production of West Side Story. He is the 2011 Ballet Hispanico Instituto Coreografico Residency Recipient, the 2013 Career Transitions Grant and Grant for Emerging Contemporary Artists Recipient, the 2014 John Cage Artist Grant Recipient, and a 2015 recipient of three national choreographic awards: The Joffrey Ballet's Winning Works Award, Council on The Arts BRIO Award, and the Capezio Choreography Finalist A.C.E. Award, affording him the chance to set his work in opera productions, as commissions for companies throughout the U.S. and as guest artist-in-residence at both Harvard and Columbia University. He was the 2018-2020 Center for Ballet and the Arts at N.Y.U. Fellow, developing his choreographed adaptation of Anton Chekhov's The Seagull, for which he was named the Rockefeller Brothers Fund 2021-2022 Culpepper Innovative Artist Grant Recipient. In 2022, he will launch T.A.L.C. - The Abdul Latif Collective.
Image above (from left): Trinithas Boyi, elle hong, Abdul Lateef Rasheed, and John Jordan.