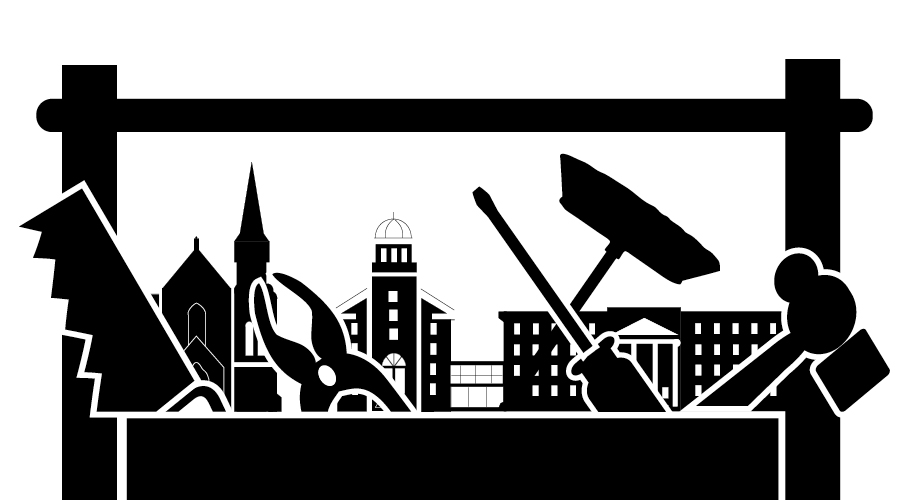 Forklift Danceworks: WesWorks—A Performance with Wesleyan University Facilities Staff
Thursday, October 14, 2021 at 7:00pm
Starting at Andrus Field (55 Wyllys Avenue, Middletown, Connecticut)
FREE! RSVP required.
Friday, October 15, 2021 at 7:00pm
Starting at Andrus Field (55 Wyllys Avenue, Middletown, Connecticut)
FREE! RSVP required.
Click here to read the News at Wesleyan article "Wesleyan Facilities Staff Showcased through "WesWorks" Performance (with Photo Gallery)"



Please wear comfortable shoes for walking and bring a lawn chair or blanket. Seating is outside on the grass, and this performance takes places at multiple locations around campus.
For parking options and performance location, please see this campus map.
Read the WesWorks performance program here.
WesWorks- Un Espectáculo con el Personal de Facilidades de Wesleyan University
GRATIS! Se requiere reserva.
Empezando en el campo Andrus (55 Wyllys Avenue, Middletown, Connecticut)

Please note that the performance on Thursday, October 14, 2021 at 7pm is an open dress rehearsal.
Se nota que la función del Jueves, 14 de Octubre, 2021 a las 7pm es un ensayo general abierto al público.

Click here to view photos from the open dress rehearsal on October 14 on flickr. Images by Campus News Editor Olivia Drake.

The general public will be welcomed back to Wesleyan this fall to enjoy Center for the Arts outdoor programming and exhibitions in both the Ezra and Cecile Zilkha Gallery and the College of East Asian Studies Gallery at Mansfield Freeman Center. All patrons must adhere to and follow the University COVID-19 safety guidelines. Wesleyan requires all visitors to be fully vaccinated. All visitors will need to provide proof of having been fully vaccinated. Public health officials consider an individual to be fully vaccinated two weeks after their final dose of a COVID-19 vaccine. Masks are required in all University buildings regardless of vaccination status. Indoor performances as well as special events, including opening receptions in the galleries, will be open to Wesleyan students, faculty, and staff. All patrons including children under the age of 12 will be required to wear a mask outdoors for the duration of WesWorks. Due to current CDC age limits on vaccinations, individuals under the age of 12 will not be permitted at indoor exhibitions.

El público general esta bienvenido de regreso a Wesleyan este otoño para disfrutar el programa al aire libre del Centro por las Artes y las exhibiciones en las Galerías Ezra y Cecile Zilkah y en la Galería del Colegio de los Estudios de la Asia Oriental en el Centro de Mansfield Freeman. Todos los patrones deben seguir las regulaciones de seguridad de COVID-19 hechos por Wesleyan University. Wesleyan recuerde que todos los visitantes están completamente vacunados. Todos los visitantes deben demostrar prueba de sus vacunas completas. Oficiales de salud pública consideran individuos completamente vacunados dos semanas después de su dosis final de las vacunas contra COVID-19. Se requiere máscaras al entrar a los edificios en todo el campus aunque sean completamente vacunados. Eventos en el interior así como eventos especiales, incluyendo recepciones en las galerías, estarán abiertas a los estudiantes, facultad y personal de Wesleyan. Los visitantes vacunados pueden atender eventos y actividades al aire libre sin máscaras. Para patrones de 12 años o menores es mandatorio el uso de la máscara en eventos al aire libre. Debido al límite de edad para vacunas del CDC, individuos con 12 años o menor no se permiten en exhibiciones dentro de la galería.

By purchasing a ticket or making a reservation, patrons over the age of 12 confirm that they are fully vaccinated for COVID-19 and will be able to provide proof of vaccination at the event.

Al comprar boletos o hacer una reservación, patrones mayores de 12 años deben confirmar que estén completamente vacunados contra el COVID-19 y pueden traer comprobantes de su vacuna al evento.

Click here to join this event on Facebook.

"Allison Orr [is] a choreographer who sees elements of dance in unlikely places. Ms. Orr's project creates a way to both honor and celebrate the employees' efforts."
—The New York Times

"Allison Orr [es] una coreógrafa que ve elementos de baile en lugares improbables. Los proyectos de la señora Orr 's crean una manera de honrar y celebrar los esfuerzos de los empleados."

Click here to read The Middletown Press article "New multi-site outdoor play celebrates Wesleyan University facilities workers" from October 14, 2021.
WesWorks (2021) features the movement and stories of Wesleyan University employees as directed by Forklift Danceworks of Austin, Texas. The company is led by Artistic Director Allison Orr, Distinguished Fellow in the College of the Environment and Visiting Assistant Professor of Environmental Studies.

WesWorks (2021) incluye los movimientos y las historias de los empleados de Wesleyan University a la dirección de Forklift Danceworks de Austin, Texas. La compañía es dirigida por la Directora Artística Allison Orr, Compañera Distinguida en el Colegio del Medio Ambiente y Profesora Asistente Visitante en los Estudios del Medio Ambiente.

Click here to read "Celebrating Those Who Make Wesleyan Work!" on the blog of Wesleyan University President Michael S. Roth '78.

Forklift Danceworks productions are built on a core belief that all people are inherently creative. WesWorks celebrates the skilled movement and tells the often unheard stories of the people whose work sustains the daily lives of the Wesleyan campus. Through their performances, Forklift Danceworks seeks to create opportunities for more informed civic dialogue, deeper understanding of the jobs essential to urban life, and greater connection between citizens and across communities.

Las producciones de Forklift Danceworks se crean en la idea fundamental de que todas las personas son intrínsecamente creativas. WesWorks celebra los movimientos expertos y cuenta las historias frecuentemente escondidas de las personas que trabajan para sustentar la vida diaria del campus de Wesleyan. A través de este espectáculo, Forklift Danceworks busca crear una oportunidad por más diálogos cívicos, un entendimiento más profundo de los empleos esenciales a la vida urbana, y crear una conexión más fuerte entre ciudadanos y sobre múltiples comunidades.

Go behind the scenes on the blog for Forklift Danceworks: WesWorks.

Building on seven years of Forklift Danceworks engagement with Wesleyan, WesWorks was developed through a series of residencies and intensive course collaborations over the past year and a half. The multi-site outdoor performance invites the audience to witness the virtuosic and skilled work of Facilities staff as performed by the workers themselves, and to celebrate their indispensable place at Wesleyan.

Montando sobre siete años de compromiso entre Forklift Danceworks y Wesleyan, WesWorks se ha desarrollado por una serie de residencias y cursos intensivos de colaboración entre el último año y medio. La función de múltiples sitios al aire libre invita al público a ser testigo del virtuoso y experto trabajo del personal de facilidades interpretado por sí mismos, y a celebrar su lugar indispensable en Wesleyan.

Further reading via 'News at Wesleyan' articles:

Wesleyan Facilities, Custodial Staff Celebrated through Performance

Alumni Share Experiences with Forklift Danceworks; Prepare for 'WesWorks'

Snyder '16 Reflects on Her Experience with Forklift

Forklift's LaMotte '18 Discusses Upcoming 'WesWorks' Performance

Presented by the Center for the Arts in partnership with the College of the Environment, Physical Plant, SMG Custodial, the Creative Campus Initiative, Allbritton Center for the Study of Public Life, and the Dance Department, with additional funding support from the New England Foundation for the Arts.

Presentado por el Centro de las Artes en camaradería con el Colegio del Medio Ambiente, Planta Física, SMG Custodial, el Creative Campus Initiative, el Centro Albritton por el Estudio de Vida Pública, y el Departamento de Baile, con fundación adicional del New England Foundation for the Arts.