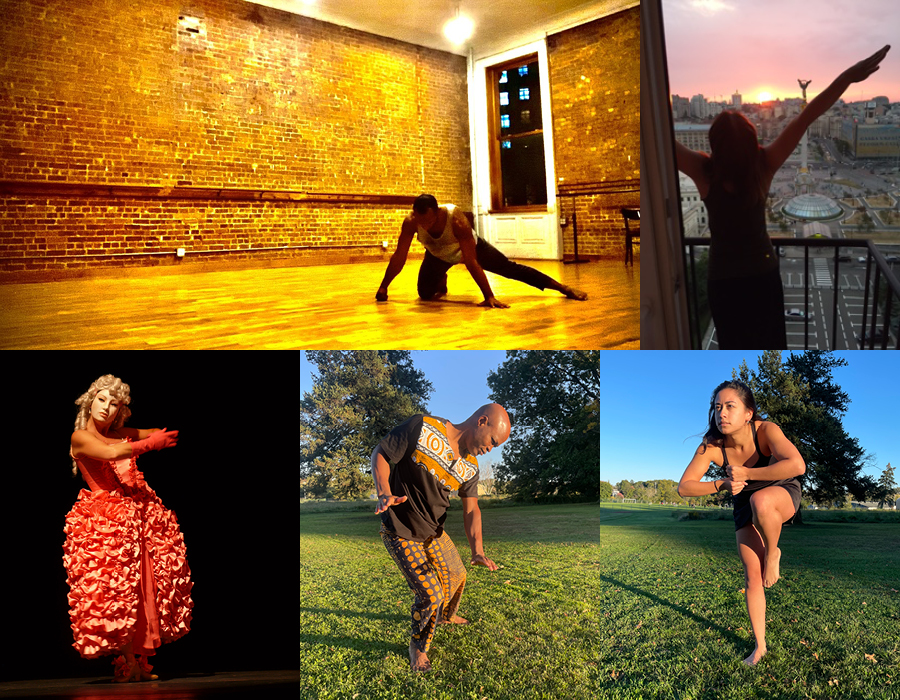 Fall Faculty Dance Concert: FULL SPEED AHEAD!
Thursday, December 2, 2021 at 7:00pm
CFA Theater

$8 for Wesleyan students, faculty, and staff
Friday, December 3, 2021 at 7:00pm
CFA Theater

$8 for Wesleyan students, faculty, and staff
View photos from this event on flickr.

Forging ahead with gusto and excitement, the Wesleyan Dance Department presents a mixed bill of dance works intertwining activism, race, identity, dance history, somatics, and dynamic movement featuring Artist in Residence in Dance Patricia Beaman, Associate Professor of Dance Katja Kolcio, Visiting Instructor in Dance Nik Owens '12, and Assistant Professor of Dance Iddi Saaka.

As a prologue to the evening, Katja Kolcio introduces her somatic-activist work based on the Ukrainian Revolution of Dignity in 2014, connecting dance and somatic practices with psycho-social resilience and social justice-based activism.

Assistant Professor of Dance Iddi Saaka, in collaboration with Shirley Sullivan '21 and Assistant Professor of Music John Dankwa Ph.D. '18 present Blurring the Surface, a duet based on Saaka's contribution to the ongoing dialogue about race and racism in American society. The dance draws on West African dance aesthetics, Salsa, Contemporary dance, Improvisation, spoken word, and personal stories to offer a complex interrogation of racism and its impact on society. Dankwa composed the piece's original music.

Nik Owens presents a deeply personal work with the working title The Right Kind. What do you do when you're not the right kind of person? What are the lies we tell ourselves to be the right person? Or just to feel right? The Right Kind delves into a personal journey, exploring what it means to be who you are when you feel who you are isn't enough, touching upon notions of Black identity, empathy, and the relationship between invisibility and invincibility.

Ode is Patricia Beaman's reverent yet insouciant homage to compelling methods of seminal choreographers, ranging from 18th century Baroque ballet to postmodern and contemporary dance of the 20th century. This collaborative dance, in which a heeled shoe might confront a bare foot, or a formal portrait may face a fractured collage, will be performed by a cast featuring Dance Department faculty and students, with special guest John Spencer Camp Professor of Music Neely Bruce on harpsichord.
Images above (clockwise from top left): Nik Owens, Katja Kolcio, Shirley Sullivan, Iddi Saaka, and Patricia Beaman.