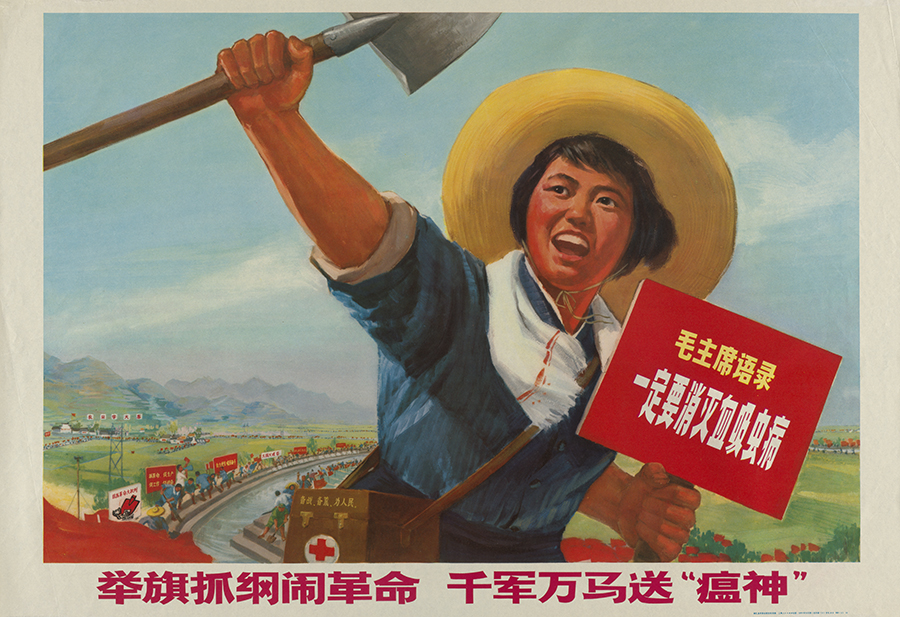 Opening Reception: Strong Bodies for the Revolution
Wednesday, February 16, 2022 at 12:15pm
College of East Asian Studies Gallery at Mansfield Freeman Center

FREE! For Wesleyan students, faculty, and staff.
Celebrate the opening of the new exhibition Strong Bodies for the Revolution: Pursuing Health and Power in the People's Republic of China. Wesleyan students, faculty, and staff will first view the exhibition in the Gallery, and then hear remarks in the Seminar Room by College of East Asian Studies Collections Assistant Sam Smith '20, Assistant Professor of History and East Asian Studies Ying Jia Tan, and Mark Sidel, the son of Ruth and Victor Sidel, who originally donated the posters to Wesleyan.
The exhibiton will be on display from Wednesday, February 16 to Friday, May 13, 2022. Gallery hours are Tuesday through Friday, from Noon to 4pm. Visit the College of East Asian Studies Gallery website for more information.
How did the government of the People's Republic of China mobilize its people to implement public health campaigns and improve the health of hundreds of millions of people? The College of East Asian Studies presents an exhibition featuring a collection of propaganda posters donated by the family of Ruth and Victor Sidel. During their travels to China, the Sidels acquired more than 55 posters, most of which illustrated the underlying principles that governed Chinese public health policy during tumultuous years of revolution. ​This exhibition, curated by faculty and students, showcases common themes in the posters that contribute to a larger narrative on modern health practices in China. Co-sponsored by the Allbritton Center for the Study of Public Life; the Feminist, Gender, and Sexuality Studies Program; the Fries Center for Global Studies; the Department of Government; the History Department; the Science in Society Program and Black Box Labs; and the Wesleyan University Library.

The general public is welcome to view exhibitions in both the Ezra and Cecile Zilkha Gallery and the College of East Asian Studies Gallery at Mansfield Freeman Center. All patrons must adhere to and follow the University COVID-19 safety guidelines. Wesleyan requires all visitors to be fully vaccinated including booster shots. All visitors will need to provide proof of having been fully vaccinated. Masks are required in all University buildings regardless of vaccination status. Indoor performances as well as special events, including opening receptions in the galleries, will be open to Wesleyan students, faculty, and staff. Vaccinated visitors may attend outdoor events and outdoor activities unmasked. Patrons under the age of five are required to wear a mask at outdoor events. Due to current CDC age limits on vaccinations, individuals under the age of five will not be permitted at indoor exhibitions.
Image: Eradication of Snail Fever, Courtesy of the Ruth and Victor Sidel Collection.