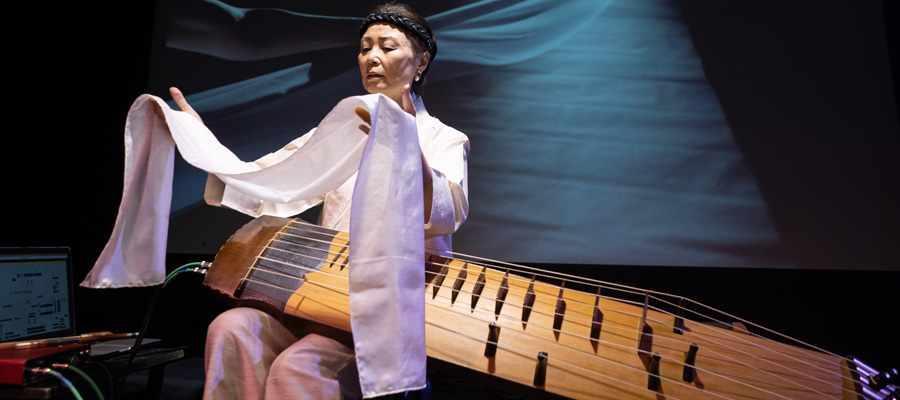 Jin Hi Kim: A Ritual for Covid-19
Friday, February 18, 2022 at 8:00pm
Crowell Concert Hall

FREE! Reservations required. For Wesleyan students, faculty, and staff.
A Ritual for Covid-19 (2021) is a community purification performance in memory of over 5.5 million deaths worldwide during the pandemic. The work juxtaposes ancient Korean shaman ritual elements and American advanced art technology. Innovative komungo (Korean stringed instrument) virtuoso Jin Hi Kim, Adjunct Assistant Professor and Director of Wesleyan's Korean Drumming Ensemble, created the live interactive performance on her electric komungo and virtual komungobot (algorithmic instrument) using customized computer programs that she has been developing since 1998. Jin Hi Kim is a United States Artists 2022 USA Fellow.

Listen to "Connecticut composer uses ancient Korean instrument to create music for today," a Connecticut Public Radio segment by Diane Orson.

The six sections of the work articulate the enormous tragedy, grieving, praying, and finally purification as a protest of the anti-Asian bias that resulted from COVID-19. This performance is in the spirit of healing the apocalyptic years of 2020 and 2021.
Listen to the interview "A Connecticut performance artist looks to rituals to help the community heal from COVID-19" from WSHU.
The work is a community participation performance: four participants in the audience play singing bowls, and patrons are invited to hum, in the section "Grieving," which is recorded live and projected on stage. Four females make a procession to the stage holding a 25 yard long white cloth in the section "Releasing Knots." Kim then releases the knots in the cloth, which symbolizes releasing the pain, agony, sorrow, and trauma of the dead, while singing in the Korean vocal music style of kagok. The media production was developed in CultureHub and La MaMa's Experiments in Digital Storytelling Program.

Read the article "WPKN to hold gala, starring Jin Hi Kim, to celebrate move; 'COVID-19 Ritual' juxtaposes cultural tradition, modern technology" from The Hartford Courant.

A Ritual for Covid-19 was made possible with funding by the New England Foundation for the Arts' New Work New England program. This performance is sponsored by the Music Department, the Center for the Arts, Academic Affairs, the Dean of the Arts and Humanities, and the Allbritton Center for the Study of Public Life.


There will be a talk-back following the concert.



Photo by Livia Sa.