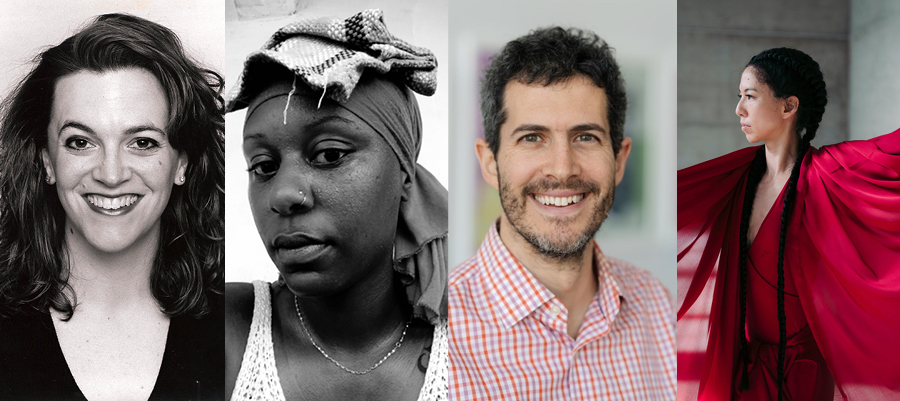 Dance Alumni Chat Series: Anyone Can Dance!
Thursday, March 31, 2022 at 12:00pm
Zoom
FREE! Reservation required for access to virtual event.
The Dance Department's third Alumni Chat Series event features four amazing Wesleyan alumni discussing the benefits of a dance degree, and how their dance education at Wesleyan transformed their lives beyond the University. Featuring Michael Bodel '03; Darrah Carr '96; Gabe Hurlock '20; and SheenRu Yong '02.

Moderated by Associate Professor of Dance, Environmental Studies, and Russian, East European, and Eurasian Studies, and Director of the Allbritton Center for the Study of Public Life Katja Kolcio, with an introduction by the Center for the Arts Associate Director for Programming and Performing Arts and Adjunct Assistant Professor of Theater Fiona Coffey.
PROFILES
Michael Bodel '03 is dance artist, live arts administrator, and occasional dance scholar. As a choreographer, he creates interdisciplinary works through research, design play, and embodied exploration. Some of these projects are place-based and many involve puppetry or sensorial elements. He holds a B.A. from Wesleyan University, where he majored in Dance and Astronomy, and an M.F.A. in Dance from Hollins University and the American Dance Festival. His professional career has been in arts marketing and audience engagement at St. Ann's Warehouse, HERE Arts Center, The Putney School, and now as the Director of External Affairs at the Hopkins Center for the Arts at Dartmouth. He also works to deepen dance at Dartmouth, where he recently helped to hatch Big Move, a series of embodied experiences that connect choreographers with disparate areas of research from neuroscience to forest ecology.
Darrah Carr '96 is an Assistant Professor in the Conservatory of Dance at Purchase College. She holds a Ph.D. from Texas Woman's University and an M.F.A. from New York University's Tisch School of the Arts. She graduated Phi Beta Kappa from Wesleyan University where she double majored in Dance and the College of Letters and co-founded the student troupe Terpsichore. She is the Artistic Director of Darrah Carr Dance, a Bessie Award-nominated company that blends traditional Irish step and contemporary modern dance in a style that Carr calls "ModERIN." Performance highlights include "The Today Show," "Good Morning America," Carnegie Hall with the New York Pops, Jazz at Lincoln Center, The New Victory Theater, The Irish Repertory Theatre, The Duke Theater on 42nd Street, Celebrate Brooklyn, Jacob's Pillow Dance Festival, MASS MoCA, The Yard at Martha's Vineyard, Dublin's Project Arts Centre and Bank of Ireland Arts Centre, and the company's annual New York City season at Irish Arts Center. For more information please visit www.darrahcarrdance.com and www.siegelartist.com 
Gabe Hurlock '20 is a scholar, community catalyst, and entrepreneur who works with companies, schools, other activists, and organizations to develop professional practices towards antiracist education and equity. Prior to graduating from Wesleyan University, where she was the first person to earn a B.A. in Philosophy and Dance, she served seven years in the United States Air Force and was deployed to Afghanistan. Hurlock believes that art and justice are not only a fundamental part of cultivated harmony, but are also the building blocks of change in communities and beyond. In addition to teaching English and Dance in her local community, she runs a consulting business where she works with educators and organizations to directly address change within their culture and practices that impact marginalized communities. She is also a Posse Alumni and multimedia artist. 
SheenRu Yong '02 is a dance artist, choreographer, and the initiator of body portal theatre. She began dancing at Wesleyan University and then trained in New York City and Taipei, where she was commissioned and inspired to choreograph evening-length shows, site-specific works, and community-based performances. While earning her M.F.A. in Choreography at the Taipei National University of the Arts, she toured internationally with Legend Lin Dance Theatre. Through the platform of body portal theatre, she works to research and develop the creative potentials of the individual, collective, and environmental bodies we inhabit. She is currently based in Honolulu. For more information please visit http://bodyportaltheatre.com/
Images above (from left): Darrah Carr, Gabe Hurlock, Michael Bodel, and SheenRu Yong.