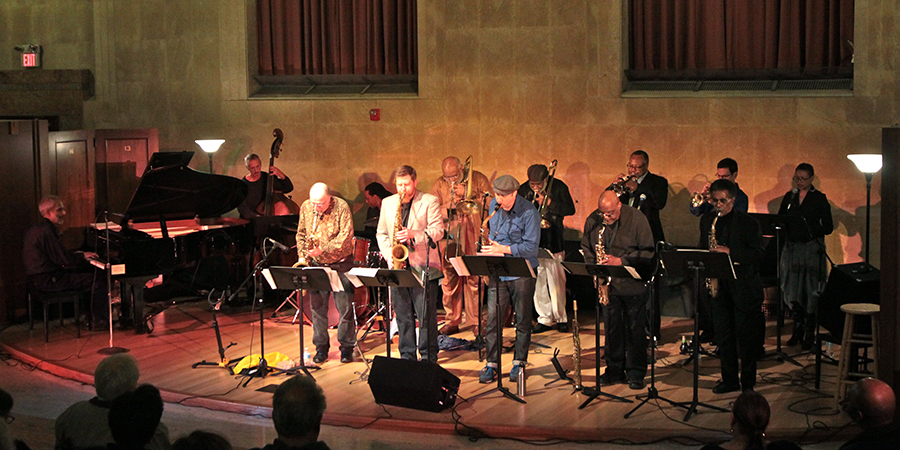 The Makanda Project
Saturday, April 23, 2022 at 8:00pm
Crowell Concert Hall

FREE! Tickets and masks required.
"An evening of impeccably executed jazz."
—The Bay State Banner

The Makanda Project is a rarity in today's jazz world: a big band, playing original music, that has stayed together and worked regularly for over fifteen years. The group, based in Boston, was formed in 2005 to explore the previously unrecorded compositions of Makanda Ken McIntyre (1931–2001), a significant yet under-appreciated jazz innovator. Dr. McIntyre was also a pioneering jazz educator. Professor McIntyre was on the faculty at Wesleyan from 1969 to 1971, where he was the first Professor of African American Music.
Makanda Ken McIntyre was part of the generation of musicians who emerged during the 1960s exploring new directions in jazz. He appeared on seminal recordings with musicians such as Cecil Taylor, Eric Dolphy, and Charlie Haden, as well as leading his own groups and releasing a dozen albums of his own. He was unique for his mastery of multiple instruments, including alto saxophone, flute, bass clarinet, oboe, and bassoon. He was also a prolific composer. In addition to the 75 original compositions that he recorded, another 350 were found at the time of his passing.
Dr. McIntyre's music has a clear lyricism and rhythmic foundation while also stretching boundaries in intriguing ways. For The Makanda Project, unlike in "tribute bands" whose performances inevitably draw comparisons to classic original recordings, these previously unheard compositions have served as a vehicle for the group to develop its own identity and sound. The group's large ensemble arrangements of these pieces are written by leader/pianist John Kordalewski.
As a large ensemble, the group combines the tightness and orchestral colors of a big band with the energy and openness of a small group. Unlike in most big bands, all the members will solo over the course of a concert. The members range in age from 31 to 84. The group includes several of Boston's leading jazz bandleaders, with some members from New York as well. Collectively, they have a wealth of experience performing with major jazz artists.
The concert will also include two compositions by the great Bill Barron (1927–1989), Professor of Music from 1975 to 1989 and former Chair of the Music Deparment at Wesleyan. Professor Barron was a major composer and saxophonist of the jazz tradition and older brother of pianist Kenny Barron. Former Wesleyan Artist in Residence Bill Lowe and bassist Wes Brown worked closely with Mr. Barron.
Over the years, The Makanda Project has engaged in a variety of collaborations. One of the most significant has been with dancer/choreographer Mickey Davidson, former Wesleyan Dance Artist in Residence  for 17 years, whose company will be part of the group for this performance.

Wesleyan alumni Richard Harper '71 and Sarah Politz MA '11 are also currently professors of music at The New School and University of Florida, respectively.
The Makanda Project has stayed active largely through its tireless efforts at presenting self-produced free concerts in Boston's Roxbury neighborhood several times a year. Through these concerts, The Makanda Project has become much beloved in the Boston area while realizing a community-based approach. In recent years, the group has also started to travel more widely, including a European tour in 2021.
The Makanda Project
Kurtis Rivers: alto saxophone
Lee Odom: alto and soprano saxophone, clarinet
Sean Berry: tenor saxophone
Paavo Carey: tenor saxophone, flute
Charlie Kohlhase: baritone saxophone
Jerry Sabatini: trumpet
Haneef Nelson: trumpet
Alfred Patterson: trombone
Sarah Politz: trombone
Bill Lowe: bass trombone
Richard Harper: baritone horn, vocals
John Kordalewski: piano
Wes Brown: bass
Yoron Israel: drums
Mickey Davidson: dance
Trashina Conner: dance
Kim Holmes: dance
Brandon Barker: dance

For more information, please visit The Makanda Project website. This concert is the conclusion of the 19th annual Wesleyan Jazz Orchestra Weekend.

The general public is welcome to attend events at the Center for the Arts and to view exhibitions in both the Ezra and Cecile Zilkha Gallery and the College of East Asian Studies Gallery at Mansfield Freeman Center. All patrons must adhere to and follow the University COVID-19 safety guidelines. Wesleyan requires all visitors to be fully vaccinated including booster shots. All visitors will need to provide proof of having been fully vaccinated. All patrons are required to wears masks while visiting indoor Center for the Arts exhibitions and during the entirety of any performance. By purchasing a ticket or making a reservation, patrons confirm that they are fully vaccinated for COVID-19 and will be able to provide proof of vaccination at the event. Due to current CDC age limits on vaccinations, individuals under the age of five will not be permitted at indoor events or in the galleries.