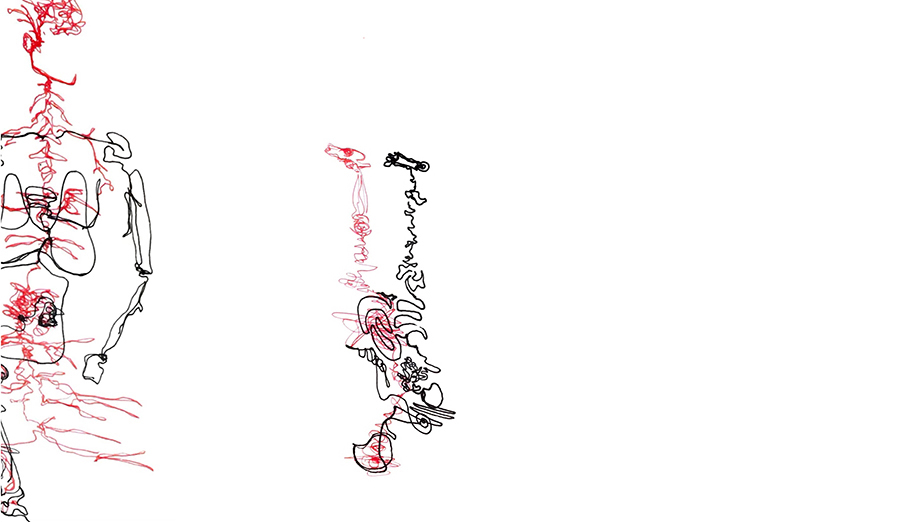 Senior Theater Capstone: Will Blumberg—Nothing Comes to Mim [SOLD OUT]
Thursday, April 28, 2022 at 7:30pm
126 Knowles Avenue, Middletown
FREE! Tickets and masks required.
Friday, April 29, 2022 at 7:30pm
126 Knowles Avenue, Middletown
FREE! Tickets and masks required.
Saturday, April 30, 2022 at 7:30pm
126 Knowles Avenue, Middletown
FREE! Tickets and masks required.
A Senior Theater Capstone Project by Will Blumberg '22.
While taking care of a sick friend in their Brooklyn apartment, Mim starts experiencing what can only be described as divine back pain…

Stuck in the past—somewhere between the beginning and the end—Mim untangles their childhood, desperate to understand how a family history of anxiety and grief has brought them to the present. As the pain continues, Mim faces a reckoning about their identity and the tense relationship with their family.

At its core, this story explores how individuals balance personal identities against the continuation of familial and religious traditions. Together we ask: How can we be One in a line of Many?
See the Nothing Comes to Mim map and directions document for more information.

Content Warning: This play contains themes and representations of gender dysphoria, homophobia, transphobia.

*Saturday evening's performance is scheduled as a double feature with the world premiere of the play The Book of Chrysanthemum directed by Laia Comas '22. The performance of The Book of Chrysanthemum will take place in the Develin Room, located in the Wesleyan University Library at 252 Church Street in Middletown, and begin immediately following Saturday's performance. Tickets for this event can be reserved on eventbrite.
See a listing of upcoming senior thesis capstone projects on the Senior Theater Capstone Projects series page.
The general public is welcome to attend events at the Center for the Arts and to view exhibitions in both the Ezra and Cecile Zilkha Gallery and the College of East Asian Studies Gallery at Mansfield Freeman Center. All patrons must adhere to and follow the University COVID-19 safety guidelines. Wesleyan requires all visitors to be fully vaccinated including booster shots. All visitors will need to provide proof of having been fully vaccinated. All patrons are required to wears masks while visiting indoor Center for the Arts exhibitions and during the entirety of any performance. By purchasing a ticket or making a reservation, patrons confirm that they are fully vaccinated for COVID-19 and will be able to provide proof of vaccination at the event. Due to current CDC age limits on vaccinations, individuals under the age of five will not be permitted at indoor events or in the galleries.