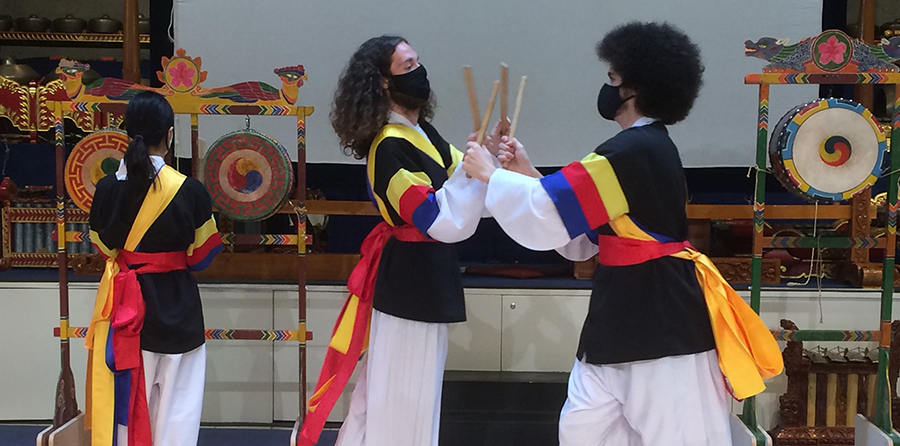 Korean Drumming and Creative Music
Friday, April 29, 2022 at 3:00pm
World Music Hall

FREE! Masks required.
Beginning and advanced students of the Korean Drumming and Creative Music Ensemble, directed by Adjunct Assistant Professor Jin Hi Kim, play new arrangements of samulnori (percussion quartet) repertoire, performed on two-headed drums (janggu), barrel drums (buk), hand gong (kwenggari), and a suspended gong (jing). The ensemble plays a variety of mesmerizing janggu rhythmic patterns, and also creates new pieces, discovering the sounds that are possible through imaginative explorations on their instruments. Advanced students perform solo janggu and improvise vigorous drumming on the suspended barrel drum.
The general public is welcome to attend events at the Center for the Arts and to view exhibitions in both the Ezra and Cecile Zilkha Gallery and the College of East Asian Studies Gallery at Mansfield Freeman Center. All patrons must adhere to and follow the University COVID-19 safety guidelines. Wesleyan requires all visitors to be fully vaccinated including booster shots. All visitors will need to provide proof of having been fully vaccinated. All patrons are required to wears masks while visiting indoor Center for the Arts exhibitions and during the entirety of any performance. By purchasing a ticket or making a reservation, patrons confirm that they are fully vaccinated for COVID-19 and will be able to provide proof of vaccination at the event. Due to current CDC age limits on vaccinations, individuals under the age of five will not be permitted at indoor events or in the galleries.