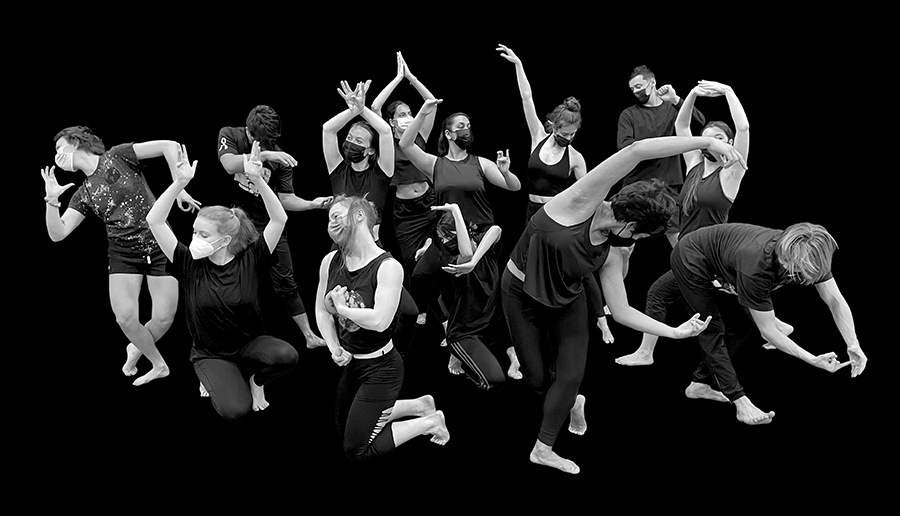 In Love and War: Performed by Dancers from "Bharata Natyam III"
Monday, May 2, 2022 at 12:00pm
Crowell Concert Hall

FREE! Masks required.
The "Bharata Natyam III" advanced class (DANC 382), taught by Professor and Chair of the Dance Department Hari Krishnan, will present new works in this invigorating end-of-semester performance with live music.
Choreography/rhythmic vocals: Professor and Chair of the Dance Department Hari Krishnan

Dancers: Darshana Banka '22, Indigo Cochran '23, Christopher Hwang '23, Natasha Jones '22, Annie Kidwell '22, Charissa Lee '23, Luna Mac-Williams '22, Ava Nederlander '22, Halle Newman '23, Samuel Peek '22, Anjali Prabhu '22, Spenser Stroud '22, and Maren Westgard '22.

Vocals: Adjunct Associate Professor of Music B. Balasubrahmaniyan, Private Lessons Teacher Tobias Haus, graduate student Katrina Mazur, Bayliss Hall '24, Eesha Misra '24, and Bee Kline '23.

Percussion (Mridangam): Fugan
The general public is welcome to attend events at the Center for the Arts and to view exhibitions in both the Ezra and Cecile Zilkha Gallery and the College of East Asian Studies Gallery at Mansfield Freeman Center. All patrons must adhere to and follow the University COVID-19 safety guidelines. Wesleyan requires all visitors to be fully vaccinated including booster shots. All visitors will need to provide proof of having been fully vaccinated. All patrons are required to wears masks while visiting indoor Center for the Arts exhibitions and during the entirety of any performance. By purchasing a ticket or making a reservation, patrons confirm that they are fully vaccinated for COVID-19 and will be able to provide proof of vaccination at the event. Due to current CDC age limits on vaccinations, individuals under the age of five will not be permitted at indoor events or in the galleries.