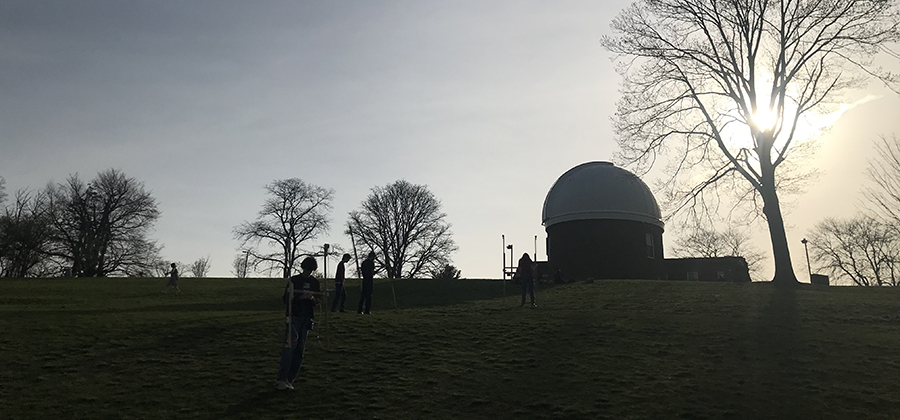 Process>>Processional: Toneburst + MUSC 221 Final Electroextravaganza [Updated with final program]
Wednesday, May 4, 2022 at 12:00pm
Starting on Andrus Field, 55 Wyllys Avenue, Middletown, Connecticut
FREE! Masks required in indoor venues.
View the Toneburst + MUSC 221 Final Electroextravaganza program here.
Rain site for outdoor events: Memorial Chapel, 221 High Street, Middletown, Connecticut

Wesleyan's Toneburst Laptop and Electronic Arts Ensemble and students from the "Live-Electronics for Composition, Improvisation, and Sound Art" class (MUSC 221) present an afternoon of new and arranged works for live electronics in various locations, under the direction of Professor of Music Paula Matthusen.
Noon: Andrus Field
Works by:
Firat Erdim
Parsa Ferdowsi, graduate music student
Raquel Acevedo Klein
Kat Mazur, graduate music student
Manuel J. Perez III, graduate music student
Augusta Read Thomas

2:30pm: Labyrinth Tent, Center for the Arts Courtyard
Works by:
Sam Boston '25
Ernest Braun '22
Jalen Lee '23
Paula Matthusen, Professor of Music
Pauline Oliveros
Jason Torello, Bachelor of Liberal Studies student
Danielle Vogel, Assistant Professor of English, Creative Writing

4:30pm: Ring Family Performing Arts Hall
Works by:
Gibson Bernath '23
Nic Catalan '22
Hudson Christie '23
Ruben Crystal '24
Lampton Enochs '25
Jin Huang '22
Asa Levite '22
Daisy Mayer '22
Max Murgio '23
Tereza Pesmazoglou '24
Dylan Shumway, Career Communications Fellow
Antone Walker '22
Cindy Ye '22

Sunset: Various Locations in Middletown (see maps in program here)
Works by:
Raven Chacon
John Dankwa, Assistant Professor of Music, and students
Firat Erdim
Omar Fraire MA '17
Ryan McMasters
So Much Hot Air
and graduate music students improvising!
The general public is welcome to attend events at the Center for the Arts and to view exhibitions in both the Ezra and Cecile Zilkha Gallery and the College of East Asian Studies Gallery at Mansfield Freeman Center. All patrons must adhere to and follow the University COVID-19 safety guidelines. Wesleyan requires all visitors to be fully vaccinated including booster shots. All visitors will need to provide proof of having been fully vaccinated. All patrons are required to wears masks while visiting indoor Center for the Arts exhibitions and during the entirety of any performance. By purchasing a ticket or making a reservation, patrons confirm that they are fully vaccinated for COVID-19 and will be able to provide proof of vaccination at the event. Due to current CDC age limits on vaccinations, individuals under the age of five will not be permitted at indoor events or in the galleries.