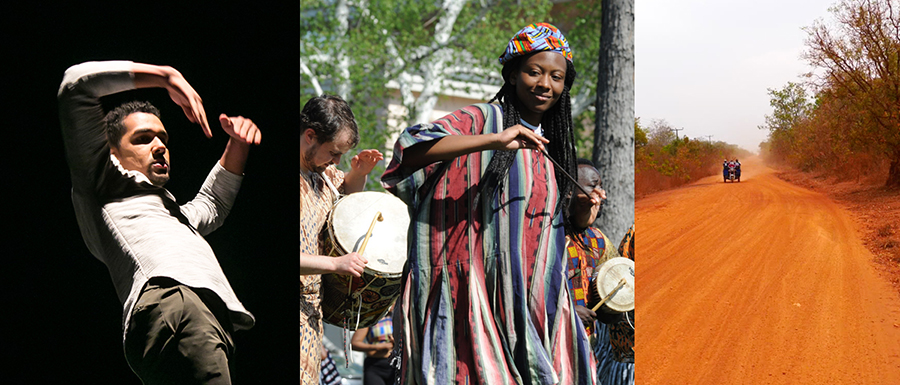 Mini-Festival of Dance in Three Parts [Moved to rain site]
Friday, May 6, 2022 at 3:00pm
Crowell Concert Hall
FREE! Masks required indoors.

Part I - mothertongue: a duet with Alexi Salazar and Visiting Assistant Professor of Dance Eury German '16
Crowell Concert Hall at 3pm
(Moved to Crowell Concert Hall due to rain.)

This work is Eury German's first choreographic investigation, in a soon-to-be choreographic series, that he will be carried out next year in Madrid, Spain, through the Fulbright Program, that explores the relationships forged between and the varying ways in which Latin American immigrant families and communities grapple with identity formation and yearning of physical belonging. The first of many ethnographic works, this particular work, mothertongue, explores the loving, yet volatile, relationship between immigrant parents and first generation immigrant children.


Part II - West African Drumming and Dance
Crowell Concert Hall at 3:30pm
(Moved to Crowell Concert Hall due to rain.)

An invigorating performance filled with the rhythms of West Africa, featuring Assistant Professor of Music John Dankwa and Assistant Professor of Dance Iddi Saaka joined by students in West African music and dance classes.


Part III - Min(e)d Over Matter
Crowell Concert Hall at 4:30pm

New works by Assistant Professor of Dance Iddi Saaka, Graduate Liberal Studies student Shirley Sullivan '21, and Serena Aimen '22 in collaboration with Wesleyan students in the "Repertory and Performance" course (DANC 378).


The general public is welcome to attend events at the Center for the Arts and to view exhibitions in both the Ezra and Cecile Zilkha Gallery and the College of East Asian Studies Gallery at Mansfield Freeman Center. All patrons must adhere to and follow the University COVID-19 safety guidelines. Wesleyan requires all visitors to be fully vaccinated including booster shots. All visitors will need to provide proof of having been fully vaccinated. All patrons are required to wears masks while visiting indoor Center for the Arts exhibitions and during the entirety of any performance. By purchasing a ticket or making a reservation, patrons confirm that they are fully vaccinated for COVID-19 and will be able to provide proof of vaccination at the event. Due to current CDC age limits on vaccinations, individuals under the age of five will not be permitted at indoor events or in the galleries.