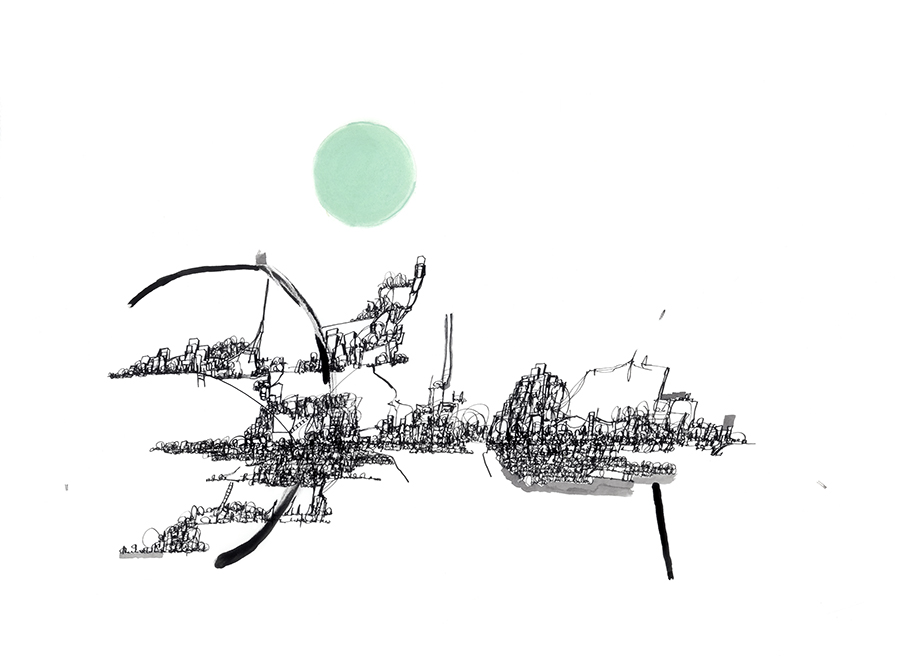 Opening Reception: Renee Gladman—THE DREAMS OF SENTENCES
Tuesday, September 13, 2022 at 4:30pm
Ezra and Cecile Zilkha Gallery

FREE!
The opening reception will feature a curator talk by Associate Director of Visual Arts and Adjunct Instructor in Art Benjamin Chaffee at 5pm.
View or download the exhibition handout, including a short essay and checklist.
Renee Gladman (b. Atlanta, Georgia, 1971) is a writer and artist preoccupied with crossings, thresholds, and geographies as they play out at the intersections of poetry, prose, drawing, and architecture. Her visual work regards the drawing space as a kind of laboratory for thinking about writing: how writing emerges from the body, how narrative moves and takes shape below the semantic level. She is the author of three collections of drawing-writing—Prose Architectures (2017), One Long Black Sentence (2020), and Plans for Sentences (2022)—as well as many works of fiction, essay, and poetry, including Calamities and the Ravicka series.

This exhibition is the largest solo presentation of Gladman's drawings to date bringing together many larger-scale works which she has developed alongside recent publications.

Gladman has been awarded fellowships, artist grants, and residencies from the Radcliffe Institute for Advanced Study at Harvard, the Foundation for Contemporary Arts, the Lannan Foundation, and the Kunst-Werke Institute for Contemporary Art (Berlin), and is a 2021 Windham-Campbell Prize winner in fiction.

THE DREAMS OF SENTENCES is on display from Tuesday, September 6 through Sunday, October 16, 2022. For more information and related events, please visit the Ezra and Cecile Zilkha Gallery website.
Co-sponsored by Writing at Wesleyan.
View the COVID-19 Safety Guidelines for the Center for the Arts.
Image: Renee Gladman, Untitled, green moon, 2019