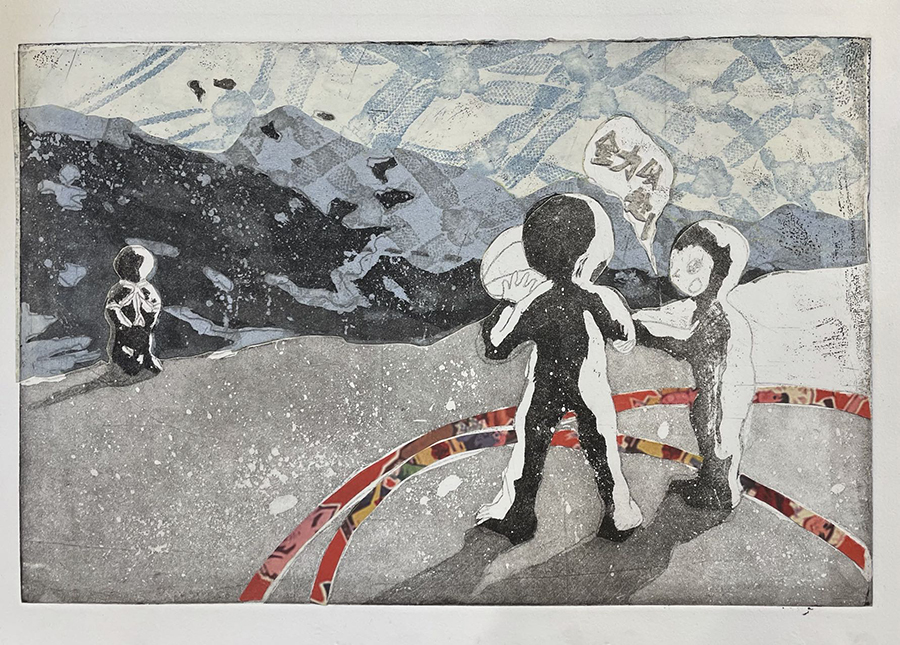 Opening Reception—Karen Xu: Massive Power Ball
Wednesday, September 21, 2022 at 12:00pm
College of East Asian Studies Gallery at Mansfield Freeman Center

FREE!

View images from this event on flickr.

Celebrate the opening of the new exhibition Massive Power Ball by Karen Xu '22 in the College of East Asian Studies Gallery at Mansfield Freeman Center. Refreshments will be provided following a talk by the curators and a walkthrough of the exhibition.
The recent work by Karen Xu is rooted in a close relationship to basketball. Growing up in China, Xu regularly played the game and watched broadcasts of the NBA. The past few years living in the U.S. have enabled Xu to gain a more complex understanding of her favorite pastime. In Massive Power Ball, Xu has created a character who may simultaneously be a surrogate for the artist, a basketball star, or the crowd of fans. Through animation and printmaking, Xu places that character in scenes that incorporate both communist propaganda and screenshots of basketball games. She inquires how basketball can be an arena for the clash and meditation of individual desire and collective force, extending the thrill of the game into her consideration of the dynamics of the China-U.S. relationship and Chinese Communist Party ideals. Xu's playful criticality manifests in many different media including printmaking, collage, and video, embodying her basketball world of lighthearted fantasy within an uncompromising reality. This presentation marks the artist's first institutional solo exhibition.

The College of East Asian Studies Gallery at Mansfield Freeman Center is curated by Associate Director of Visual Arts and Adjunct Instructor in Art Benjamin Chaffee and Exhibitions Manager Rosemary Lennox.

Exhibition on display from Wednesday, September 21 through Friday, December 9, 2022. Gallery hours are Tuesday through Friday from Noon to 4pm. The gallery will also be open on Saturday, November 5, 2022 from Noon to 4pm for Wesleyan's Homecoming and Family Weekend. Please visit the College of East Asian Studies Gallery website for more information.


View the COVID-19 Safety Guidelines for the Center for the Arts.

Karen Xu, 全力以赴, intaglio print, 2022.