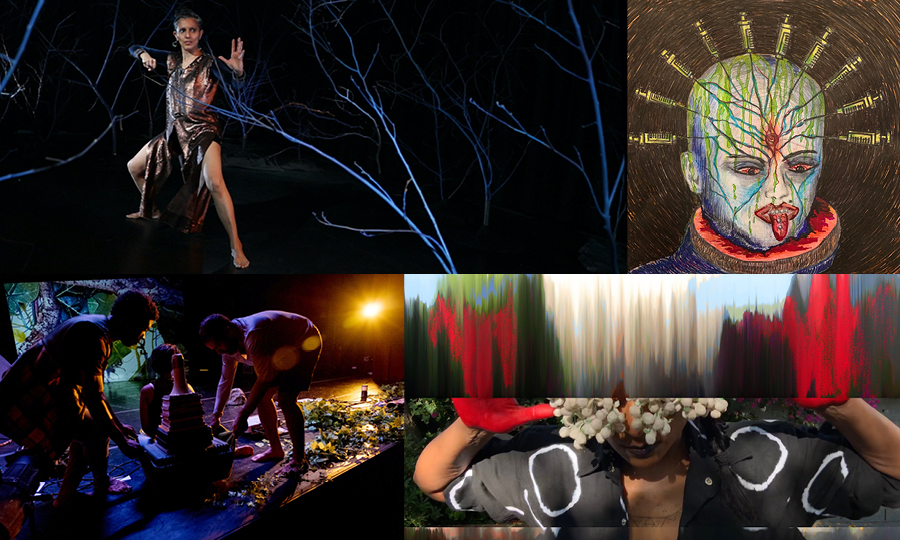 Kinetic Visualities Exhibition Opens
Thursday, September 29, 2022 at 12:00pm
Ezra and Cecile Zilkha Gallery, South Gallery

FREE!
The exhibition Kinetic Visualities will present art processes by the members of SAEDA (South Asian Experimental Dance Artists), a United States-based collective which explores shared and divergent artistic processes and disrupts representations of South Asian bodies in the diaspora.

Featuring works of video, installation, and drawings by Parijat Desai (New York), Meena Murugesan (Los Angeles), Lionel Popkin (Los Angeles), and Pramila Vasudevan (St. Paul, Minnestota), the exhibition is co-curated by SAEDA, including co-founder Hari Krishnan, Professor and Chair of the Dance Department and Professor of Feminist, Gender, and Sexuality Studies.

This exhibition is part of the 46th annual Navaratri Festival at Wesleyan, taking place from Wednesday, September 28 through Sunday, October 2, 2022.

Exhibition on display from Thursday, September 29 through Sunday, October 2, 2022. Gallery hours are Thursday through Saturday, Noon to 7pm; Sunday Noon to 5pm. For more information please visit the Ezra and Cecile Zilkha Gallery website.

View the COVID-19 Safety Guidelines for the Center for the Arts.

Funding for SAEDA is provided by the Mellon Foundation.

IMAGES (clockwise from top left)

Parijat Desai
Video still by Alla Kovgan

Pramila Vasudevan
#TripOfALifetime
Photo by Pramila Vasudevan

Meena Murugesan
Visual art glitch: Meena Murugesan
Photo by d. Sabela grimes

Lionel Popkin
Pictured (from left to right) Ajani Brannum, Meena Murugesan, Lionel Popkin in The Oedipus/Antigone Project
Photo by Nicola Goode