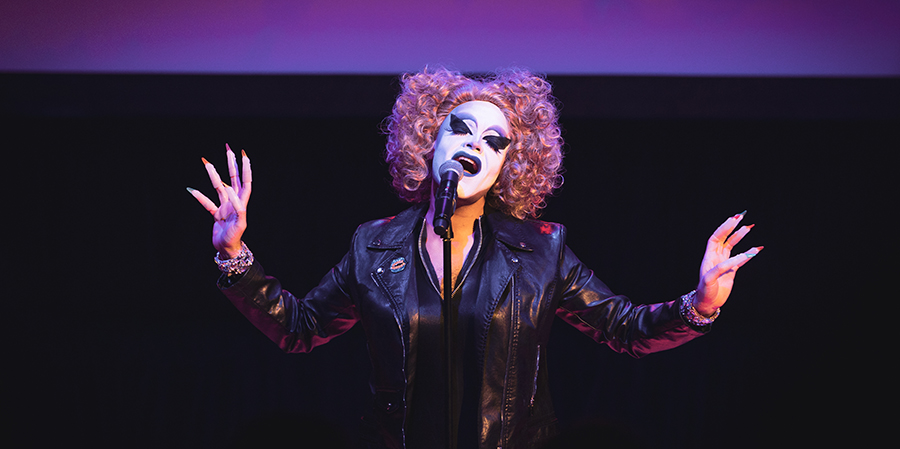 Queer Horror: Gravest Hits
Saturday, October 15, 2022 at 7:00pm
Goldsmith Family Cinema, The Jeanine Basinger Center for Film Studies, 301 Washington Terrace, Middletown, Connecticut

$25 general public; $20 senior citizens, Wesleyan faculty/staff/alumni, and non-Wesleyan students; $8 Wesleyan students and youth under age 18
"Actively unites the horror genre with the LGBTQ community."
—Willamette Week

Click here to view photos from this event.

Click here to join this event on Facebook.
Read this new article in The Atlantic about queer characters in horror genre.

Queer Horror, the only LGBTQ+ feature-length horror screening series in the United States, started as a short film festival in 2015 at the historic Hollywood Theatre in Portland, Oregon incorporating live drag and burlesque acts in a riotous multimedia program asking what it means to identify with the monster. The East Coast premiere of Queer Horror: Gravest Hits presents the silliest and most ghoulish international horror shorts by, starring, and about queers culled from Queer Horror's short film nights. Featured titles include Goat Witch by James Sizemore, In Satan's Closet by Stacie Ponder, Don't Wake the Baby by Gula Delgatto, Pizza Sluts by Sign of the Beast Burlesque, and The Susan and Denise Halloween Special by Susan and Denise. Hosted by Portland's premiere drag clown and Queer Horror programmer Carla Rossi, and opening with a live one-act drag play performed by Rossi and Pepper Pepper, plus additional performances in between the films, Queer Horror: Gravest Hits will leave the audience shook, slain, and screaming for more. This event is made possible with support from the National Endowment for the Arts and is co-sponsored by Wesleyan's College of Film and the Moving Image.



PROFILES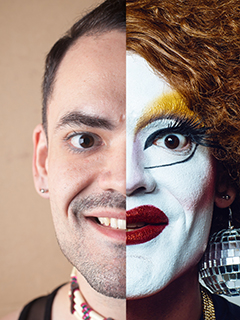 Anthony Hudson/Carla Rossi
Anthony Hudson (Confederated Tribes of Grand Ronde) is a multidisciplinary artist and writer perhaps best known as Carla Rossi, an immortal trickster whose attempts at realness almost always result in fantastic failure. Together they have been featured at the New York Theatre Workshop, La Mama, Portland and Seattle Art Museums, the Vancouver Queer Film Festival, the 2019 Portland Biennial, the Risk/Reward Festival, the Portland Institute for Contemporary Art's Time-Based Art Festival, and Melbourne's Yirramboi Festival. Hudson was named a 2018 National Artist Fellow from the Native Arts and Cultures Foundation, a 2018 Western Arts Alliance Native Launchpad Artist, a 2019 Oregon Arts Commission Fellow, and a 2021 First Peoples Fund Fellow; and has received project support and fellowships from the National Endowment for the Arts, National Performance Network, USArtists International, the Oregon Community Foundation, the Regional Arts and Culture Council, the Portland Art Museum and Northwest Film Center, Portland Institute for Contemporary Art, Ucross Foundation, and Caldera Arts Center. Hudson also co-hosts the weekly queer feminist horror podcast Gaylords of Darkness with writer Stacie Ponder. For more information please visit TheCarlaRossi.com.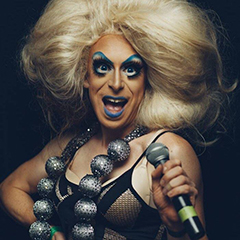 Pepper Pepper
So spice, they named her twice—Pepper Pepper (a.k.a. Kaj-anne Pepper) is a performance artist, writer, and multimedia video maker. Their work explores the comedy and vulnerability of life through a surreal filter of magic, history, and technology. Pepper's fifteen-plus year participation in Portland's drag nightlife is complemented by many collaborations with Portland theater and dance luminaries including Hand2Mouth Theater, Linda Austin Dance, and as an original member of Flock Dance Center. Recently, Pepper was a 2020 Oregon Visual Arts Fellow, and is currently an Alembic Artist in Residence at Performance Works Northwest, exploring a new solo about queer histories, memory, and the moon. For more information please visit ThePepperPepper.com.
View the COVID-19 Safety Guidelines for the Center for the Arts.