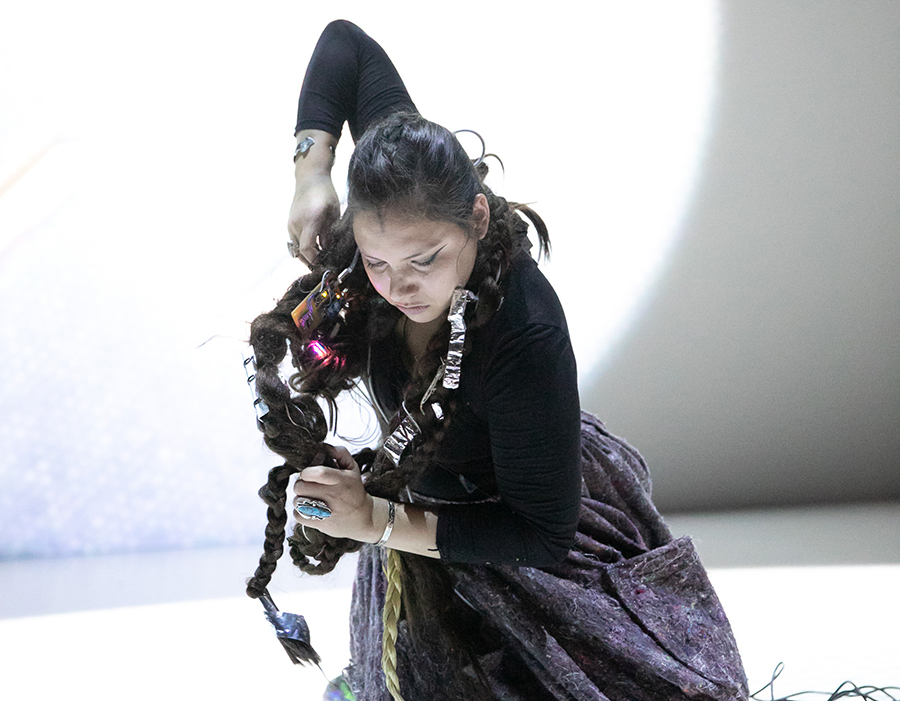 Artist Talk: Suzanne Kite—Nonhuman Futures
Wednesday, October 19, 2022 at 7:30pm
Ring Family Performing Arts Hall

FREE! Masks required.
In this talk, Oglála Lakȟóta performance artist Suzanne Kite will investigate our current and future relationships to nonhumans, especially to technology and artificial intelligence, as well as developing protocols through her artistic practice. Humans already are surrounded by objects which are not understood to be intelligent or even alive, and which are seen as unworthy of relations. How can humanity create a future — one that includes relations to technology and artificial intelligence — without an ethical-ontological orientation that guides us to understand what is worthy of relation and what is not? In order to create relations with any nonhuman entity, not just entities which seem human, the first steps are to acknowledge, understand, and know that the nonhuman are 'being' in the first place. Indigenous ontologies already exist to understand forms of 'being' which are outside of humanity.

Kite aka Suzanne Kite is an award winning Oglála Lakȟóta performance artist, visual artist, composer and academic raised in Southern California, known for her sound and video performance with her Machine Learning hair-braid interface. Kite holds a BFA from CalArts in music composition, an MFA from Bard College's Milton Avery Graduate School, and is a PhD candidate at Concordia University for the forthcoming dissertation, sound and video work, and interactive installation Hél čhaŋkú kiŋ ȟpáye (There lies the road). Kite's groundbreaking scholarship and practice explore contemporary Lakota ontology through research-creation, computational media, and performance. Kite often works in collaboration, especially with family and community members. Her art practice includes developing Machine Learning and compositional systems for body interface movement performances, interactive and static sculpture, immersive video and sound installations, poetry and experimental lectures, experimental video, as well as co-running the experimental electronic imprint, Unheard Records. Working with machine learning techniques since 2017 and developing body interfaces for performance since 2013, Kite is a first American Indian artist to utilize Machine Learning in art practice. Kite has been included in numerous publications such as Atlas of Anomalous AI, Indigenous Futurisms, YWY: Searching for a Character Between Future Worlds, SOUTH as a State of Mind, Creative AI Database from Serpentine Gallery, the American Indian Culture and Research Journal, the Journal of Design and Science (MIT Press), with the award winning article, "Making Kin with Machines", and the sculpture Ínyan Iyé (Telling Rock) (2019) was featured on the cover of Canadian Art. Kite was the Global Coordinator for the Indigenous Protocols and Artificial Intelligence Workshops supported by the Canadian Institute for Advanced Research, resulting in the publication of the Indigenous Protocols and Artificial Intelligence Position Paper. Kite's artwork and performance has been included in numerous exhibitions, recently Hammer Museum, Whitney Museum of American Art, Plug In Contemporary, PS122 and the Vera List Center, Anthology Film Archives, Walter Phillips Gallery, Chronus Art Center, Toronto Biennial, and Experimenta Triennial. Kite was a 2019 Pierre Elliott Trudeau Foundation Scholar, a 2020 Tulsa Artist Fellow, a 2020 Sundance New Frontiers Story Lab Fellow, a 2020 "100 Women in AI Ethics", a 2021 Common Fields Fellow, and the 2022 Creative Time Open Call artist for the Black and Indigenous Dreaming Workshops with Alisha B. Wormsley.

Guest Moderator Terri Hron is a musician, a performer and a multimedia artist. Her work explores historical instrumental performance practice and repertoire, field recording, ceramics, movement and video. Terri studied musicology and art history at the University of Alberta, historical and contemporary performance at the Conservatorium van Amsterdam and electroacoustic composition at the Université de Montréal. Her research focuses on collaborative practice and scoring in multimedia performance art. She was a Visiting Scholar at Wesleyan University and is currently Executive Director of the Canadian New Music Network, where she has developed programs focusing on equity, pluralism and accessibility.
This talk is sponsored by the Center for the Arts Creative Campus Initiative, Science and Society Program, and Music Department.
Image by vog.photo