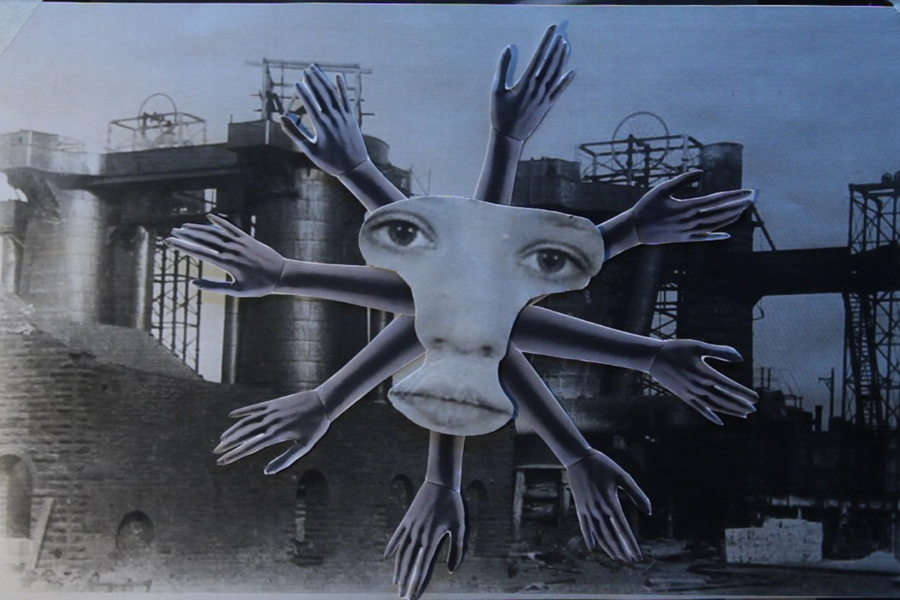 Women at War Exhibition Opens
Wednesday, October 26, 2022 at 12:00pm
Ezra and Cecile Zilkha Gallery, South Gallery

FREE! Masks required.
Read an essay about the exhibition by curator Monika Fabijanska.
Women at War features works by a selection of the leading contemporary women artists working in Ukraine, and provides context for the current war, as represented in art across various media. Several works in the exhibition were made after February 24, 2022, when Russia began full-scale invasion; others date from the eight years of war following the annexation of Crimea and the creation of separatist "republics" in Donbas in 2014.

War is central to history. History has been written (and painted) by men. This exhibition provides a platform for female narrators of history and examines the perception of war as gendered. Women are generally absent from the historical accounts of war, but violating a woman is seen as a violation of land and nation. The exhibition also serves as a gateway to Ukrainian and other Eastern European feminisms, which are significantly different from the Western mold. Women at War will contribute to a conversation about how national identity is tied to the perception of women's role in society. There are parallels between the fight for Ukraine's independence and the fight for its women's equality. They stem from the paradoxes of the Soviet Union, where early modernist, anti-nationalist, and feminist promises remained but a fig leaf of propaganda in the brutal and misogynist patriarchal empire it became.

This exhibition is a collaboration among Voloshyn Gallery, www.voloshyngallery.art, a prominent art gallery in Kyiv, currently operating from Miami, Florida; Fridman Gallery in New York City; and curator Monika Fabijanska.
Exhibition on display from Wednesday, October 26 through Sunday, November 20, 2022. Gallery hours are Tuesday through Sunday from Noon to 5pm. For more information, please visit the Ezra and Cecile Zilkha Gallery website.
Support for this exhibition is provided by the College of the Environment; Allbritton Center for the Study of Public Life; Russian, East European, and Eurasian Studies; Feminism, Gender, and Sexuality Studies; Office of the Dean of Arts and Humanities; and Office of the Dean of Social Sciences.

Click here to view the COVID-19 Safety Guidelines for the Center for the Arts.

RELATED EVENT

Resilience in Times of War
Tuesday, November 8, 2022 at Noon
Ezra and Cecile Zilkha Gallery
FREE! Masks required.

A performance presentation about the convergence of the arts, politics, and survival in Ukraine, held in conjunction with the exhibition Women at War, will feature Associate Professor of Dance, Environmental Studies, Russian, East European, and Eurasian Studies, and Education Studies Katja Kolcio joined by vocalist and collector of Ukrainian folk songs Nadia Tarnawsky, with livestream guests from Ukraine: theater artist and vocalist Vira Protskykh in Lviv, and writer and dancer Larissa Babij in Kyiv. Wesleyan students will also be featured in the performance.




IMAGES
Above image and thumbnail: Dana Kavelina, still from Letter to a Turtledove, 2020, HD, color, sound, 20:55 min. ©Dana Kavelina. Courtesy of the artist.
Banner image on Center for the Arts homepage: Olia Fedorova, Defense (detail), 2017, photograph, 30 x 45 inches, ©Olia Fedorova. Courtesy of the artist.