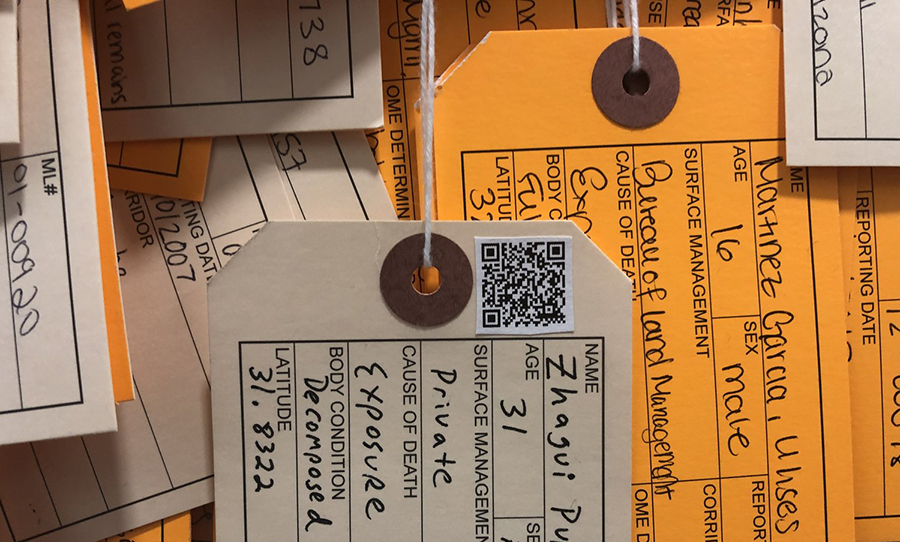 Community Workshop for the Creation of the Zilkha Gallery Installation of Hostile Terrain 94—Volunteers Needed
Friday, October 28, 2022 at 11:30am
Usdan University Center, Room 110, 45 Wyllys Avenue, Middletown

FREE!
To prepare for the installation of Hostile Terrain 94 in Zilkha Gallery, this workshop will ask volunteers to fill out the toe tags and bear witness to the humanitarian crisis that is happening at our southern border. We are hoping for individuals to emotionally connect with the information being conveyed on the tags, to memorialize and stand in solidarity with these lost lives, and to take part in the greater migration conversation. Join anytime and stay as long as you can.
Hostile Terrain 94 (HT94) is an international participatory art project commemorating the thousands of people who have died or disappeared attempting to cross the U.S./Mexico border, due to the U.S. Border Patrol policy of Prevention Through Deterrence. Organized by the Undocumented Migrant Project, the exhibition grew from the work of anthropologist and 2017 MacArthur Fellow Jason DeLeon. HT94 is made up of handwritten toe tags that represent each person who has died in the Sonoran Desert of Arizona. These tags include names (when known), age, sex, cause of death, condition of body, and location for every person whose body has been recovered.

The tags will then be placed on a wall map in the exact location where those remains were found, which will be installed in the Ezra and Cecile Zilkha Gallery as part of the broader fron/terra incognita + Hostile Terrain exhibition, on display from November 1 through December 11, 2022.

Contact information for questions or to arrange a workshop in the Ezra and Cecile Zilkha Gallery:
Tagging will continue in the gallery once the exhibition opens on November 1 and throughout the run of the exhibition. If you have questions or would like to arrange a class or community visit for this experience, please email Rosemary Lennox, Exhibitions Manager, at rlennox@wesleyan.edu or Rani Arbo, Campus and Community Engagement Manager, at rarbo@wesleyan.edu.
Support for this exhibition and related programming is provided by Allbritton Center for the Study of Public Life, College of the Environment, the Anthropology Department, The Thomas and Catharine McMahon Fund of the Department of Romance Languages and Literatures, African Studies, and CT Humanities.

Click here to view the COVID-19 Safety Guidelines for the Center for the Arts.