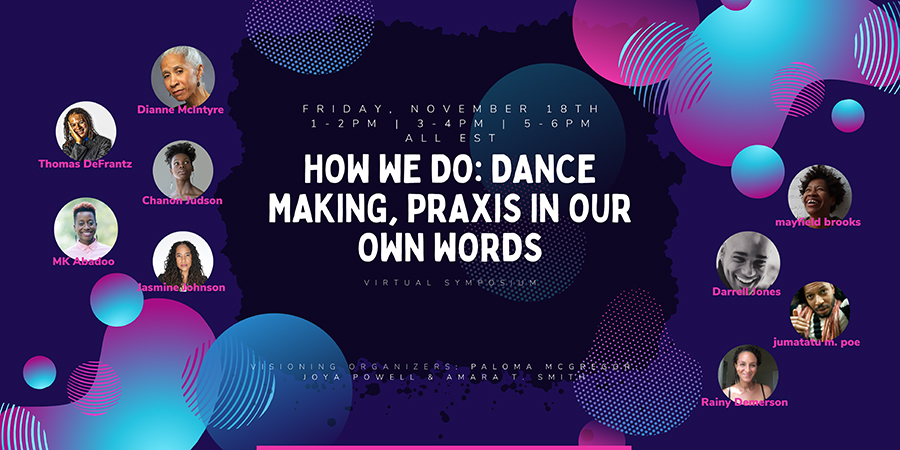 Virtual Symposium—How We Do: Dance Making, Praxis in Our Own Words
Friday, November 18, 2022 at 1:00pm
Zoom
FREE! Reservations required. (Eastern Standard Time)
This symposium will shed light on the magic of the praxis. Most Black dance makers go unrecognized for their contributions and tools they have shared in the field. How they do what they do. The symposium will highlight intergenerational conversations on the processes of dance making, which is often left within dance studio walls. The conversations will be centered around our processes, tools, devices that are used in our choreographic praxis, as akin to a kitchen table conversation. This symposium is the first step in creating a new pivotal book to add to the literary canon of dance making texts. The conversation will continue with additional public convenings to support the development of this necessary book. It is our intent to fill the ever-present need for Black creators to be heard, seen, and recognized for the work they do. 
SCHEDULE (Eastern Standard Time)

1pm–2pm: Chanon Judson, jumatatu m. poe, and Thomas DeFrantz*
3pm–4pm: mayfield brooks, Jasmine Johnson,* and Darrell Jones
5pm–6pm: MK Abadoo, Rainy Demerson,* and Dianne McIntyre
*Instigators
This symposium is nurtured by the visioning of Paloma McGregor/Angela's Pulse, Joya Powell/Wesleyan University and amara t. smith/Stanford University. It is sponsored and co-presented by: Angela's Pulse's North Star Arts Incubator, Wesleyan University's Dance Department and Allbritton Center for the Study of Public Life, and The Committee on Black Performing Arts (CBPA) at The Institute for Diversity in the Arts (IDA) at Stanford University.
PROFILES
MK Abadoo: MK Adadoo (they/she) devises intergenerational and immersive dance performance rituals that combine Africanist and post-modern movement vocabularies with place honoring community building. Moving from a spirit of joy and ease, their work amplifies the lives, stories and wisdom of gender expansive, queer, Black cultures. MK's work has been commissioned by the John F. Kennedy Center for the Performing Arts, the Clarice Smith Performing Arts Center, the University of Richmond, and the Dance Exchange. She was a 2017 U.S. Fulbright Fellow, working with the Noyam African Dance Institute and the National Dance Company of Ghana. They received a 40 Under 40 award from Prince George's County Social Innovation Fund in 2017, were included as a "rising star" in Dance Magazine's 2018 25 to Watch, and were awarded by Richmond, VA Dance Awards for their choreography in the 2019 commemorative justice site-specific work performed at one of the United States' oldest African burial grounds. MK is an assistant professor of Dance + Choreography at Virginia Commonwealth University, where she chairs the Racial Equity, Arts and Culture Core at the Institute of Inclusion, Inquiry and Innovation. www.Mkabadoo.com
mayfield brooks: mayfield is currently improvising while black in brooklyn, new york. mayfield is a movement-based performance artist, vocalist, urban farmer, teacher, and writer. they have studied contemporary dance with 'the school for new dance' (SNDO) in amsterdam, as well as the 'moving on center in oakland, ca. and holds a MFA in 'interdisciplinary performance' from uc davis, and a masters in 'performance studies' from northwestern university. In 2018 mayfield was a wow/uny artist-in-residence at governors island nyc, in 2019 they were a dance and process (dap) artist at the kitchen, nyc and is currently the artist-in-residence at 'movement research nyc'. mayfield has performed and taught around the world.  workshop & performance venues this year included: south africa, croatia, sedona, phoenix, san diego, los angeles, san francisco, seattle, vashon and waldron islands, western massachusetts and new york city. https://www.improvisingwhileblack.com/ 
Thomas F. DeFrantz: Thomas F. DeFrantz directs SLIPPAGE: Performance|Culture|Technology, a group that focuses on live-processing interfaces deployed in the interests of theatrical storytelling. DeFrantz assembles artists into formations to explore themes of social possibility in theater performances, symposia, workshops, and publication projects. DeFrantz received the 2017 Outstanding Research in Dance award from the Dance Studies Association, and contributed concept and voice-over for a permanent installation on Black Social Dance at the Smithsonian National Museum of African American History and Culture. DeFrantz thinks alongside other artists continually, in formations at the American Dance Festival, Movement Research, ImPulsTanz, Ponderosa, and the New Waves Dance Institute, as well as at MIT, Stanford, Yale, NYU, Hampshire College, the University of the Arts,  Duke, Northwestern University and the University of Nice. DeFrantz composes music, designs soundscapes, writes interface code, dances, creates texts, and wonders how we could gather through art as a register of possibility and expertise.  DeFrantz believes in our shared capacity to do better, and to engage our creative spirit for a collective good that is anti-racist, proto-feminist, and queer affirming. https://sites.northwestern.edu/slippagespring2022/about-slippage-nu/ 
Rainy Demerson: Rainy Demerson is a dance artist and scholar invested in intersectional feminism and decolonial embodiments. Dr. Demerson's pedagogical praxis is informed by many years of teaching youth, and by formal study in the Dance Education MA at New York University. She holds an MFA in Dance from Hollins University and a PhD in Critical Dance Studies from University of California Riverside. She taught at Lindenwood University, El Paso Community College, Crafton Hills College, Scripps College, California Polytechnic University Pomona, and California State University San Marcos before joining the University of the West Indies Cave Hill in Barbados, where she co-created a BFA in Dance which centers Afro-Caribbean identities. She has performed in the USA, South Africa and Senegal, and her research has been published in multiple journals including Journal of Dance Education, and several anthologies including the upcoming Oxford Handbook of Black Dance. She is currently creating a series of improvisational choreographies entitled Rituals for the End of Roe which serve as acts of radical healing for all affected by the dissolution of reproductive rights.
Jasmine Johnson: Jasmine Elizabeth Johnson is an Assistant Professor of Africana Studies at the University of Pennsylvania. Her work explores the politics of Black movement including dance, performance and diasporic travel. Johnson's interdisciplinary research and teaching are situated at the intersection of diaspora theory, dance and performance studies, ethnography, and Black feminisms. Johnson has received a number of fellowships and grants including those from the Ford Foundation, the National Endowment for the Humanities, and the Schomburg Center for Research in Black Culture. Her first book project, Rhythm Nation: West African Dance and the Politics of Diaspora, is a transnational ethnography on the industry of West African dance. Her work has been published by The Black Scholar, The Drama Review, ASAP Journal, Dance Research Journal, Africa and Black Diaspora: An International Journal, Theater Survey, Routledge Encyclopedia of Modernism, Aster(ix) and elsewhere. She serves as a Board Director for the Collegium for African Diaspora Dance. http://jasminejohn.com/ 
Darrell Jones: Darrell Jones has performed with a variety of choreographers and companies such as Bebe Miller, Urban Bush Women, Min Tanaka and Ralph Lemon.  Along with performing, Darrell has collaborated with other choreographers including Kirstie Simson, Angie Hauser, Lisa Gonzales, Paige Cunningham; musicians Jessie Manno, Brian Schuler, and DJ Franco De Leon; and designer, Mawish Syed, in dance films, documentations and interactive multimedia installations. He has received choreographic fellowships from MANCC (Maggie Allesee National Center for Choreography), CDF (Chicago Dancemakers Forum) MAP Fund and Mid-Atlantic Arts Foundation.  Darrell is presently an Associate Professor at Columbia College Chicago.  His classes are informed by his studies in a variety of contemporary dance techniques and improvisational processes.
Chanon Judson: Chanon Judson's been growing with the acclaimed Urban Bush Women  since 2001, as performer and now Co-Artistic Director.  She's a director's fellow with New Perspective Theatre Women's Work Lab, Chicago Director's Lab, and APAP's Leadership Fellowship Program.  Choreographic credits include "Times Up!" (commissioned by Flea Theatre), "The Hang" (Taylor Mac, Here Arts), "Cannabis: A Viper Vaudeville" (Collaborator/Performer - Baba Israel/Grace Galu/ Talvin Wilks),  "Orlando" (Barnard College), "Chronicle X" (Nia Witherspoon), "Prometheus Bound" (Tank Theatre), "The Invention of Tragedy" (Flea Theatre), and "Nurturing the Nurturer," her original  performance-ritual/gathering for mothers.  Chanon has worked with Mickie Davidson, Talvin Wilks, Kwame Ross, Barak adé Soleil, Sita Frederick, Sandra Burton, and Allyne Gartrell.  Performance credits include A 24-Decade History of Popular Music, God's Trombone (Craig Harris), Cotton Club Parade, Michael Jackson 30th Anniversary Concert, and the Tony award winning musical Fela! Chanon is an avid arts educator and has served as faculty with AileyCamp (Site Director), Alvin Ailey Arts in Education, Brooklyn Academy of Music, and Earl Mosley's Institute of the Arts.  Chanon is the founder of  Cumbe Center for Diasporic Arts' Dance Drum and Imagination Camp for Children and co-founder of Family Arts (FAM)—alongside her husband, they offer spaces for families to learn, explore, and create.  Chanon is a newly appointed Visiting Associate Professor at University at Buffalo where she is investigating jazz embodiment, education, and organizing aesthetics as well as leading a charge to redesign the jazz curriculum to better reflect the rich contributions of the African Diaspora. https://www.urbanbushwomen.org/the-company
Paloma McGregor: Paloma McGregor (Founder, Angela's Pulse) is a Caribbean-born, New York-based choreographer who makes Black work with Black folks for Black space. A former newspaper reporter, she combines a choreographer's craft, journalist's urgency and anti-racist organizer's framework to activate creative communities and shepherd collaborative visioning. McGregor is currently developing A'we deh ya, a multi-year, interdisciplinary performance project that activates a choreographic call-and-response between the US mainland and her homeland, St. Croix, a current US colony at the frontlines of climate emergency. A'we is the latest iteration of her project Building a Better Fishtrap, rooted in her father's vanishing fishing tradition and three animating questions: What do you take with you? Leave behind? Return to reclaim? Working at the growing edge of her field, McGregor received a 2020 Soros Arts Fellowship and was an inaugural recipient of several major awards: Mosaic Network & Fund (2020); Dance/USA's Fellowship to Artists (2019); UBW's CCI Fellowship (2018); Surdna Foundation's Artists Engaging in Social Change (2015). In 2017, she won a "Bessie" Award for performance with skeleton architecture. In addition to her art-making, McGregor has spent more than a decade investing in the leadership of other Black dance artists through Dancing While Black (DWB), which she founded in 2012 as a platform for community-building, intergenerational exchange and visibility among Black dance artists. http://angelaspulse.org/
Dianne McIntyre: Dianne McIntyre, a 2020 United States Artists Fellow and a 2016 Doris Duke Performing Artist, choreographs for concert dance, theatre, opera and film. From 1972 to 1988 McIntyre with Sounds in Motion, her company of dancers and musicians, toured internationally and at home taught classes and presented innumerable dance, music, theatre artists in concert at her Harlem studio. McIntyre's work has been seen with Sounds in Motion and her subsequent ensembles in throughout Europe and major U.S. dance venues including the Joyce Theater, Kennedy Center, the BAM, Walker Arts Center, Wexner Center, Playhouse Square Cleveland, Lincoln Center, American Dance Festival, Jacobs Pillow, New York Live Arts. Commissions include Dance Theatre of Harlem, Dallas Black Dance Theatre, Dancing Wheels, GroundWorks DanceTheater, Cleo Parker Robinson Dance, Def Dance Jam Community, Philadanco, and scores of college and university residencies. Her collaborations have been with artistic icons like Olu Dara, Amina Claudine Myers, Cecil Taylor, Butch Morris, Onaje Allan Gumbs, Don Pullen, Max Roach, Abby Lincoln, Lester Bowie. For film and television she choreographed Beloved; Langston Hughes: The Dream Keeper; and Miss Evers' Boys for which she received an Emmy nomination. In theatre choreography: four Broadway productions, 40 New York and regional theatres including Center Stage, La Jolla Playhouse, Karamu House, Syracuse Stage, New Federal Theatre, Cleveland Play House, New York Public Theater, Crossroads Theatre Company, Arena Stage and Negro Ensemble Company, McCarter Theatre. Directors and playwrights with whom she has worked include: Marion McClinton, Regina Taylor, Des McAnuff, Jonathan Demme, Douglas Turner Ward, Barlett Sher, August Wilson, OyamO, Ntozake Shange, Avery Brooks, Rita Dove, Geraldine Fitzgerald, Joe Sargent, Rick Davis, Glenda Dickerson, Woodie King, Jr., Irene Lewis, Oz Scott and Rick Khan. http://www.diannemcintyre.com/ 
jumatatu m. poe: I am a choreographer, performer, and educator based between Philadelphia and Durham who grew up dancing around the living room and at parties with my siblings and cousins. My early exposure to concert dance was through African dance and capoeira performances on California college campuses where my parents studied and worked, but I did not start formal dance training until college with Umfundalai, Kariamu Welsh's contemporary African dance technique. My work continues to be influenced by various sources, including my foundations in those living rooms and parties, my early technical training in contemporary African dance, my continued study of contemporary dance and performance, and my recent sociological research of and technical training in J-setting with Donte Beacham. I produce dance and performance work with idiosynCrazy productions, a company I founded in 2008 and now co-direct with Shannon Murphy. Previously, I have danced with Marianela Boán, Silvana Cardell, Emmanuelle Hunyh, Tania Isaac, Kun- Yang Lin, C. Kemal Nance, Marissa Perel, Leah Stein, Keith Thompson, Kate Watson-Wallace, Reggie Wilson, and Kariamu Welsh (as a member of Kariamu & Company). As a performer, I also collaborate with Merián Soto. https://www.jumatatu.org/ 
Joya Powell: A multiethnic Harlemite, Joya Powell is a Bessie Award winning Choreographer and Educator passionate about community, activism, and dances of the African Diaspora. Throughout her career she has danced with choreographers such as Paloma McGregor, Nicole Stanton, Katiti King, Neta Pulvermacher, and Mar Parrilla. In 2005 Joya founded Movement of the People Dance Company, dedicated to addressing sociocultural injustices through multidisciplinary immersive contemporary dance. Her work has appeared in venues such as: BAM, Lincoln Center, SummerStage, La Mama, The Bronx Museum of the Arts, The Dance Complex (Cambridge), Mudlark Theater (New Orleans), Movement Research @ Judson Church, The School of Contemporary Dance & Thought (Northampton), BAAD! among others. Joya has taught and studied in Brazil, Puerto Rico, Cuba, France and Israel. Recent awards and recognition include: Angela's Pulse's North Star Arts Incubator 2020-22, CUNY Dance Initiative AIR 2020-22, The Unsettling Dramaturgy Award 2021. Her chapters "How do you hold when you need to be held?: Dance and the embodied practice of grieving," and "A Grooveology: Reflections on Dance within Your Dance," are featured in Pandemic Performance: Resilience, Liveness, and Protest in Quarantine Times (Routledge), edited by Kendra Capece and Patrick Scorese and in Write Your Future, edited by Pepatián, respectively. She is a collaborating member of Dance Caribbean Collective and Radical Evolution Theater Company, as well as a co-conspirator of Angela's Pulse's Dancing While Black 10th anniversary season. She received her BA in Latin American Studies and Creative Writing from Columbia University, MA in Dance Education from NYU, and MFA in Dance from The University of the Arts. Joya is a Professor of the Practice in Dance at Wesleyan University. www.movementofthepeopledance.com 
amara t. smith: amara tabor-smith (she/they) is an Oakland, CA based choreographer, performance maker, cultural worker, and the artistic director of Deep Waters Dance Theater. She describes her work as Conjure Art. Her interdisciplinary site-responsive and community specific performance making practice utilizes Yoruba Lukumí spiritual technologies to address issues of social and environmental justice, race, gender identity, and belonging. Her work is rooted in Black, queer, feminist principles that insist on liberation, joy, home fullness and well-being.   She is a 2021 Rainin Fellow, a 2019 Dance/USA Fellow, 2018 United States Artist Fellow, 2018 recipient of KQED's "Bay Brilliant" award, and a 2017 Urban Bush Women Choreographic Center Fellow. Other grants and awards include, A Blade of Grass, Creative Work Fund, Akonadi Foundation, Sacatar artist in residence, MAP Fund, and Creative Capital. Amara is currently a teaching artist in residence at Stanford University. http://www.deepwatersdance.com/ 
Image Description: A vibrant colorful flyer for the How We Do: Dance Making, Praxis in Our Own Words virtual symposium, made of hues of blue, purple and pink. Framing the right and left side, are photos in circles of the participating BIPOC artists: Dianne McIntyre, Thomas DeFrantz, Chanon Judson, MK Abadoo, Jasmine Johnson (left side) and mayfield brooks, Darrell Jones, jumatatu poe, Rainy Demerson (right side). In the center is the following text in white: Friday, November 18th, 1-2pm | 3-4pm | 5-6pm, all EST. How we do: Dance Making, Praxis in Our Own Words virtual symposium. Visioning Organizers: Paloma McGregor, Joya Powell & amara t. smith.
Photo Credits: 
MK Abadoo by Shaka Shot Dat
mayfield brooks by Brett Davis
Rainy Demerson by the artist
Darrell Jones by Christopher Daniels
Chanon Judson by Hayim Heron
Dianne McIntyre by Larry Coleman
Paloma McGregor by Melisa Cardona
jumatatu m. poe by Tayarisha Poe
Joya Powell by the artist
amara t. smith by Jean Melasaine