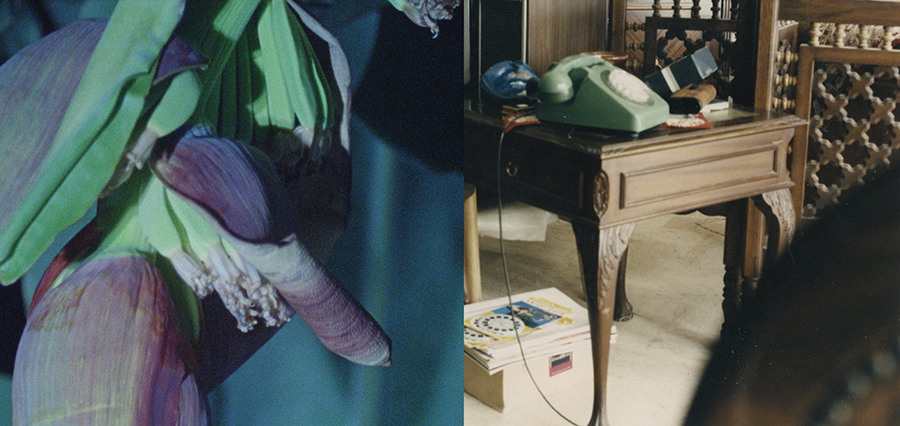 Sound Performance by Artists Nadia Shihab and Szu-Han Ho: two/fold
Sunday, November 20, 2022 at 1:00pm
Ezra and Cecile Zilkha Gallery

FREE!
Szu-Han Ho and Nadia Shihab will perform in the Ezra and Cecile Zilkha Gallery as part of a series of events held in conjuction with the exhibtion fron/terra cognita + Hostile Terrain (HT94).

two/fold is a sound performance by artists Nadia Shihab and Szu-Han Ho which takes the detailed fragments of two abandoned family homes–in Iraq and Taiwan–as the starting point for exploring the sound-feel of diaspora, loss, and transmutation. Incorporating live performance, samples, and processes of improvisation, two/fold builds a sonic image of double exposure. The artists use the rhythm of mother tongues, the sounds of chopping a banana tree, chewing sugarcane, and other frequencies pulled from their archives to generate a space where separate migration histories find overlap and dissonance.

Szu-Han Ho's work in performance, sound, and installation explores the relationship between bodies and sites of memory. She often works collaboratively, through collective action, structured improvisation, and group composition. Recent projects include Migrant Songs, a choral performance art piece incorporating stories and songs of human and nonhuman migration; Border to Baghdad, an exchange between artists from the U.S.-Mexico border and Baghdad, Iraq; and Shelter in Place, a sculptural installation and performance inspired by her family's history in Taiwan. She lives and works in Tiwa Territory (Albuquerque, New Mexico) and is a founding member of the fronteristxs collective. She is currently an Associate Professor in Art and Ecology in the Department of Art at the University of New Mexico.

Nadia Shihab is an artist and filmmaker whose work explores the personal, the relational, and the diasporic. Her directed films include Echolocation, Amal's Garden, and the feature film Jaddoland, which won five festival jury awards including the Independent Spirit "Truer than Fiction" Award in 2020. Her work has screened internationally, including at the Centre Pompidou, Walker Art Center, Berkeley Art Museum, BlackStar, Camden, DOXA, Mimesis, New Orleans Film Festival, CAAMFest, LAAPFF, Kassel Dokfest, and Cairo International Film Festival. She was raised in west Texas by immigrant parents from Iraq and Yemen, and is currently an Assistant Professor in Film in the School for Contemporary Arts at Simon Fraser University in Vancouver, Canada.

This event is held in conjunction with the exhibition fron/terra cognita + Hostile Terrain (HT94), on display from Tuesday, November 1 through Sunday, December 11, 2022. Gallery hours are Tuesday through Sunday from Noon to 5pm. For more information, please visit the Zilkha Gallery website. Funding for the exhibition and related programming is provided by the Allbritton Center for the Study of Public Life, College of the Environment, Anthropology Department, the Thomas and Catharine McMahon Fund of the Department of Romance Languages and Literatures, African Studies, and CT Humanities.