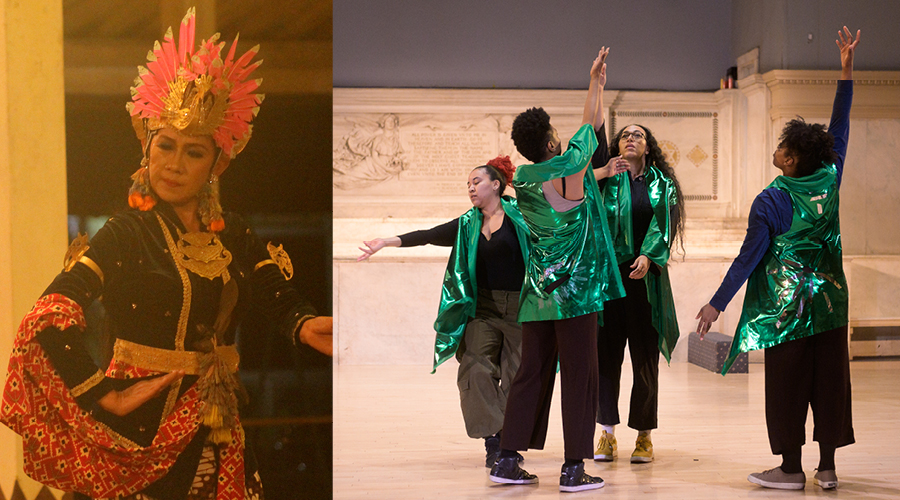 Fall Faculty Dance Concert: For the LOVE (of Humanity)
Friday, December 2, 2022 at 7:00pm
CFA Theater

$8. Masks required*
Saturday, December 3, 2022 at 7:00pm
CFA Theater

$8. Masks required*
The Fall Faculty Dance Concert will feature Assistant Professor of the Practice in Dance and African American Studies Joya Powell and Visiting Professor of Dance Veronica Retnaningsih.

Joya Powell's company Movement of the People and Wesleyan students and alumni will perform What's Left of Spring, a collaborative Afrofuturist multidisciplinary immersive conversation on sociopolitical issues the United States has faced and will continue to face if systematic oppression continues to be the norm. Envisioned out of the tyrannical rule of 2017 to 2021, the work in progress uses satire to address issues like global warming, immigration, race relations, and war. Structured improvisation frames Africanist aesthetics and Diasporic dance vernaculars including house, Afro-Brazilian dance, dancehall, jazz, hip hop, and salsa as performers ask the audience to time travel, engage in call and response, sing, and be verbal spectators. A science-fictionesque return to ritual, in the future when our current conditions have become myth, this group work poses the question: for there to be change, must something be sacrificed? The performance will feature Powell; Wesleyan students and alumni Zoe Farnsworth '21, Amaal Ladha '23, Charissa Lee '23, Crystal Pena '24, Shirley Sullivan '21, and Rebeca Trevino '24; and Movement of the People collaborating choreographers Brittany Grier, Solana Hoffmann-Carter, and Emily Tellier. Featuring music by Stravinsky and Wesleyan Ph.D. candidate Jocelyn Pleasant.

Veronica Retnaningsih will be performing a work at the concert on Friday, December 2, 2022. Golek Ayun-Ayun, also known as Nawung Asmara (Being in Love), portrays a young woman who is searching for her identity through makeup and dress. The ten minute solo dance displays the woman's grace and femininity.



*Please note that masks are required for this event.
View the COVID-19 Safety Guidelines for the Center for the Arts.
Images (from left): Veronica Retnaningsih and Joya Powell's company Movement of the People (photo by Ian Douglass).