Music Department Colloquium: Richard K. Wolf—"Wakhi Poetic Imagination in Tajikistan and Afghanistan"
Wednesday, March 1, 2023 at 4:30pm
Zoom
FREE! Reservation required.
Wakhi is an Eastern Iranian language spoken by about 80,000 people worldwide, largely in the Wakhan Corridor of southeastern Tajikistan and northern Afghanistan, Gilgit-Baltistan in northern Pakistan, southwest Xinjiang, China, and in Yekaterinburg and other parts of Russia. I conducted research with Wakhi bards from 2012 to 2020, largely in Tajikistan and Afghanistan. The two poets to be discussed, Qurbonsho in Tajikistan and Daulatsho in Afghanistan, are featured in my film Two Poets and a River, which complements this presentation. Qurbonsho (c. 1965–2022) was a key figure in the movement to create modern Wakhi song—that is to say, poem-songs that experiment with a variety of poetic forms from Persian classical poetry and musical styles from the former Soviet Union and beyond. Daulatsho (b. 1982) is the leading figure in modern Wakhan, Afghanistan. A schoolteacher by profession, Daulatsho has rigorously pursued his own musical and poetic style in Wakhi. On both sides of the river that separate Tajik and Afghan Wakhan, and Qurbonsho and Daulatsho, singers play with the constraints of what can or should be said directly and what can only be implied or inferred by the listener. By poetic imagination I mean the worlds that these poet-singers create in and through their poetry and its performance. Qurbonsho, for instance, fashioned dual personae for himself--one as the creator-behind-the-scenes and one as the public figure; and he devoted himself to a lifelong dual-beloved: Sitora and Sharora. Daulatsho is a master of allusion, bringing forth seemingly mundane tropes and scenarios that often open up worlds of experiences and specific events that the listener can seldom access without explanation. The seeming impenetrability of some of Qurbonsho's and Daulatsho's poems raises questions that pertain to art more generally: What should be the role of the artist in guiding the experience of the audience? To what extent should we be moved by "the production of presence" (as Hans Ulrich Gumbrecht calls it) alone?
Richard K. Wolf, Professor of Music and South Asian Studies at Harvard University, is an ethnomusicologist, filmmaker, and photographer who has been conducting research in South and Central Asia since the 1980s. Author of two monographs and editor of three collections, Wolf has written on social-cultural "style" in South Indian music, music and space-time in Kota tribal society, and music in Islamic contexts in India and Pakistan. Among recent honors, Wolf was the recipient of a Friedrich Wilhelm Bessel Research Award from the Alexander von Humboldt Foundation and was named the Carl and Lily Pforzheimer Foundation Fellow at the National Humanities Center in 2018–2019. His most recent publication is Thought and Play in Musical Rhythm (Oxford University Press, 2019), a volume he co-edited with Stephen Blum and Christopher Hasty. A creative artist as well as a scholar, Wolf wrote an ethnography of ritual drumming in India and Pakistan in the form of a hybrid novel entitled The Voice in the Drum: Music, Language and Emotion in Islamicate South Asia. Wolf is currently preparing a monograph concerning music, language, and moral being among the Wakhi people of adjacent parts of Tajikistan, Afghanistan, Pakistan and western China.  His film Two Poets and a River draws from the same research, spanning the years 2012 to 2020. Wolf also continues actively to perform on and teach the Karnatak vina. For the academic year 2022–2023 he is a fellow at the Film Study Center at Harvard University.
In his work Wolf explores what motivates musicians to be creative and why music matters. As a scholar, he immerses himself in the lives of musicians, learns to perform music, learns to speak their languages, and writes articles and books to convey the insights gained over decades of research in South and Central Asia. As an artist, he tries to evoke what straightforward academic discourse does not handle well—the ambiguity, emotion, and aesthetics of everyday life.
RELATED EVENT: FILM SCREENING
Two Poets and a River by Richard K. Wolf
Monday, February 27, 2023 at 5pm
The Jeanine Basinger Center for Film Studies 112
301 Washington Terrace, Middletown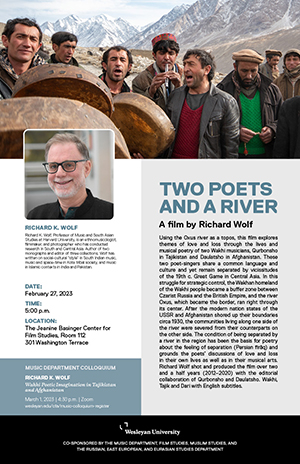 The colloquium is organized by Assistant Professor of Music John Dankwa and Assistant Professor of Music and Russian, East European, and Eurasian Studies Saida Daukeyeva as part of the Music Department Colloquium Series.