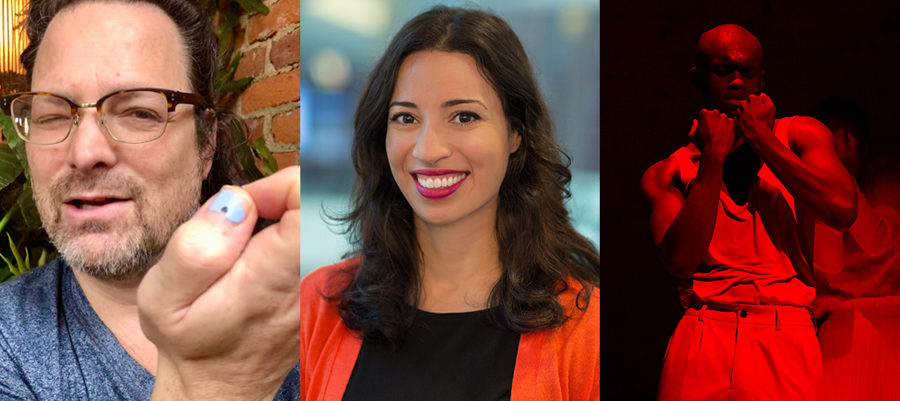 Dance Alumni Chat Series: Anyone Can Dance!
Friday, March 3, 2023 at 12:00pm
Zoom (Eastern Standard Time)
FREE!
The Dance Department's fourth Alumni Chat Series event features three amazing Wesleyan alumni discussing the benefits of a dance degree, and how their dance education at Wesleyan transformed their lives beyond the University. Featuring David Brick '91, Degan Mercado Leopold '03, and Djibril Sall '16. Moderated by University Professor of Dance Patricia Beaman.
PROFILES
David Brick '91 collaborates broadly in making dance, participatory installations and community. The experience of growing up as a hearing person in a Deaf family continually influences their thinking about how bodies perform as both subjects and agents of culture. David is Artistic Director and Co-Founder of Headlong Dance Theater, a platform for performance research and grassroots artist support, founded in Philadelphia in 1993. Headlong's large body of work has performed nationally and internationally is recognized as having re-imagined and re-invigorated approaches to participatory and site-specific performance. Dance writer Marcia Siegel wrote "I thought the real challenges of outdoor dancing had been met. Then I encountered a baffling and mind-blowing piece called Cell, produced by Headlong Dance Theater." Artists that David is proud to have worked closely with include Ishmael Houston Jones, Eiko Otake, Hari Krishnan, Rosie Herrera, Dan Rothenberg, Mary Jane Jacob, Maiko Matsushima, Mimi Lien, Jaamil Kosoko, Reggie Wilson, and Larissa Velez-Jackson. David also directs the Headlong Performance Institute, a supported residency and training program. His writings about art practice as a form of thinking and experience can be found on The Quiet Circus Blog (www.thequietcircus.com/blog).

Degan Mercado Leopold '03 is Chief Strategy Officer at the New York Jobs CEO Council, a nonprofit membership intermediary led by CEOs of large employers. The Council is committed to hiring 100,000 low-income and diverse New Yorkers into career-pathway jobs by 2030. Previously, Degan was Diversity Recruiting Program Manager and Senior Corporate Giving Manager in Philanthropy at Bloomberg L.P. She served for 8 years in the NYC Office of the Mayor during the Bloomberg administration. Degan serves on the board of trustees of Wesleyan University and Project Basta, a nonprofit dedicated to closing the employment gap for first-generation college students of color. She received her MPA in public & nonprofit management from New York University's Robert F. Wagner School of Public Service and holds a BA from Wesleyan.

Djibril Sall '16 is a Berlin-based choreographer who received his BA in Dance from Wesleyan University. His most recent work, evening.haiku, premiered at Sophiensaele as a part of the 31st Tanztage Festival and was chosen for inclusion into the 2022 [8:Tension] Young Choreographers Series at ImPulsTanz International Vienna Dance Festival. He has presented works at Ballhaus Ost and radialsystem in Berlin and performed in various festivals and institutions including Stedelijk in Amsterdam, DARK MOFO in Australia, and Centre Pompidou in Paris. Djibril has been invited to speak at Mumok, Sophiensaele, Flutgraben, and Dansens Hus among others for his work on queer and racial trauma and he is currently doing research for his next solo project.
Images above (from left): David Brick, Degan Mercado, Djibril Sall