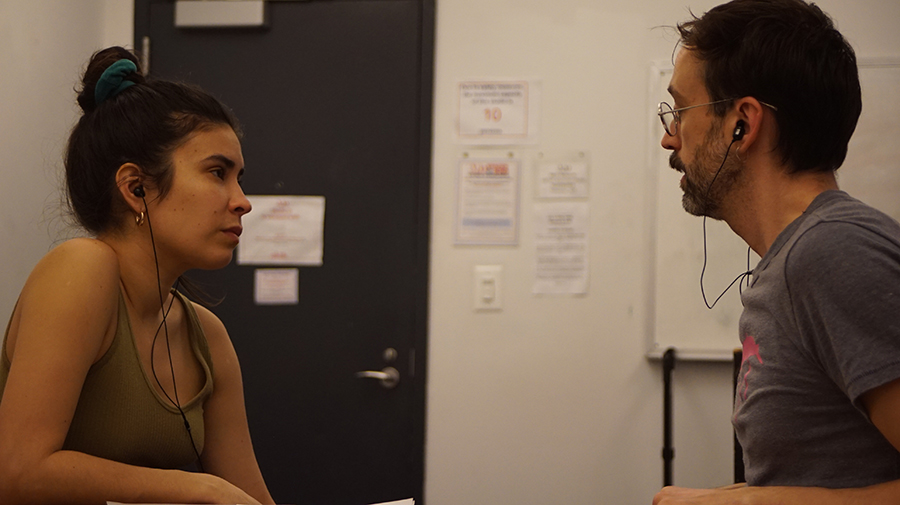 Excerpts from The Clear Blue Skies: Diaries from Ukraine
Monday, March 6, 2023 at 7:00pm
Cross Street Dance Studio, 160 Cross Street, Middletown, Connecticut
FREE! Open to public, no reservations required.
Actors Kyle Cameron, Raquel Chavez, and Alexandra Templer workshop excerpts from the new theater project The Clear Blue Skies: Diaries from Ukraine, created by Scott Illingworth and Oleksandra Oliinyk.
Within days of the start of the war in 2022, a group of Ukrainian children and teenagers began recording interviews and audio diaries in English to share their stories with the world. They have become a remarkable chronicle of young people plunged into war and crisis—from becoming refugees across Europe to living under Russian occupation and recording from behind enemy lines.
The Clear Blue Skies uses excerpts from these gripping recordings, listened to live by actors on stage and performed using a real-time in-ear verbatim technique. The result is an urgent and intimate transmission about the trauma of war and the resilience and humor of young people in the digital age facing an unknown future for their country.

The evening will include a performance of extended excerpts from the project, along with a discussion of the process of building the performance while the interview subjects remain in the midst of an active war.
Co-sponsored by Wesleyan's College of the Environment, Allbritton Center for the Study of Public Life, Anthropology Department, Center for the Arts, Dance Department, Russian, East European, and Eurasian Studies Department, and Theater Department.
PROFILES
KYLE CAMERON (Actor) New York City: By the Water (MTC), Chains (Mint Theater), Pushkin (american vicarious). Proud member of the 52nd Street Project. Regional: S.F. Playhouse (Significant Other, Theatre Bay Area & S.F. Critics Circle Award Nominee; Trouble Cometh, world premiere), Denver Center (Anna Karenina, Henry Award Nominee), Studio Theatre, D.C. (The Hard Problem), City Theatre, Pittsburgh (The White Chip). International: three tours with Green Thumb Theatre (CRANKED, Dora Mavor Moore Award, world premiere), Arts Club (Vancouver), The Belfry (Victoria). Film: Vampire (Sundance). TV: "Law & Order: SVU," "The Blacklist," "Orange is the New Black," "The Lottery," "Murdoch Mysteries." Training: N.Y.U. Grad Acting.
RAQUEL CHAVEZ (Actor) [she/they] is an actor and director based in Brooklyn via the Bay Area. Recent credits include Epiphany at Lincoln Center, and reupholstering and directing Measure for Measure for Smith Street Stage this past fall. TV: "The Good Fight," "Law & Order: SVU." B.A. Columbia University in Race and Ethnicity Studies, M.F.A. N.Y.U. Grad Acting. Aspiring accordionist, please advise. Vaya con Todd.
SCOTT ILLINGWORTH (Co-Creator) is an Associate Arts Professor in the Graduate Acting Program at N.Y.U.'s Tisch School of the Arts and a freelance director. He is the author of Exercises for Embodied Actors: Tools for Physical Actioning; a founder of SOCIETY, a New York City theater company; and a Fulbright grant recipient. He has taught at universities and schools across the U.S. and internationally. Directing credits span off-Broadway, regional, and international work including new play collaborations with Lucas Hnath, Mona Mansour, Christina Anderson, Keith Reddin, and Bill Bowers among others. He's worked at theaters across the U.S., Europe, South America, and Asia. He is a member of the Stage Directors and Choreographers Society and is a Guild Certified Feldenkrais Practitioner.
OLEKSANDRA [Alex] OLIINYK (Co-Creator) is the founder, director, and teacher at Actors Lab Ukraine. She teaches acting and movement to both children and adults. Her special interest is working and creating with teenagers. She was previously a professor at Kyiv National I. K. Karpenko-Karyi Theatre, Cinema and Television University and did research as a Fulbright grant recipient at N.Y.U.'s Tisch School of Arts. As an actress she has worked in theaters throughout Ukraine and performed in international projects at LaMama, the John F. Kennedy Center for the Performing Arts, and Instytut im. Jerzego Grotowskiego.
ALEXANDRA TEMPLER (Actor) is an actress known for When They See Us (Netflix), Evil (Paramount+), We Crashed (Apple TV+), and What Doesn't Float. She is a founding member of Society Theater Company in New York and has worked regionally and off broadway since graduating from N.Y.U. Grad Acting in 2018.
Photo by Yulia V. Clark