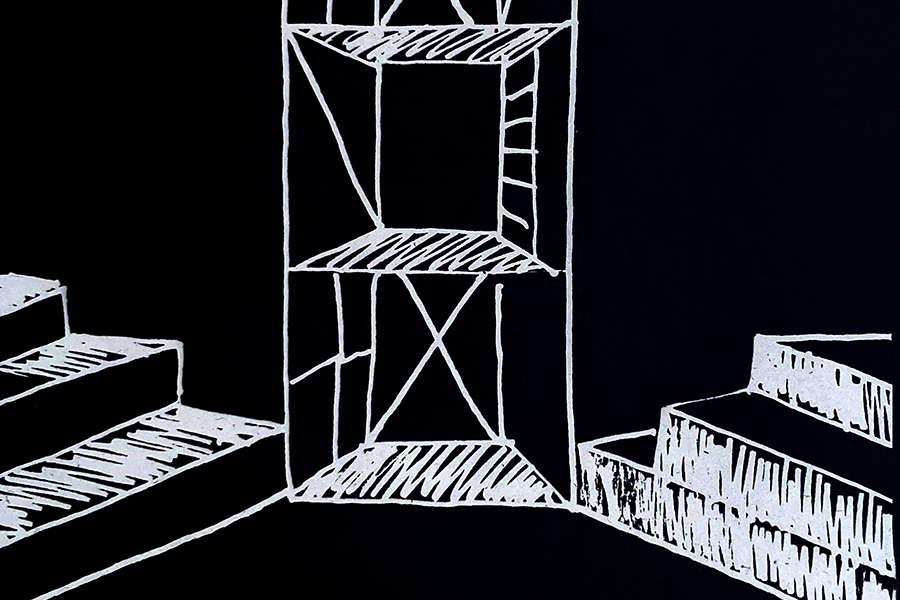 Revivals in the Dark Workshop: On Revivals and Animating Theater History with CLASSIX
Friday, March 31, 2023 at 1:30pm
CFA Theater Studio, 275 Washington Terrace, Middletown, Connecticut

RESERVE NOW
FREE! Reservations required.
A free workshop with CLASSIX, featuring Brittany Bradford, A.J. Muhammad, Dominique Rider, Arminda Thomas, and Awoye Timpo. Open to all students, no experience necessary. Make reservations on this form.
Building on the question "what does it mean to stage and engage with revivals in the 21st century?" this workshop presents an opportunity for students to work closely with members of CLASSIX in conversation around two plays: The Sty of the Blind Pig by Phillip Hayes Dean (1974), and the Wedding Band by Alice Childress (1973). CLASSIX founder Awoye Timpo recently staged an award-winning production of Wedding Band at Theatre for a New Audience in Brooklyn, and CLASSIX member Dominique Rider is in the process of working towards a future production of Sty of the Blind Pig. For this workshop, Timpo and Rider will talk about their respective revival processes before engaging students in a long-form conversation around what it means to think about and direct revivals. Using excerpts from The Sty of the Blind Pig to frame the conversation, students will engage in close reading and interpretation while also learning how to trust and follow their instincts when building the world of revivals. Ephemera from a production of The Sty of the Blind Pig, produced at Wesleyan University in 1975, will further animate the workshop, allowing students to consider how their own revival process might reflect and transform the life at Wesleyan.

CLASSIX was created by theater director Awoye Timpo to explode the classical canon through an exploration of Black performance history and dramatic works by Black writers. CLASSIX defines these classic works as plays by authors of African descent from around the world that speak profoundly to the times in which they were written and resonate deeply with our own. CLASSIX engages artists, historians, students, professors, producers, and audiences to launch these plays into the public imagination and spark productions worldwide. In the past, the team behind CLASSIX has produced live events, educational programs, a podcast series, a social media platform, and an online archive of writing and plays that details this legacy of Black theater history.
Co-sponsored by the Center for the Arts and Allbritton Center for the Study of Public Life.

Read about more Revivals in the Dark Events.
CLASSIX PROFILES
Brittany Bradford is an actor, director, producer, and teaching artist. Acting credits include Broadway: Bernhardt/Hamlet. Off-Broadway: MacBeth (Hunter Theater Project), and Fiasco's Merrily We Roll Along (Roundabout). New York City/Regional credits: Fefu and Her Friends (Theatre for a New Audience); Guys and Dolls (The Muny); Flyin' West (Westport Country Playhouse); Family Resemblance (Eugene O'Neill); The Profane and Taming of the Shrew (Chautauqua Theater Company); Midsummer Night's Dream (Ten Thousand Things Theatre); Neighbors, Avenue Q, and Next to Normal (Mixed Blood Theatre); and Ragtime and Stick Fly (Park Square Theatre). Training: Juilliard. Line Producer of AAPF's Say Her Name, company member of CLASSIX, and Co-Founder and Artistic Director of HomeBase Theatre Collective.
As a dramaturg/researcher, A.J. Muhammad has worked on The Black History Museum…According to The United States of America by Zoey Martinson (HERE Arts Center), and other productions in different arenas ranging from indie theater to higher education. He has collaborated with the educator and activist Daniel Banks on new works, revivals, and devised theater projects for over two decades. Muhammad is currently on the producing team for the OBIE award-winning The Fire This Time Festival. He is also a librarian in the Jean Blackwell Research and Reference Division at the Schomburg Center.
Dominique Rider is a Brooklyn-based director whose work seeks to answer the question: "What is a world unmade by slavery?" while attempting to analyze the layers of anti-blackness that maintain the world we live in. Deploying theater and performance as tools of Afropessimism, Rider has developed and staged work with Audible, The New Group, NYTW, Roundabout, The Atlantic, Princeton, Rattlestick, BRIC Arts, Two River, Portland Center Stage, and more. Past fellowships/residencies include TheaterWorks Hartford, NYSAF, BRIC Arts, Roundabout, and NAMT. Currently, Rider is a resident director at The National Black Theatre and a producer with CLASSIX.
Arminda Thomas is a dramaturg, archivist, and musician. Selected credits include The Black History Museum…According to the United States of America (HERE), Jazz (Marin Theatre Company), Zora is My Name (New Federal Theatre), and The First Noel (Classical Theatre of Harlem). She has worked as associate artistic director and resident dramaturg for the Going to the River Festival, and as literary associate and archivist for Dee-Davis Enterprises, where she served as executive producer for the Grammy Award-winning audiobook With Ossie and Ruby: In This Life Together, and consultant for the film Life's Essentials with Ruby Dee.
Awoye Timpo is a Brooklyn-based Director and Producer. Off-Broadway directing credits include In Old Age (New York Theatre Workshop), Good Grief at The Vineyard Theatre, The Revolving Cycles Truly and Steadily Roll'd at The Playwrights Realm, and The Homecoming Queen at Atlantic Theater Company. Regionally she has directed Pipeline at the Studio Theatre, Everybody Black at Actors Theatre of Louisville, and Paradise Blue at Long Wharf Theatre. Additional credits include Carnaval at the National Black Theatre, Sister Son/ji at the Billie Holiday Theatre, The Vanished (site-specific), Skeleton Crew at Chester Theatre Company, and Ndebele Funeral at 59E59 Theaters, Edinburgh Festival/Summerhall, and the South African tour.
Image: Original poster design from "El Hajj Malik" by N.R. Davidson, dir. Esteban Vega, Center for the Arts, Wesleyan University, 1975.