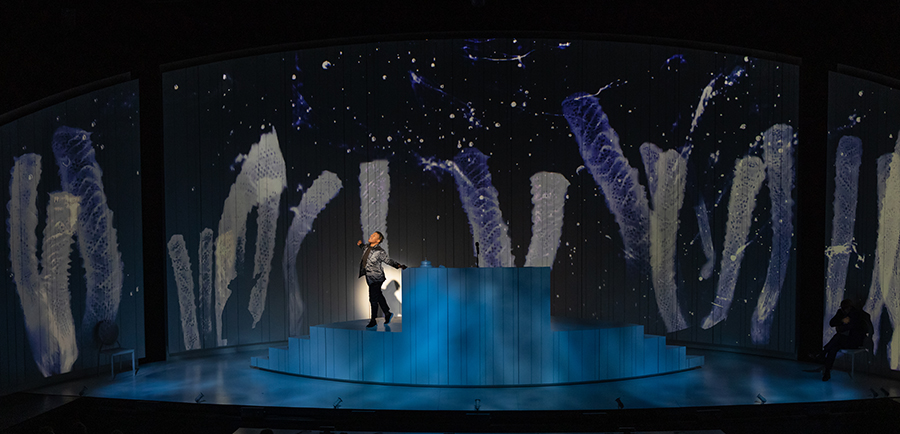 Ocean Filibuster
Thursday, May 4, 2023 at 8:00pm
CFA Theater

$25 general public; $15 senior citizens, Wesleyan faculty/staff/alumni, non-Wesleyan students; $8 Wesleyan students, youth under 18
Friday, May 5, 2023 at 8:00pm
CFA Theater

$25 general public; $15 senior citizens, Wesleyan faculty/staff/alumni, non-Wesleyan students; $8 Wesleyan students, youth under 18
Saturday, May 6, 2023 at 2:00pm
CFA Theater

$25 general public; $15 senior citizens, Wesleyan faculty/staff/alumni, non-Wesleyan students; $8 Wesleyan students, youth under 18
Saturday, May 6, 2023 at 8:00pm
CFA Theater

$25 general public; $15 senior citizens, Wesleyan faculty/staff/alumni, non-Wesleyan students; $8 Wesleyan students, youth under 18
"Along with an immersive experience, the script takes an intimate, as well as critical, look at the relationship between humans and the ocean."
--The Arts Fuse (Boston)

"Hear the ocean speak on its own behalf in 'Ocean Filibuster' at Wesleyan University" from Connecticut Public Radio.

Feel the power of the ocean through an immersive image-and-sound design that envelops the audience in an awe-inspiring underwater world.

Click here to join this event on Facebook. 
Linking below-the-surface mystery with above-the-surface climate issues, the Connecticut premiere of Ocean Filibuster puts audiences in the middle of a human/ocean showdown. "The Ocean" gets the chance to tell its side of the story in this new music theater experience from Assistant Professor of Theater Katie Pearl's Obie Award-winning company PearlDamour in collaboration with the Center for the Arts, the Wesleyan Theater Department, the College of the Environment, and the Allbritton Center for the Study of Public Life.

Read "Connecticut Premiere of 'Ocean Filibuster' Takes Place May 4-6" in The Wesleyan Connection.

Using large-scale projection, songs, science, and stand-up, Ocean Filibuster explores the intimate, critical relationship between humans and the ocean in an epic battle of wits and wills, smarts and sass, and facts and anthropocentric fiction. Set in a future Global Senate, performer Jenn Kidwell embodies two rivals: "Mr. Majority"—who introduces a bill to end the ocean as we know it—and "The Ocean," arriving in human form to filibuster the bill. Originally commissioned by American Repertory Theater in collaboration with Harvard University's Center for the Environment, Ocean Filibuster plunges the audience into the most heated debate of our time.

Read "Artists and Academics Discuss Climate Change" in The Wesleyan Connection.
This event is part of the Ocean Filibuster: Art and Action series, a semester of art and activism, science and storytelling—building to the Connecticut premiere performance of PearlDamour's Ocean Filibuster in the CFA Theater on May 4–6, 2023. For more information and related events, visit www.wesleyan.edu/cfa/ocean.
Explore the free, interactive, and immersive installation Oceanic Journey, presented by the Theater Department in conjunction with Ocean Filibuster. 

Ocean Filibuster and related events are supported by Wesleyan University's Center for the Arts, Theater Department, College of the Environment, and Allbritton Center for the Study of Public Life. Additional support provided by the Philip J. '71 and Lynn Rauch Fund for Innovation, New England Foundation for the Arts, and National Endowment for the Arts.
Read about some resources and ways to get involved and support the environment.
POST-PERFORMANCE DISCUSSIONS
Thursday, May 4, 2023: Led by Jason Patlis, President and CEO of The Maritime Aquarium at Norwalk, CT, and Lisa D'Amour, playwright, Ocean Filibuster.
Friday, May 5, 2023: Led by Assistant Professor of Earth and Environmental Sciences Raquel Bryant.
Saturday, May 6, 2023 (2pm performance): Led by Rhea Drozdenko '18, River Steward at Connecticut River Conservancy, and Shekinah Mba '26
Saturday, May 6, 2023 (8pm performance): Led by Assistant Professor of Earth and Environmental Sciences Raquel Bryant.
PROFILES
Raquel Bryant, Assistant Professor of Earth and Environmental Sciences at Wesleyan, is a paleoceanographer and micropaleontologist. Bryant is a leader in integrating microfossil and geochemical archives to understand how the ocean and its ecosystems respond to intervals of global warmth in the geologic past. Her research leverages the interscalar potential of fossil foraminifera to detect earth system change at the individual and community level. She is also interested in developing new methods to cultivate leadership skills among geoscientists and foster radical earth-learning environments. She completed her B.A. in Geology and Biology at Brown University. She holds an M.S. and Ph.D. in Geosciences from the University of Massachusetts, Amherst where she was a Randolph and Cecile Bromery Graduate Fellow and a National Science Foundation Graduate Research Fellow. She completed postdoctoral training in the College of Geosciences at Texas A&M University as a Geosciences Future Faculty Fellow.
Lisa D'Amour is a playwright, educator and interdisciplinary collaborator from New Orleans, LA. She grew up in a world of ritual, activism, community spectacle and care, all of which continue to thrive in her work. Her theater company PearlDamour makes interdisciplinary, often site-specific works, that range from the intimate to large scale. Recent work includes Milton, a performance and community engagement experiment rooted in 5 U.S. towns named Milton, and How to Build a Forest, an 8-hour performance installation created with visual artist Shawn Hall. Lisa's plays have been produced in many theaters across the country, including Manhattan Theater Club's Samuel J. Friedman Theater on Broadway, Steppenwolf Theater (Chicago), Children's Theater Company (Minneapolis), Woolly Mammoth Theater (Washington D.C.), Southern Rep Theater and ArtSpot Productions (both in New Orleans). Lisa's play Detroit was a finalist for the 2011 Pulitzer Prize and the 2011 Susan Smith Blackburn prize. She is the recipient of the 2008 Alpert Award for the Arts in theater, the 2011 Steinberg Playwright Award, and a 2013 Doris Duke Performing Artist Award. She is a former Jerome Fellow, a Core Alum of the Playwrights' Center, and an alumna of New Dramatists. In New Orleans, she serves on the artistic advisory committee for No Dream Deferred theater and is part of the collaborative leadership team of the Black and Blue Story Project. 

Jason Patlis, President and CEO of The Maritime Aquarium at Norwalk, leads a post-performance discussion on Thursday, May 4, 2023. Bringing over 30 years of experience in non-profit management, environmental law, public policy, and finance to the organization, Patlis previously served as Executive Director of the Marine Conservation Program at Wildlife Conservation Society, President and CEO of the Nation Marine Sanctuary Foundation, and Vice President and Managing Director for U.S. Government Relations at the World Wildlife Fund. Earlier in his career, he notably worked as a legal expert in Indonesia and helped pave the way for the establishment of Indonesia's first national law on coastal management. Patlis is a proud alumnus of Cornell University School of Law.