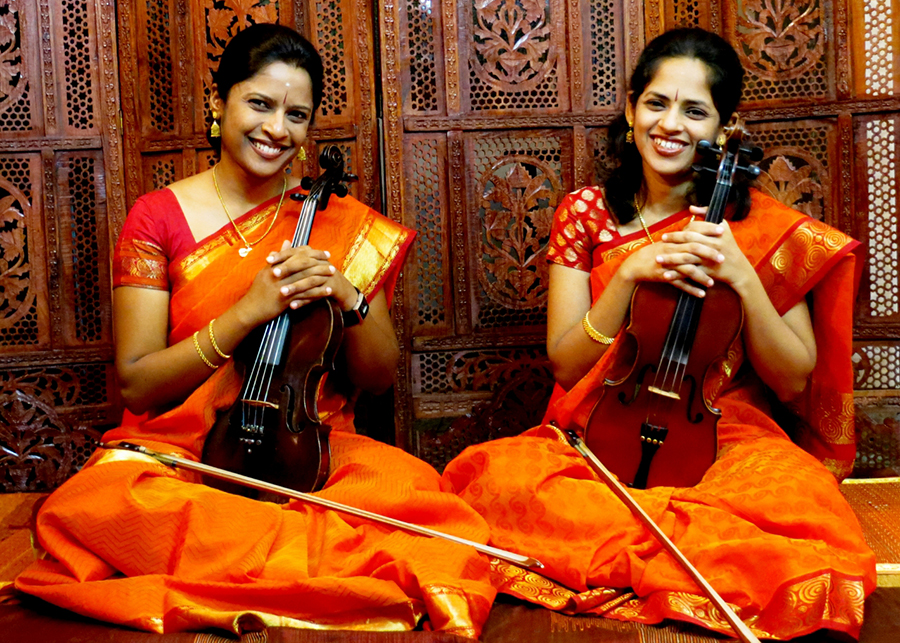 The Akkarai Sisters Violin Duet: Akkarai S. Subhalakshmi and Akkarai S. Sornalatha
Friday, October 6, 2023 at 7:00pm
Crowell Concert Hall

BUY TICKETS
$20 general public; $15 senior citizens, Wesleyan faculty/staff/alumni, non-Wesleyan students; FREE! for Wesleyan students and youth under 18.
The violin, celebrated for its bright tones and its capacity to follow and respond to the human voice, was introduced to Indian classical music from the West in the 19th century. Although the construction of the violin is the same in both Indian and Western music, the tuning, playing posture, and techniques are quite different.

The Akkarai Sisters—S. Subhalakshmi and S. Sornalatha—are renowned for their soulful and nuanced, creative interpretations of classical Karnatak (South Indian) violin and vocal duets. The duo has collaborated with musicians working in genres ranging from Hindustani to jazz and Western classical. Their performances have graced stages globally, captivating audiences with their musical virtuosity. The sisters are primarily trained by their father, Akkarai Shri S Swamynathan.

The duo will make their Connecticut debut, accompanied by R. Sankaranarayanan and Vijay Ganesh on mridangam (double-headed drum), as part of the 47th annual Navaratri Festival at Wesleyan.
Navaratri Festival Subscription
Subscribe and Save!

Navaratri Festival subscription packages include all four ticketed performances, including world premiere music and Connecticut debut dance concerts. Subscriptions are available now as follows:
• FREE! for Wesleyan students and youth under age 18
• $23.50 for senior citizens, Wesleyan faculty/staff/alumni, and non-Wesleyan students
• $30 for the general public
Enjoy a 47% discount off regular prices when you purchase a subscription to all ticketed events. 

Offer ends on Thursday, October 5, 2023 at 7pm.