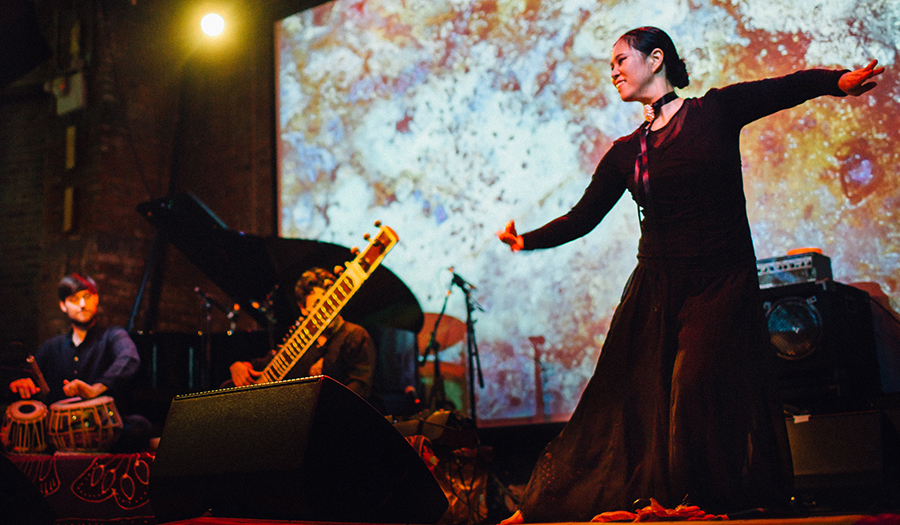 Kathak Dance Performance: Jin Won
Sunday, October 8, 2023 at 2:00pm
Crowell Concert Hall

BUY TICKETS
$20 general public; $15 senior citizens, Wesleyan faculty/staff/alumni, non-Wesleyan students; FREE! for Wesleyan students and youth under 18.
"An exuberant dancer whose musicality transform[s] her dancing into something primal."
–The New York Times
Kathak (North Indian classical) dancer and tabla player Jin Won explores the sonic and visual possibilities of rhythm through dance and music with a singular style. Originally from South Korea, she spent over fifteen years training in India under Pandit Divyang Vakil and Shrimati Shubha Desai. In her Connecticut debut at Wesleyan, Won's performance will feature two pieces–Nolpan: Khoj' and Nrrita–as part of the 47th annual Navaratri Festival.
Nolpan: Khoj' is an interdisciplinary collaborative project between Jin Won and theater director Yong Suk Yoo that integrates the narrative motifs of the traditional Korean Jeju Island shamanistic epic 'Woncheongangbonpuri' with the performance aesthetics of Indian Kathak dance. Jin Won has crafted an unconventional 6.5-beat rhythm to set the piece, where Rushi Vakil seamlessly composed the music. As the title suggests, a combination of the Korean word 'Nolpan' (meaning playground), and the Indian word 'Khoj' (meaning quest), the compelling motifs of the traditional Korean shamanistic epic will create a time and space for self-discovery and healing through theatrical and dance metaphors, inviting the audience into the painful, glorious, and playful journey of a human being towards self realization. This piece represents a condensed rendition of a full-length performance that will reach its culmination in the coming years.

Andaaz describes the unique expression, personal flair, and individualistic interpretation that an artist brings to their performance. Encompassing improvisation and creative expression, andaaz is how artists showcase their personality and emotional depth within the framework of their particular art form. 
As Artistic Director of Pradhanica Dance and Music Company based in New Jersey, Won has created, choreographed, and performed across North America, and has also taught master classes and workshops. She is currently under the mentorship of dancer Shrimati Durga Arya. For her Wesleyan performance, Won will be accompanied by Mike Lukshis on tabla, and Rohan Misra on sarangi (bowed string instrument).
A talk-back moderated by Professor of Dance and Feminist, Gender, and Sexuality Studies Hari Krishnan will follow the performance.
Navaratri Festival Subscription
Subscribe and Save!

Navaratri Festival subscription packages include all four ticketed performances, including world premiere music and Connecticut debut dance concerts. Subscriptions are available now as follows:
• FREE! for Wesleyan students and youth under age 18
• $23.50 for senior citizens, Wesleyan faculty/staff/alumni, and non-Wesleyan students
• $30 for the general public
Enjoy a 47% discount off regular prices when you purchase a subscription to all ticketed events. 

Offer ends on Thursday, October 5, 2023 at 7pm.
PROFILES
Classical tabla soloist and accompanist Mike Lukshis has established himself as a leading performer and educator in the New York City area. He is regularly sought after for his kathak accompaniment by artists across the United States. With 20 years of direct, gurukul-style training by Guruji Pandit Divyang Vakil, Lukshis is continuously imbued with the living tradition of tabla. Through his ongoing tutelage, Lukshis is carrying forward the Delhi and Ajrada Gharanas, or schools of tabla, to future generations. He is a lead performer of several groups such as contemporary classical tabla ensemble Talavya and the experimental electronic trio TablaTun. As well, he is an executive board member for non-profit organizations Taalim Foundation and Anga Kala Dance Company.

Rohan Misra is a promising musician, specializing in the unique Indian bowed instrument called the sarangi (translation: an instrument with a hundred colors). As the son and disciple of great sarangi virtuoso Pandit Ramesh Misra, Rohan has inherited many of his father-Guru's specialties, including tonal quality and aesthetic approach.
Dancer and percussionist Jin Won is a one-of-a-kind artist in the field of Indian performing arts. During her artistically formative years, she began working with renowned Indian choreographers, established herself as a solo dancer, and performed internationally in countries such as Belgium, Canada, and Korea. While equally adept at traditional and contemporary presentations of Kathak and tabla, Won's latest endeavors are explorations of rhythm as a unifier across cultural expressions. Since moving to the United States in 2011, she has collaborated with Korean and Arabic traditional artists and incorporated a multitude of percussion instruments from around the world into her work. In 2013, Won and her Guru Pt. Divyang Vakil collaborated on an experimental Kathak production featuring world percussion that was focused on rhythm as the primary mode of expression. Entitled Pradhanica, which translates as "female leader," this production highlights the commanding presence of Won as a solo dancer. After debuting at the Drive East Festival in New York to much acclaim, the prestigious Princeton Festival invited Won to present Pradhanica as their first venture outside the realm of the Western classical tradition. In conjunction with the festival, New Jersey PBS released a short documentary on her life and artistic journey along with her team. Taking its name from her debut work, in 2018 Won founded the Pradhanica Dance and Music Company to harbor her growing repertoire of projects and choreography. Her latest work includes two dance films: Willow, which was commissioned in 2021 by the World Music Institute for their annual Dancing the Gods festival, and Beyond the Seas, which was selected for presentation at the Women in Dance conference in Chicago in October  2022. As well, her original 20-minute contemporary dance piece was commissioned by the New Narrative Film Festival in Taipei, Taiwan as their closing finale. Won has performed at venues such as Battery Dance Festival (Battery Park, New York), Kennedy Center (Washington, D.C.), Symphony Space (New York), and Lone Tree Arts Center (Colorado), among many others. She has also conducted master classes and workshops at arts institutions across the United States, such as the University of Illinois, Middlesex County Cultural Arts and Heritage Commission (New Jersey), Quad City Arts (Illinois), Darke County Center for the Arts (Ohio), and Lincoln Center Atrium (New York).