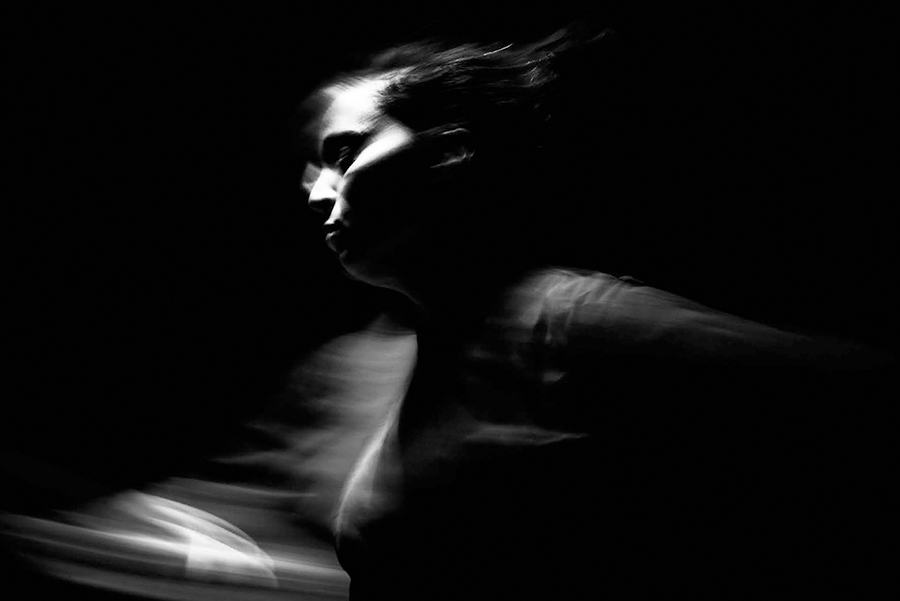 Compagnie Nacera Belaza: L'Onde
Friday, October 13, 2023 at 7:00pm
CFA Theater

BUY TICKETS
$20 general public; $15 senior citizens, Wesleyan faculty/staff/alumni, non-Wesleyan students; $8 Wesleyan students, youth under 18
Saturday, October 14, 2023 at 7:00pm
CFA Theater

BUY TICKETS
$20 general public; $15 senior citizens, Wesleyan faculty/staff/alumni, non-Wesleyan students; $8 Wesleyan students, youth under 18
"[Nacera Belaza] explores the boundaries between embodied presence and the ecstatic emptiness toward which dance, and movement, can lead us."
—The New Yorker
"Just go on stage and nothing else should exist except what's going to grow inside and build everything."
—Nacera Belaza
L'Onde
(2020) is a choreography of conviction, a minimalist dance ritual that begins, like all of French Algerian choreographer
Nacera Belaza
's works, with an inner journey that grows to build a world around the audience. Drawing from a study of ritual performance across the world,
L'Onde
filters and abstracts this immersion in tradition to consider the power of gesture, and the commitment–or even fidelity–to a repeated action. As five dancers move in circular motions on a dimly lit stage, the audience is absorbed by a hypnotic sound score—a crossing of disciplines that challenges the senses to embrace the unknown. The performance at Wesleyan will be the United States premiere of the work.
There will be no late seating allowed for the performance, which runs for approximately one hour. 
The performance on Saturday, October 14, 2023 will be followed by a talkback with choreographer Nacera Belaza.
The performances of
L'Onde
by Compagnie Nacera Belaza are part of
Albertine Dance Season
 and received support from Villa Albertine. Image by Isabelle Lévy-Lehman.
RELATED EVENTS
Impossible Tasks: Writing with/as Dance
Thursday, October 12, 2023 from 5pm to 6:30pm
South Gallery Reading Room, Ezra and Cecile Zilkha Gallery
FREE!
Nora Raine Thompson
'15, along with collaborator and dance artist
Chloë Engel
, present a 90-minute lecture-demonstration and workshop on writing with/as dance. This project evolves from Thompson's personal experience of dancing with Belaza at Danspace Project in New York in 2018, and charts Thompson's attempt of the impossible task Belaza gave to her dancers of "being sound." No experience necessary.
Dance Workshop with Choreographer Nacera Belaza
Sunday, October 15, 2023 from Noon to 2pm
Cross Street Dance Studio, 160 Cross Street, Middletown
FREE!
Explore the fundamental notions in French Algerian choreographer Nacera Belaza's work in this two-hour dance workshop. No experience necessary.