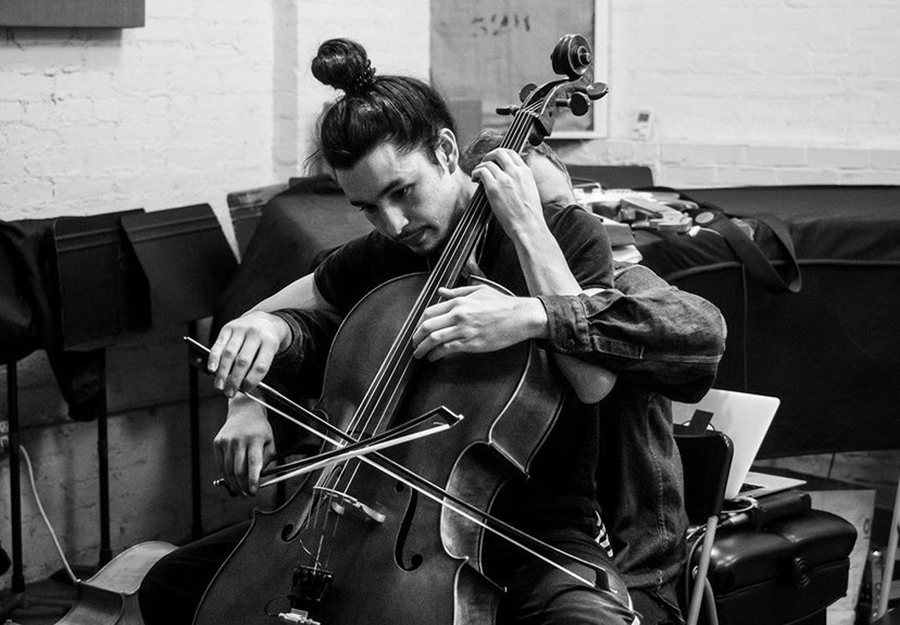 "Instrument—Body:" Ethan Philbrick and Justin Wong [NEW LOCATION]
Friday, December 8, 2023 at 2:00pm
CFA Tunnels (meet in Zilkha Gallery second-floor lobby)

FREE!
"Instrument—Body" is a series of four performances,
 presented in conjunction with the seminar of the same name and curated by Visiting Assistant Professor of Music and cellist
Ethan Philbrick
, that will stage musical encounters in site-specific locations across the Wesleyan University campus this fall.
The works by these visiting artists examine the tension between being and playing a body and an instrument through both improvised and scored compositions. What does it mean to make yourself an instrument? To be instrumentalized? Is the instrument an extension of the body or a body all its own, and what does it mean to play and be played by it?
This performance will feature Visiting Assistant Professor of Music and cellist
Ethan Philbrick
and artist and performer
Justin Wong 
performing a work for two cellos. 
Philbrick's course includes readings in musicology, art history, performance studies, queer studies, and critical race studies which investigate questions of instrumentality, embodiment, and technology. His cello piece will deal with the politics of queer intimacy. "I was curious about a tight space that would require proximity," Philbrick said. "I'm also interested in spaces of architectural abandonment, forgotten places where marginalized people find each other, and both literal and figurative undergrounds."
Read
Music in Unexpected Spaces
in
The Wesleyan Connection
.
Please note this event will require the audience to walk/stand for approximately 45 minutes in the Center for the Arts tunnels. The performance takes place in a part of the building that requires the use of stairs.
Wesleyan University is committed to making its educational programs and facilities accessible to people with disabilities. If you plan to attend an event and will require reasonable accommodations, please call 860-685-3324. It is recommended that arrangements be made ten business days in advance of the event.
Please visit the Accessibility website for more information.
Please notify the
box office
in advance if you have special needs.
Ethan Philbrick
is a cellist, artist, and writer. His book 
Group Works: Art, Politics, and Collective Ambivalence
 was recently published by Fordham University Press (April 2023). Recent projects include
Slow Dances
(with Anh Vo, Tess Dworman, Niall Jones, Tara Aisha Willis, nibia pastrana santiago, and Moriah Evans) at
The Kitchen Video Viewing Room
(2020) and
Montez Press Radio
(2022),
DAYS
(with Ned Riseley),
Mutual Aid Among Animals
at the
Park Avenue Armory
(2022),
Song in an Expanding Field
at
The Poetry Project
(2022),
Case
at
Rashid Johnson and Creative Time's Red Stage
(2021),
The Gay Divorcees
(with Robbie Acklen, Lauren Bakst, Lauren Denitzio, Paul Legault, Joshua Thomas Lieberman, Ita Segev, and Julia Steinmetz) (2021),
March is for Marches
(with Morgan Bassichis) at
Triple Canopy
(2019),
Disordo Virtutum
at
Museum of Art and Design
(2020),
10 Meditations in an Emergency
at
The Poetry Project
and
Berkeley Art Museum and Pacific Film Archive
(2019/2020),
Choral Marx
at
NYU Skirball
(2018), and Suite for Solo For Cello and Audience at
Grey Art Gallery
(2016). He holds a PhD in performance studies from New York University and has taught at Pratt Institute, Muhlenberg College, and New York University.
Justin Wong is a New York-based artist, educator, researcher, and arts worker. He has collaborated on choral and orchestral compositions and performances by artists including Holly Herndon, Lyra Pramuk, and Colin Self that have been performed at the Wiener Festwoche in Vienna, with the Rundfunkchor and Rundfunk Sinfonieorchester Berlin, and MoMA PS1. His performance practices span voice, movement, electronic, and cello performance.
Image by Ethan Philbrick.