The Language in Common
Tuesday, September 14 – Sunday, December 12, 2021
Tuesday through Sunday from Noon to 5pm.
Main Gallery, Ezra and Cecile Zilkha Gallery
Opening Reception: Tuesday, September 14, 2021 at 4:30pm; Curator Talk by Associate Director of Visual Arts and Adjunct Instructor in Art Benjamin Chaffee at 5pm. Please note that due to COVID-19 safety protocols, this exhibition opening reception will not include food or drinks.
View Related Events.
Exhibition and related events are free. The general public will be welcomed back to Wesleyan this fall to enjoy Center for the Arts outdoor programming and exhibitions in both the Ezra and Cecile Zilkha Gallery and the College of East Asian Studies Gallery at Mansfield Freeman Center. All patrons must adhere to and follow the University COVID-19 safety guidelines. Wesleyan requires all visitors to be fully vaccinated. All visitors will need to provide proof of having been fully vaccinated. Public health officials consider an individual to be fully vaccinated two weeks after their final dose of a COVID-19 vaccine. Masks are required in all University buildings regardless of vaccination status. Indoor performances as well as special events, including opening receptions in the galleries, will be open to Wesleyan students, faculty, and staff. Vaccinated visitors may attend outdoor events and outdoor activities unmasked. Patrons under the age of 12 are required to wear a mask at outdoor events. Due to current CDC age limits on vaccinations, individuals under the age of 12 will not be permitted at indoor exhibitions.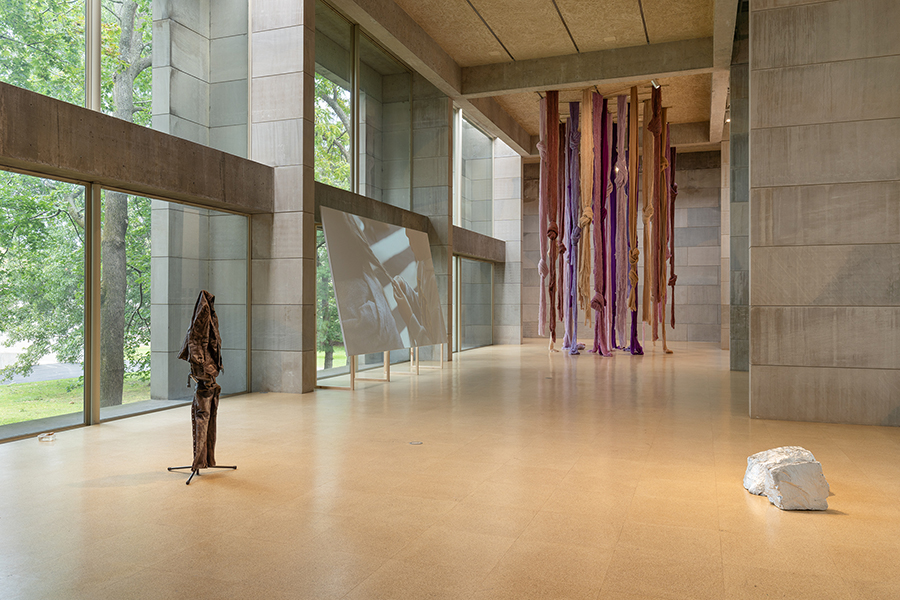 The group exhibition The Language in Common presents artistic practices that site language in the space between poetry, visual art, and their performance. Moving beyond the spectacle of the origination of poetry or art, this project seeks to allow memory as a creative act in the process of making experience common, of making space for a new imaginary. The exhibition will bring together five artists whose work engages with politics on the periphery of hegemony, including Cecilia Vicuña (b.1948, Chile), Tanya Lukin Linklater (b.1976, Alutiiq), Julien Creuzet (b.1986, France), Jasper Marsalis (b.1995, U.S.), and Alice Notley (b.1945, U.S.). Featuring works encompassing installation, sculpture, video, drawing, poetry, and performance, as well as newly-commissioned works developed in response to the exhibition, The Language in Common aims towards what the poet Alice Notley calls "the language that holds all being together."
This exhibition and related events are supported by the Shapiro Center and Writing at Wesleyan, the Allbritton Center for the Study of Public Life, the Thomas and Catherine McMahon Fund of the Department of Romance Languages and Literatures, the History Department, the Latin American Studies Program, Connecticut Humanities, and the Center for the Arts. Additional support by Etant donnés Contemporary Art, a program developed by FACE Foundation, Villa Albertine and the Cultural Services of the French Embassy in the United States, with lead funding from the French Ministry of Culture and Institut Français-Paris, Ford Foundation, Helen Frankenthaler Foundation, Chanel USA, and ADAGP.

RELATED EVENTS

Poetry Reading by Tanya Lukin Linklater
Wednesday, October 6, 2021 at 4:30pm
Zoom
RSVP required for access to virtual event.

This online event features a poetry reading by Tanya Lukin Linklater. She will read from her first book, Slow Scrape (Anteism, 2020), which is, in the words of poet Layli Long Soldier, "an expansive and undulating meditation on time, relations, origin and colonization."

Performance and Artist Talk by Cecilia Vicuña
Wednesday, October 13, 2021 at 6pm
Ezra and Cecile Zilkha Gallery
Co-sponsored by the Shapiro Center and Writing at Wesleyan.

Artists in Conversation: Tanya Lukin Linklater and Raven Chacon
Tuesday, November 2, 2021 at 6pm
Zoom
RSVP required for access to virtual event.
This online event features artist Tanya Lukin Linklater in conversation with composer, performer, and installation artist Raven Chacon from Fort Defiance, Navajo Nation. The artists will discuss the concepts of the score as related to their work.
Language as a Site of Struggle: A Conversation with Lou Cornum, Jeffers Lennox, and Steve Lyons
Thursday, November 11, 2021 at 4:30pm
Ezra and Cecile Zilkha Gallery
A conversation with Andrew W. Mellon Postdoctoral Fellow in Native American Studies Lou Cornum, Associate Professor of History Jeffers Lennox, and artist and art historian Steve Lyons, a core member of Not An Alternative / The Natural History Museum, and co-author of the November 2020 e-flux Journal article "The Language in Common." Co-sponsored by the American Studies Department.

Artist Talk by Julien Creuzet
Monday, November 15, 2021 at Noon
Zoom
RSVP required for access to virtual event.


 
Image: Installation view of The Language in Common, Zilkha Gallery. Photography by Charles Benton.