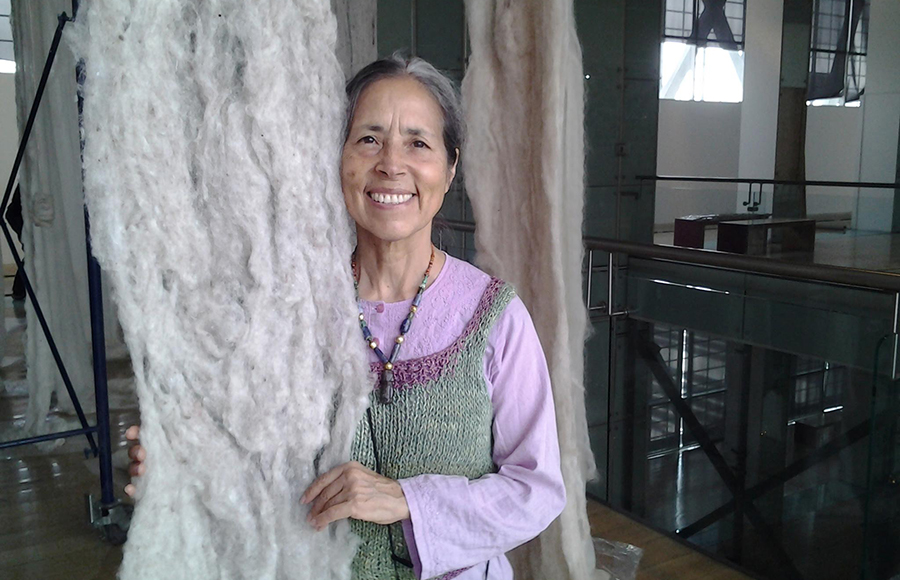 Performance and Artist Talk by Cecilia Vicuña
Wednesday, October 13, 2021 at 6:00pm
Ezra and Cecile Zilkha Gallery

FREE! For Wesleyan students, faculty, and staff.
A performance and artist talk by Cecilia Vicuña. Co-sponsored by the Shapiro Center and Writing at Wesleyan.
This event is held in conjunction with the exhibition The Language in Common, on display in the Ezra and Cecile Zilkha Gallery from Tuesday, September 14 through Sunday, December 12, 2021. Gallery hours are Tuesday through Sunday from Noon to 5pm. For more information and related events, visit the Ezra and Cecile Zilkha Gallery exhibition page.
This exhibition and related events are supported by the Shapiro Center and Writing at Wesleyan, the Allbritton Center for the Study of Public Life, the Thomas and Catherine McMahon Fund of the Department of Romance Languages and Literatures, the History Department, the Latin American Studies Program, Connecticut Humanities, and the Center for the Arts. Additional support by Etant donnés Contemporary Art, a program developed by FACE Foundation, Villa Albertine and the Cultural Services of the French Embassy in the United States, with lead funding from the French Ministry of Culture and Institut Français-Paris, Ford Foundation, Helen Frankenthaler Foundation, Chanel USA, and ADAGP.

The general public will be welcomed back to Wesleyan this fall to enjoy Center for the Arts outdoor programming and exhibitions in both the Ezra and Cecile Zilkha Gallery and the College of East Asian Studies Gallery at Mansfield Freeman Center. All patrons must adhere to and follow the University COVID-19 safety guidelines. Wesleyan requires all visitors to be fully vaccinated. All visitors will need to provide proof of having been fully vaccinated. Public health officials consider an individual to be fully vaccinated two weeks after their final dose of a COVID-19 vaccine. Masks are required in all University buildings regardless of vaccination status. Indoor performances as well as special events, including opening receptions in the galleries, will be open to Wesleyan students, faculty, and staff. Vaccinated visitors may attend outdoor events and outdoor activities unmasked. Patrons under the age of 12 are required to wear a mask at outdoor events. Due to current CDC age limits on vaccinations, individuals under the age of 12 will not be permitted at indoor exhibitions.
Image: Artist and poet Cecilia Vicuna at Museno Nacional de Bellas Artes, Chile, 2014 (photo by Norma Ramírez).
From Wikimedia Commons, licensed under the Creative Commons Attribution 4.0 International license.