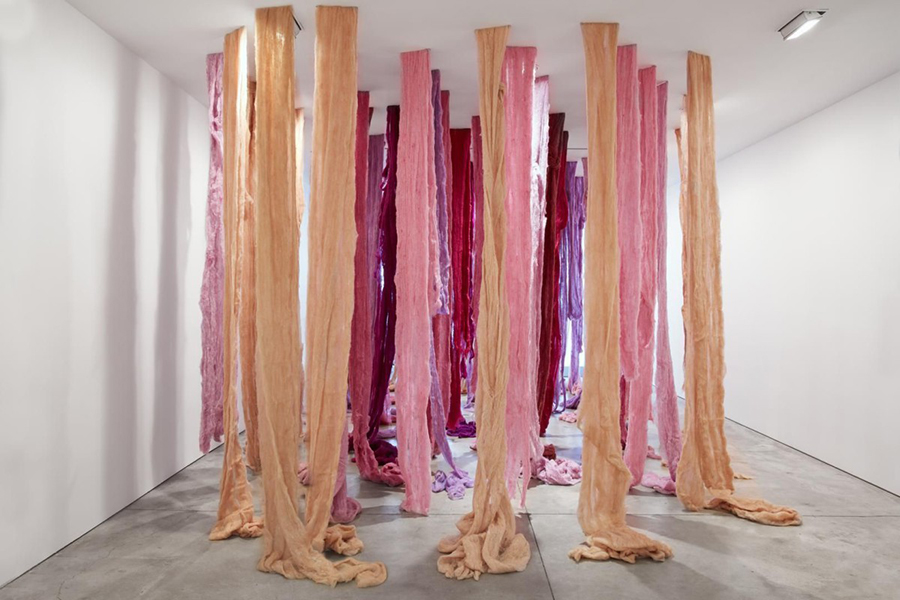 Opening Reception: The Language in Common
Tuesday, September 14, 2021 at 4:30pm
Ezra and Cecile Zilkha Gallery

FREE!
The opening reception will feature a curator talk by Associate Director of Visual Arts and Adjunct Instructor in Art Benjamin Chaffee at 5pm.
The Language in Common will be on view in the Ezra and Cecile Zilkha Gallery from Tuesday, September 14 through Sunday, December 12, 2021. Gallery hours are Tuesday through Sunday from Noon to 5pm. For more information and related events, visit the Ezra and Cecile Zilkha Gallery exhibition page.

The general public will be welcomed back to the Wesleyan campus this fall. Unvaccinated patrons must adhere to and follow the University's COVID-19 safety guidelines of wearing a mask and 6' social distancing, whether they are outdoors or indoors; indoor events may require additional safety measures. Please check this page closer to the event date for updated information.

The group exhibition The Language in Common presents artistic practices that site language in the space between poetry, visual art, and their performance. Moving beyond the spectacle of the origination of poetry or art, this project seeks to allow memory as a creative act in the process of making experience common, of making space for a new imaginary. The exhibition will bring together five artists whose work engages with politics on the periphery of hegemony, including Cecilia Vicuña (b.1948, Chile), Tanya Lukin Linklater (b.1976, Alutiiq), Julien Creuzet (b.1986, France), Jasper Marsalis (b.1995, U.S.), and Alice Notley (b.1945, U.S.). Featuring works encompassing installation, sculpture, video, drawing, poetry, and performance, as well as newly-commissioned works developed in response to the exhibition, The Language in Common aims towards what the poet Alice Notley calls "the language that holds all being together."
Additional programming will include a small series of poetry chapbooks featuring poetry shared by the participating artists available for free to gallery visitors. This exhibition is supported by the English Department, Connecticut Humanities, the Allbritton Center for the Study of Public Life, the Institute for Curatorial Practice in Performance, and the Center for the Arts.

Image:
Cecilia Vicuña, Quipu Viscera, 2017.
Installation with unspun wool. Dimensions variable.
© Cecilia Vicuña.
Image courtesy the artist and Lehmann Maupin New York, London, Hong Kong and Seoul.