Upcoming Events
April 6, 2023 - 4:30pm, Downey 113
"Once Upon a Time in a Place Called Now: Whose Classics?" with Rhodessa Jones and guest Angela Wilson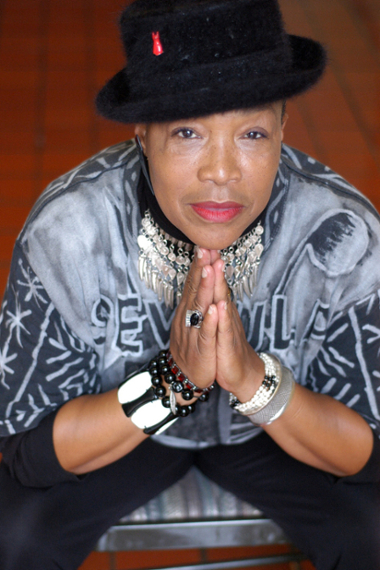 Performer, teacher, director RHODESSA JONES is Co-Artistic Director of the critically acclaimed, performance company Cultural Odyssey.  Jones founded and directs The Medea Project: Theater for Incarcerated Women, an award-winning performance workshop committed to to the personal and social transformation of women, now in it's 23rd year.

As recipient of US Artist Fellowship, Jones expanded her work in corrections and for educational institutions internationally. She conducted the Medea Project in South African prisons, working with incarcerated women and trained correctional personnel and local artists. In 2012, the U.S. Department of State, Educational and Cultural Affairs Bureau named her as Arts Envoy for the U.S. Embassy.

Jones is Pew Fellow of the week and has received many honors. She was named Frank H.T. Rhodes Chair at Cornell University (2018-2021). She was appointed as a Rhodes Professor, "To strengthen the undergraduate experience by bringing individuals from every walk of life who represent excellence of achievement to the university." As a Visiting Professor at Dartmouth College, Jones was invited to join August Wilson, Cornel West, Yo-Yo Ma, and Anna Deavere Smith as a "Montgomery Fellow", fostering "the advancement of the academic realm of the College in ways that will significantly add to the quality and character of the institution."

Thanks to Rhodessa Jones, art students from all cultures can flock to universities and learn non-European methods to develop their authentic voices, to give voice to the voiceless, and transform society in the process. Jones always challenged her students to think critically about the vital role of the arts and humanities in community action.

Other residencies in the USA include Brown University and Scripps College Humanities Institute. Jones is a recipient of an Honorary Doctorate from California College of the Arts, SF Bay Guardian's Lifetime Achievement Award, SF Foundation Community Leadership Award, Non-Profit Arts Excellence Award by the SF Business Arts Council, and an Otto Rene Castillo Award for Political Theater.

Most recently, Jones was an Actress/Voice Talent for the character "Lulu", in Disney's (Pixar)  SOUL. It is a feature length animated film that won two Golden Globe Awards for Best Animated Feature and Best Original Score. Directed by Academy Award winner Pete Docter, produced by Academy Award nominee Dana Murray (Pixar "Lou"), and starring Jamie Foxx, SOUL is nominated for three Oscars. Other cast members include Angela Bassett and Phylicia Rashad. It features original jazz music by the two Oscar winners, Trent Reznor and Atticus Ross, and the globally renowned Jon Batiste. 
Angela Wilson (workshop facilitator) is a core member, formerly incarcerated mother, Glama, writer, actress, teacher, stage manager, and activist for THE MEDEA PROJECT: Theatre for Incarcerated Women since her final release in 1999 from San Francisco County Jail.  Angela's first Medea Project performance was while still incarcerated in 1998, transported in handcuffs from the San Francisco County Jail to perform at the Loraine Hansbury Theatre in "Slouching towards Armageddon: A Captive's Conversation/Observation on Race". Because of her work with the Medea Project, Angela went on to receive a scholarship at the American Conservatory Theatre where she studied theater and theater production. Ms. Wilson has been a guest artist/lecturer/performer with Rhodessa Jones at the UC Berkeley, Rutgers University, San Francisco State University, UW Madison, UC San Francisco, University of North Carolina-Chapel Hill, Hamilton and conducted writing workshops at the San Francisco County Jail. She performed in Eve Ensler's "VD:Until the Violence Stops" at Lincoln Center directed by Rhodessa Jones.  Her work as lead actress and performer with THE MEDEA PROJECT includes, "Can We Get There by Candlelight?" (2001), "My Life in the Concrete Jungle" (2006), "Dancing with the Clown of Love" (2010).  Other performances with The Medea Project include community concerts series by Cultural Odyssey's Healing Force Community Orchestra (2013), the National Black Theatre Festival in Winston-Salem North Carolina (2005) and at the National Conference on HIV/HepC conference entitled, Performance as Medicine, Washington DC (2012). During the pandemic the Medea Project taught the Medea Methodology on zoom. Angie will attend SF State in the fall to finish a theater degree.