Opportunities for Study Abroad
Majors in both Classics and Classical Civilization are encouraged to spend a semester abroad, usually in the junior year. Study abroad is possible at a number of institutions with well-established programs in classical languages and civilizations, many of which provide opportunities to tour archaeological and historical sites in addition to coursework. Students attending such programs may apply up to four courses of study abroad toward completion of the Major requirements, subject to departmental pre-approval. Those interested should contact the Office of Study Abroad at Wesleyan for details about applications, financial eligibility and transferable credit. Note too that students can apply for small grants from the Squire Fund to help offset the costs for study abroad and summer study. 
Wesleyan students have recently participated in semesters abroad at these institutions:
Intercollegiate Center for Classical Studies (Rome)
Provides the opportunity to study firsthand the monuments and culture of ancient and modern Italy. 
College Year in Athens (Greece)
Offers courses in classical languages and classical civilization, including courses in the archaeology of Athens and visits to other archaeological sites around Greece. 
St. Andrew's University (Scotland, UK)
Offers a range of courses in Greek, Latin, Classical Civilizations and classical archaeology.  
University College London (London, UK)
Offers a strong program in Mediterranean archaeology and classical civilizations. 
To learn more about students' study abroad experiences, please visit our student experiences page.
For information on summer programs, including summer intensive language programs and archaeological excavations in the Mediterranean, see our "Summer Study" page.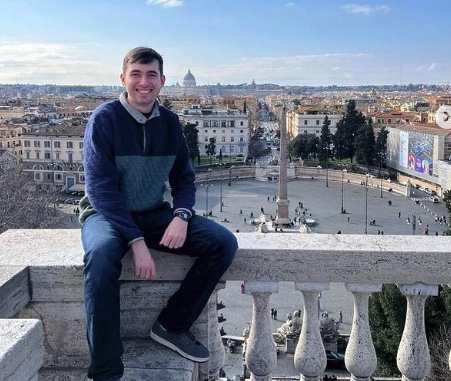 Tom Broadus, Classical Studies major, at the Piazza del Populo in Rome.
Contact person:
Elizabeth Staplins, Administrative Assistant for Classical Studies
phone: (860) 685-2070
email: Elizabeth Staplins