Guest Artists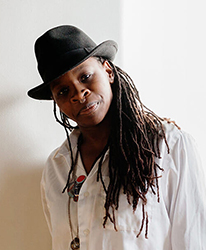 Ni'Ja Whitson / Fall 2019 Visiting Artist:

(LA/NYC) is a Creative Capital and Bessie Award winning gender nonconforming interdisciplinary artist and writer, referred to as "majestic" by the New York Times, and recognized by Brooklyn Magazine as a culture influencer.  Through a critical intersection of the sacred and conceptual in Black Queer Transembodiedness, digital interfaces, architectures, science, and spirit they engage a nexus of transdisciplinary and African Diasporic performance practices.  Whitson is a 2018 MAP Fund recipient, featured choreographer of the 2018 CCA Biennial, 2019 USA Artists Fellowship Nominee, 2018-2020 Urban Bush Women Choreographic Center Fellow, and invited presenter at the 2019 Tanzkongress international festival. Recent residencies include Jerome/Camargo Foundation, Hedgebrook, Dance in Process at Gibney, LMCC Process Space, Movement Research, Bogliasco Fellowship with commissions including EMPAC, Danspace at St. Mark's Church, American Realness and Vision festivals, ICA Philadelphia. As a noted innovating practitioner of the Theatrical Jazz Aesthetic, Treinel in Capoeira Angola, and accomplished improviser, Whitson performs nationally with renowned musicians, including a close collaborative partnership with Douglas Ewart of the AACM.  Other collaborations include experimental and conventional theatre, and performance with Cynthia Oliver, Jaamil Olawale Kosoko, Sharon Bridgforth, Charlotte Brathwaite, Byron Au Yong and Aaron Jafferis.  Whitson received their MFA from The School of the Art Institute of Chicago and received a second MFA in Creative Writing from Goddard College in 2018. They are the founder/artistic director of The NWA Project and is an assistant professor of experimental choreography at University of California at Riverside. www.nijawhitson.com
Vimeo: https://vimeo.com/nijawhitson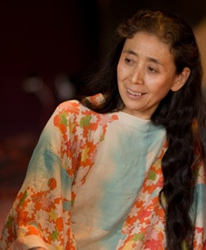 Eiko Otake
Eiko Otake is a choreographer, director, performer, teacher, and writer who, for over forty years, has partnered with Takashi Koma Otake as Eiko & Koma. To date, Eiko & Koma have created 46 interdisciplinary performance works on their own bodies, three pieces for other dancers, seven "media dances" (dances specially created for the camera), and seven video documentaries. From 2009 to 2012 Eiko & Koma presented a multi-venue, multi-faceted Retrospective Project that included creating new performance works, installations, exhibitions, and media works; restaging old works; presenting media showings, panels and lectures; as well as publishing a comprehensive monograph of their works. Eiko & Koma have received a MacArthur Fellowship (1996), the Samuel H. Scripps American Dance Festival Award (2004), the Dance Magazine Award (2006), and the first United States Artists Fellowship (2006). Eiko is a Founding Fellow of the Center for Creative Research and has taught or co-taught five courses at Wesleyan University.