FGSS Events
JUDITH BUTLER 
Revisting Parting Ways: Jewishness and the Critique of Zionism
Tuesday, December 5, 2023 | 12:00PM - 1:30PM (EST) | CFA Ring Family Performing Arts Hall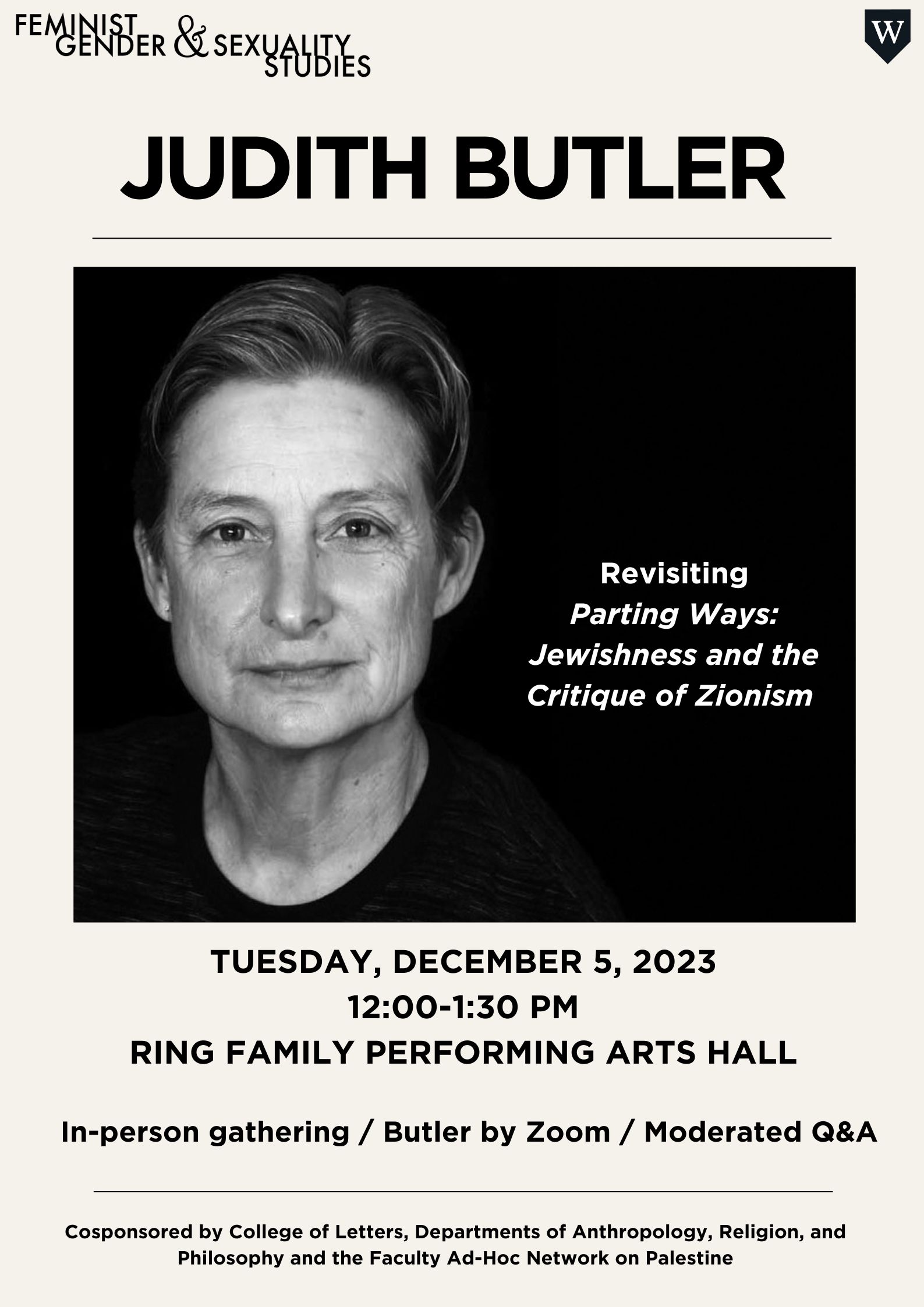 SARA AHMED LECTURE 
Killing Joy as a Queer Project
Thursday, October 5, 2023 | 4:30PM - 6:30PM (EST) | CFA Ring Family Performing Arts Hall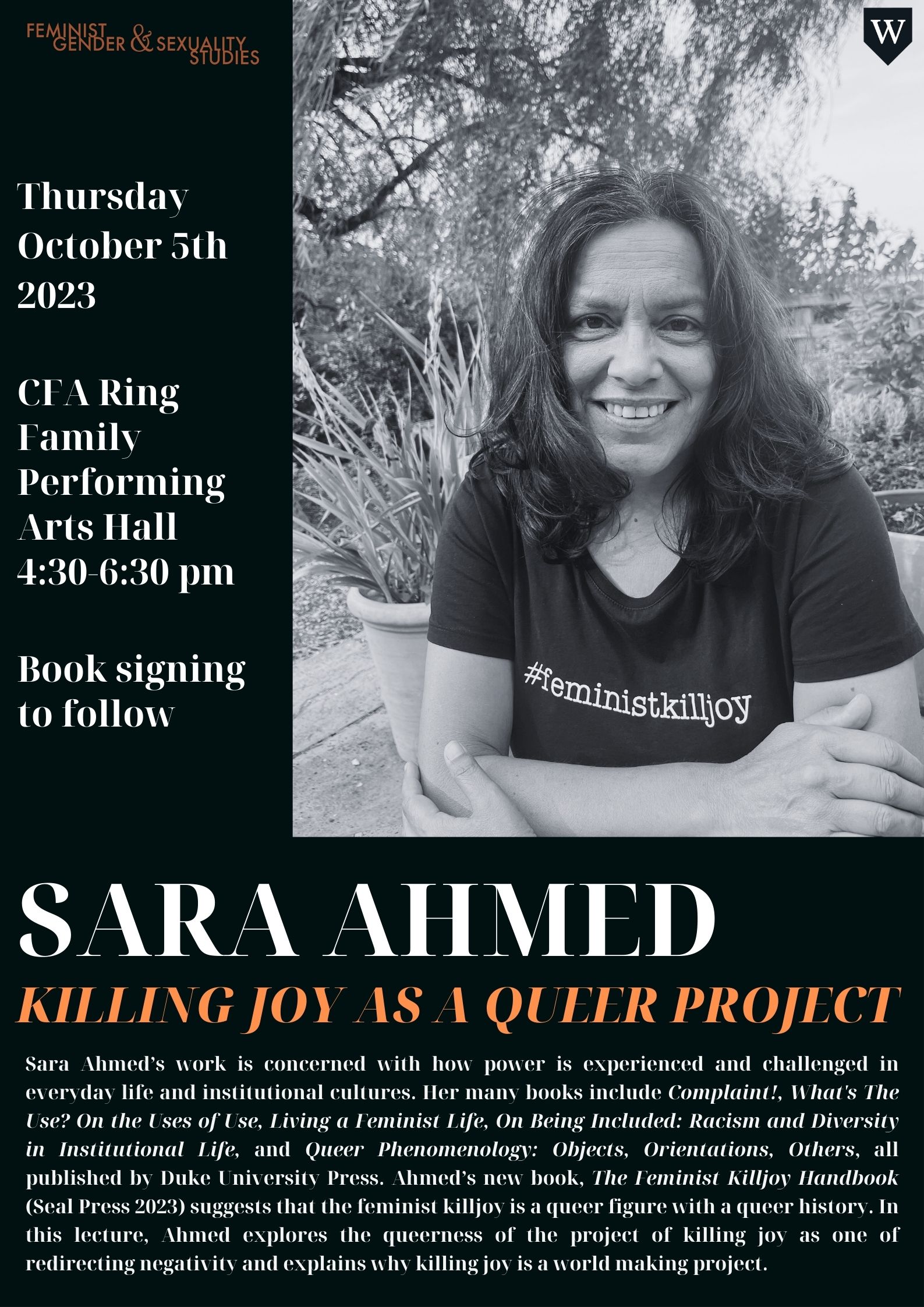 FGSS FALL SYMPOSIUM 
Rethinking Solidarity: Feminist and Queer Transnational Politics in SWANA (Southwest Asia and North Africa)
Thursday, September 28, 2023 | 6:00PM - 8:00PM (EST) | Judd Hall 116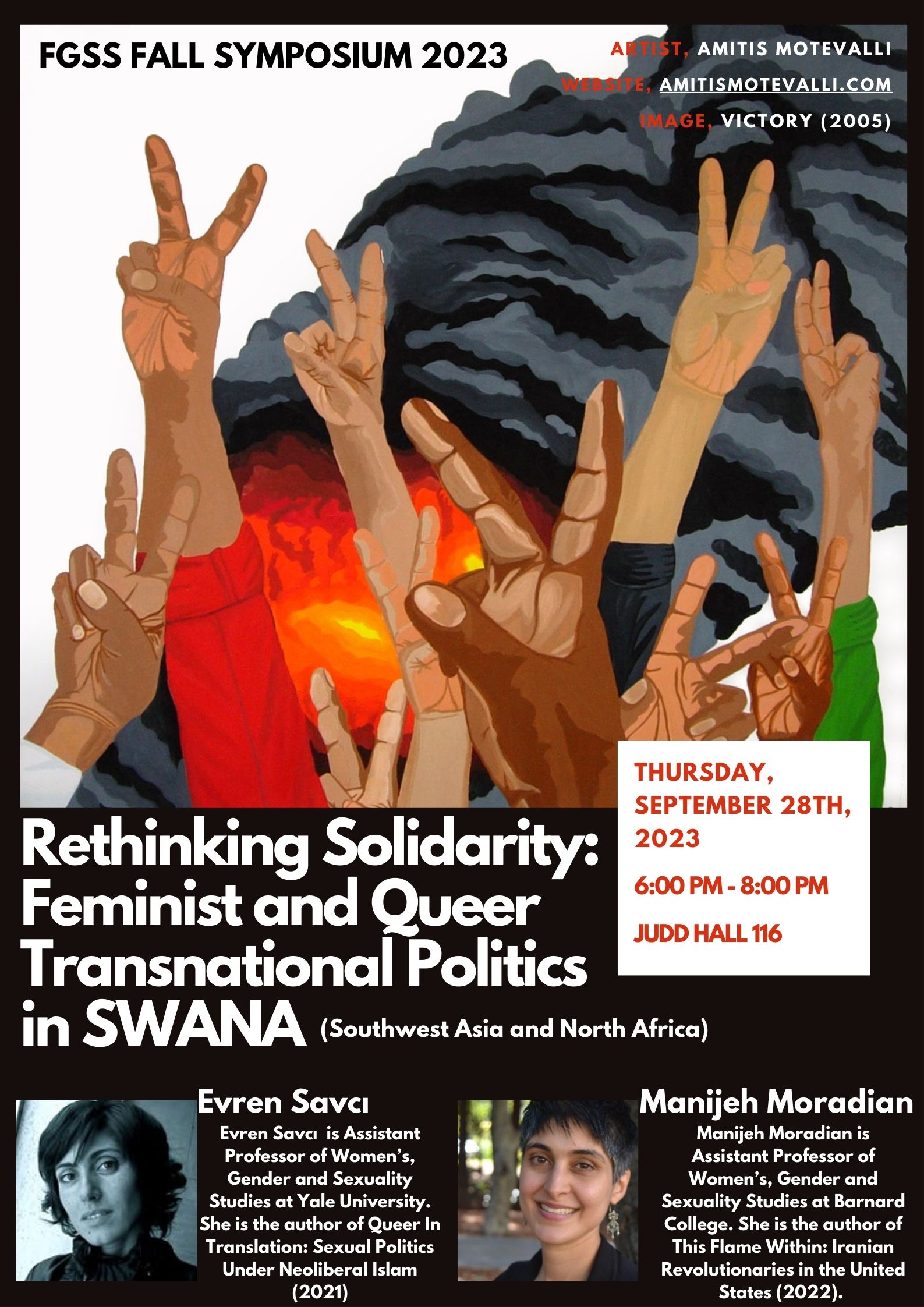 THE SHEILA TOBIAS MEMORIAL LECTURE 
Wake: The Hidden History of Women-Led Slave Revolts by Rebecca Hall
Thursday, March 30, 2023 | 4:30PM - 6:30PM (EST) | Judd Hall 116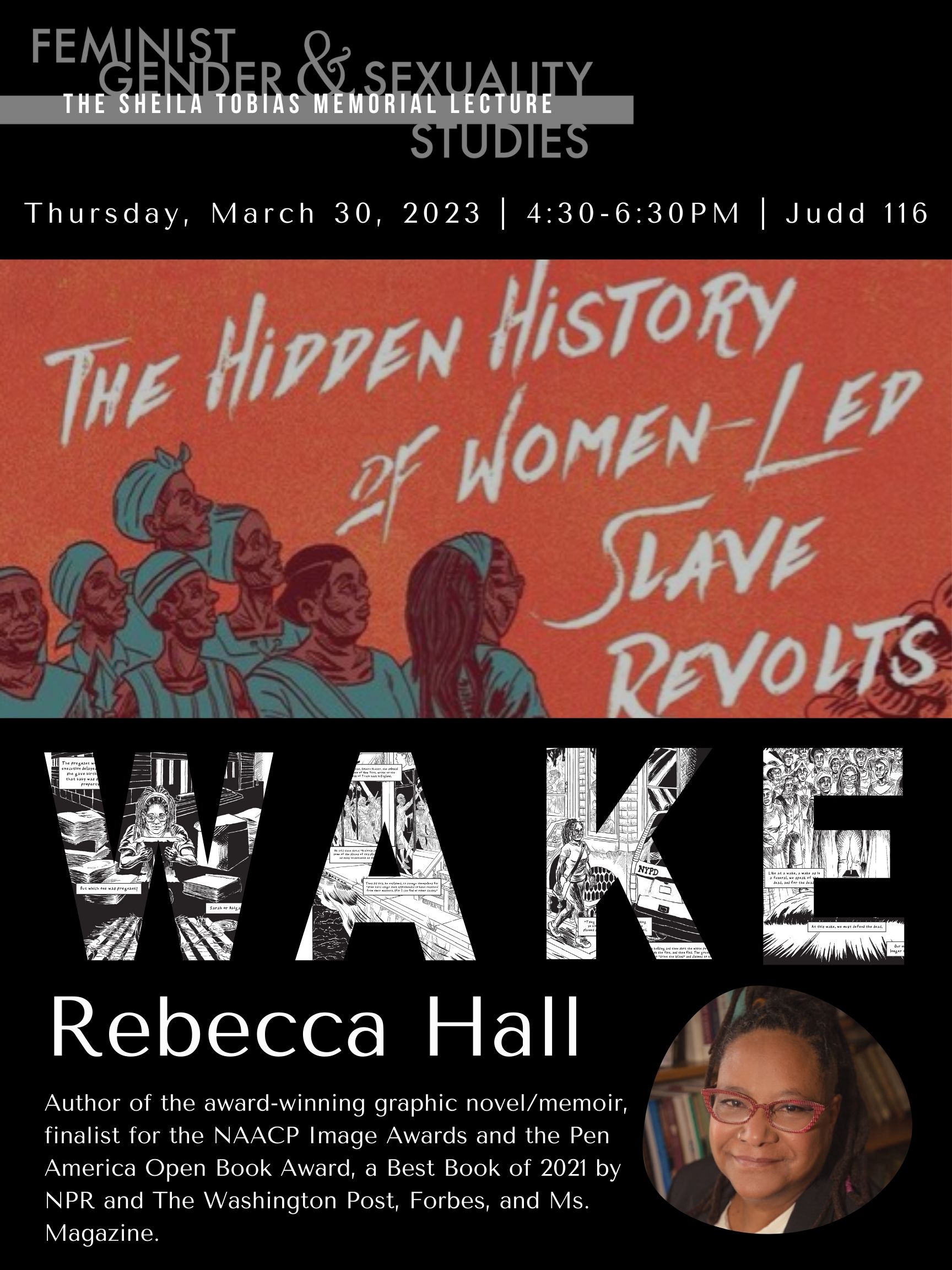 FGSS ANNUAL DIANE WEISS '80 MEMORIAL LECTURE 
To have and to hoard: Xandra Ibarra's object lessons with Leticia Alvarado
Thursday, February 23, 2023 | 4:30PM - 6:30PM (EST) | Judd Hall 116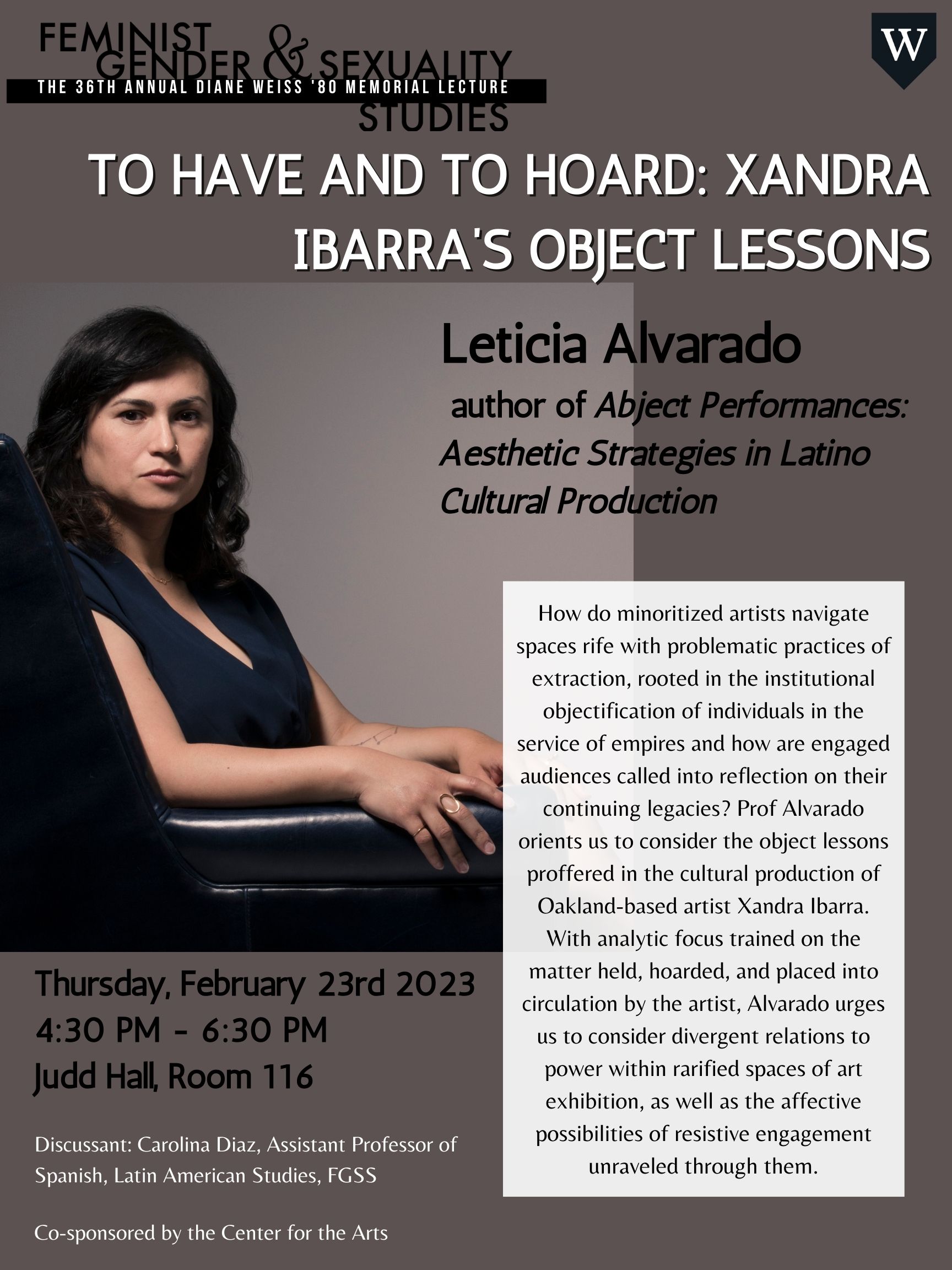 FGSS FALL SYMPOSIUM: Performance, Identity, and Politics
Friday, October 28th, 2022 | 4:30PM- 6:30PM (EST) | Judd Hall 116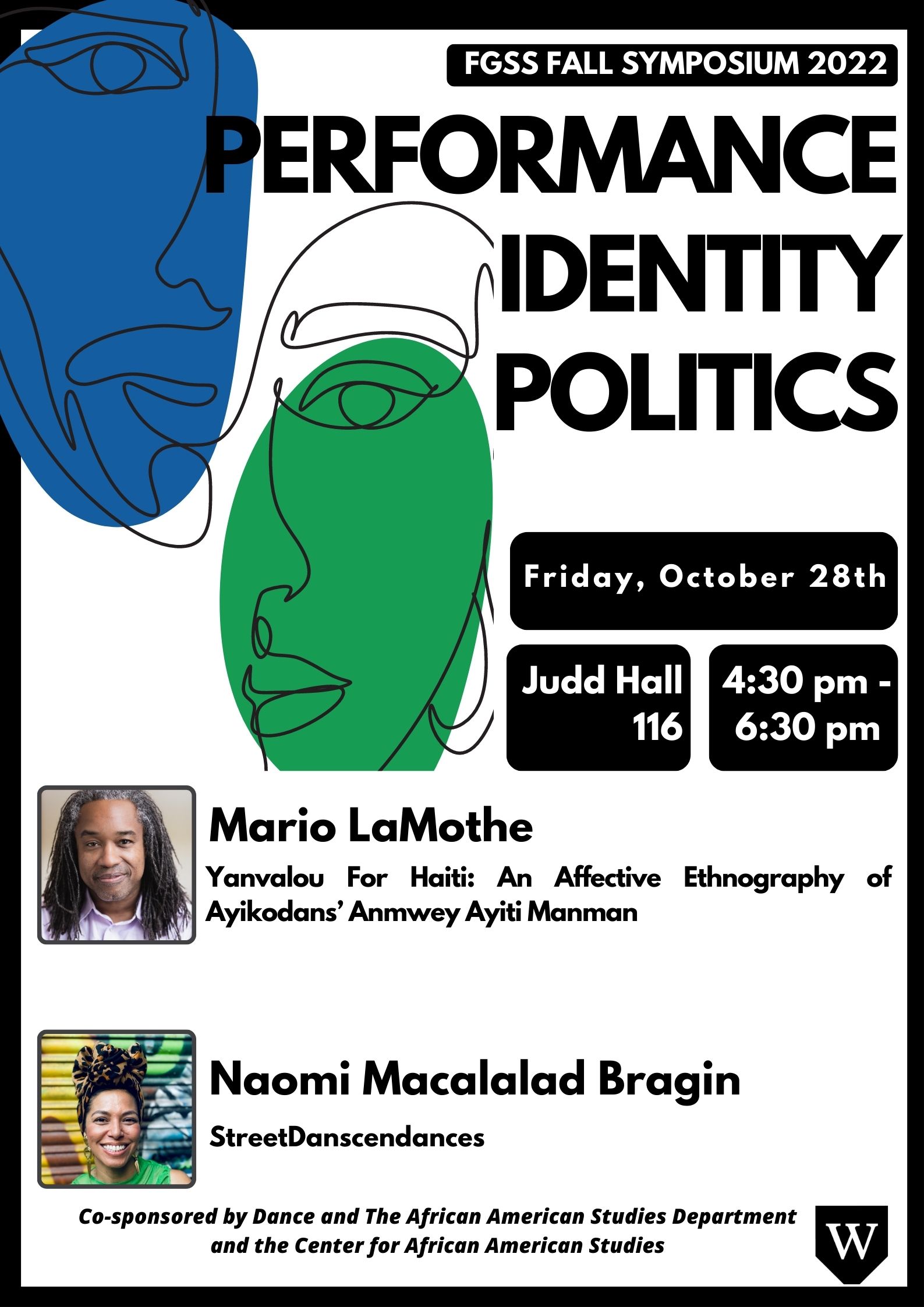 FGSS ANNUAL DIANE WEISS '80 MEMORIAL LECTURE 
Colonial Domesticity and Social Reproduction with Dr. Lisa Lowe
Thursday, March 24th, 2022 | 4:30PM - 6:30PM (EST) | Zoom Link HERE | Webinar ID: 979 6902 5989
This lecture considers the centrality of forms of domesticity, such as family, kinship, and schooling, to the social reproduction of colonialism and racial capitalism in U.S. Colonial and capitalist social relations are materially reproduced through feminized care work, household, and biological labor. While homes and households are primary sites for the invisible and mostly unwaged labors of colonized, racialized, and immigrant women that reproduce human being, social reproduction takes place on plantations, in schools, factories, on assembly lines, in hospitals and prisons and in other institutions, at both intimate and global scales.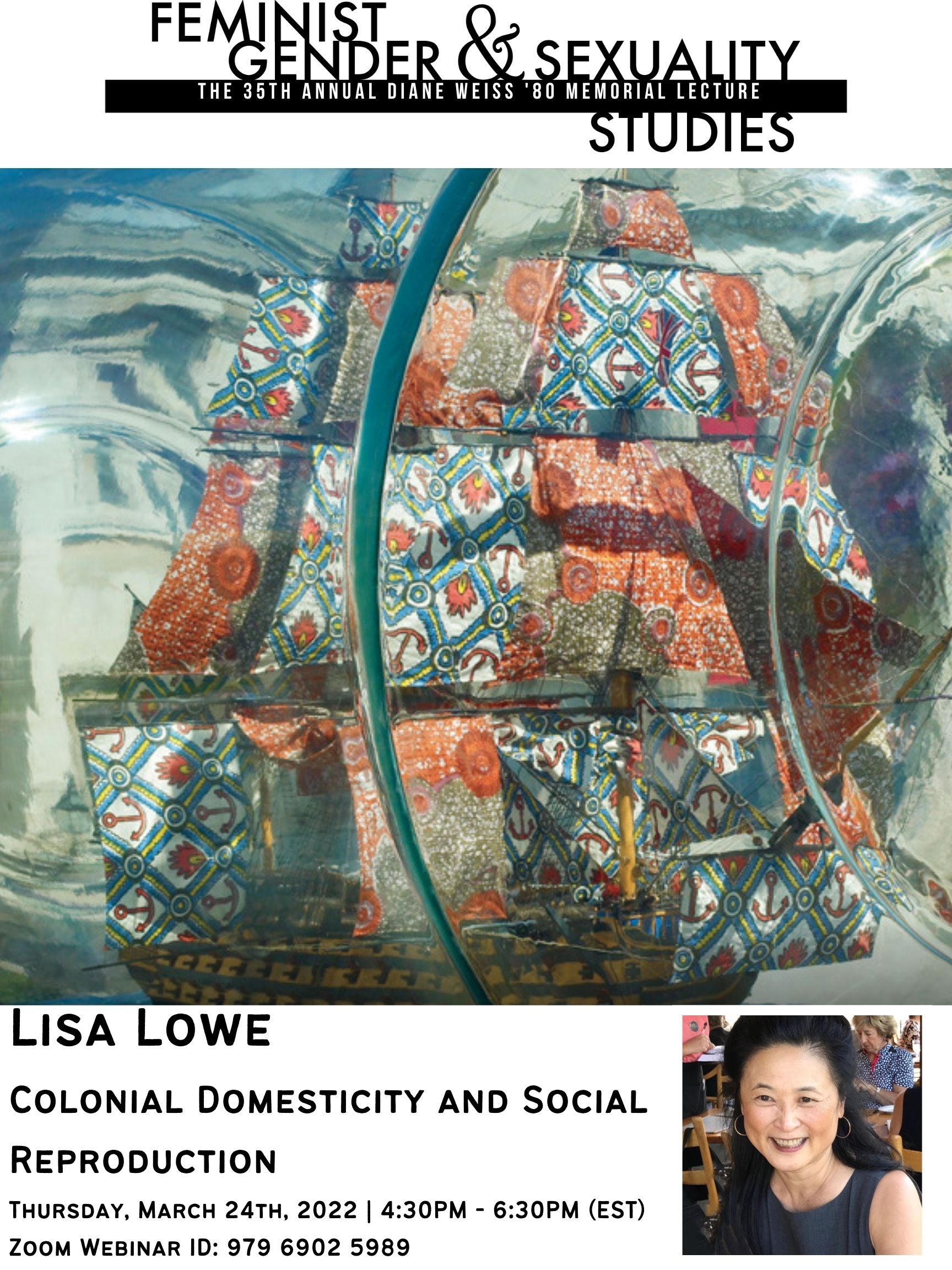 FGSS FALL SYMPOSIUM: DECOLONIAL FEMINISMS 
Friday, October 1, 2021 | 2:00PM- 4:00PM (EST)
In person in Judd Hall 116 and live-streamed at: https://wesleyan.zoom.us/j/93691069358?pwd=bnkwdFc4Vll4dUxRT2lpQnhFZW1zQT09 
Decolonial feminism considers the relation between gender and coloniality and seeks to disrupt the power relations of colonialism, settler colonialism and racial capitalism. The symposium will feature talks by Fania Noël, Bhakti Shringarpure and Afiya Zia.

Spring 2021 Events
FGSS ANNUAL DIANE WEISS '80 MEMORIAL LECTURE 
Because of Sex: Trans Identity and the Law with Dr. Gayle Salamon
Thursday, February 25, 2021 | 4:30PM- 6:00PM (EST) | via Zoom
with ASL interpretation and live captioning
Last year, the Supreme Court held In Bostock v. Clayton County that discrimination against gay and transgender individuals is indeed discrimination "on the basis of sex", which is prohibited by title XII of the Civil Rights Act of 1964.  This talk will analyze the court's understanding of sex, sexuality, gender, and transgender that emerges from the oral arguments and the written holding in Bostock, and explain how this case helped me rethink some of my own positions about the relation between gender and sexuality.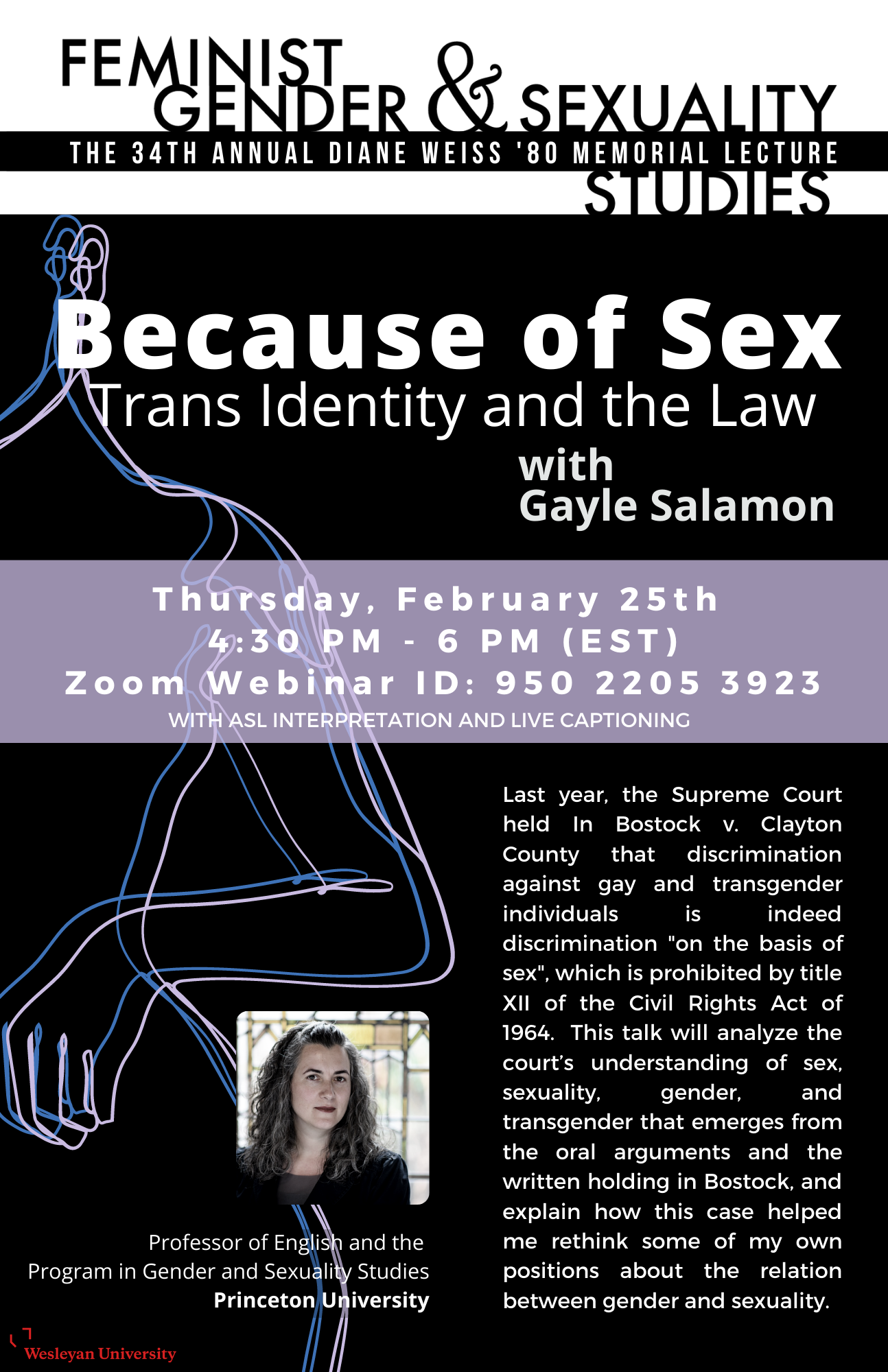 SPRING OPEN HOUSE FOR PROSPECTIVE MAJORS
Friday, March 19th, 2021 | 11AM (EST) | via Zoom
FGSS SENIOR RESEARCH PRESENTATIONS
Friday, May 7th, 2021 | 12PM (EST) | via Zoom
CHRISTINA CROSBY'S MEMORIAL GATHERING
Saturday, May 15th, 2021 | 11AM (EST) | via Zoom Meeting ID 953 0944 2444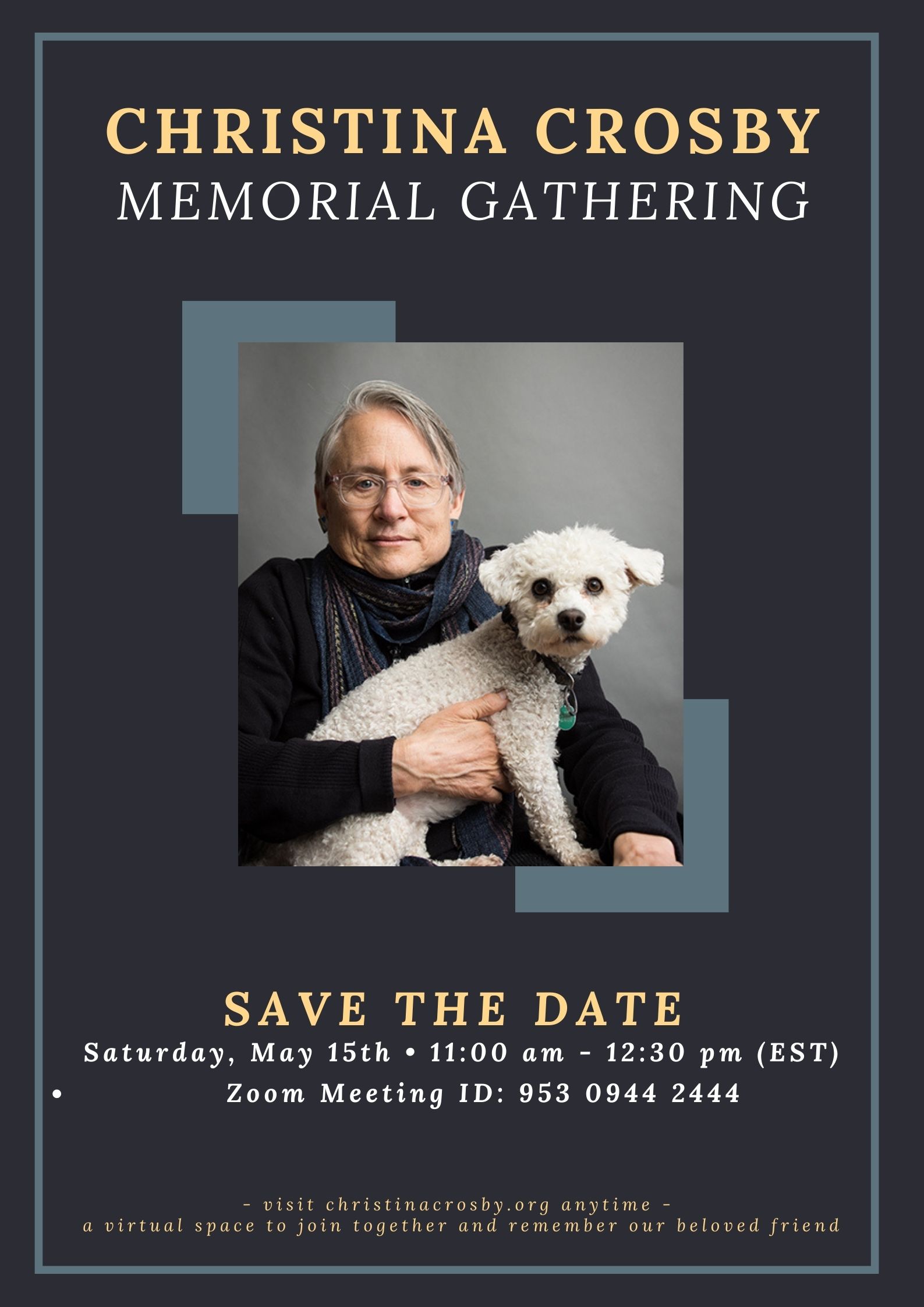 A fund has been created in FGSS in memory of Christina Crosby. To make a donation to the FGSS Crosby Fund please go to  https://www.givecampus.com/campaigns/15700/donations/new, and follow these steps:

Under Designation, choose "Other" in the dropdown menu,

then type in "FGSS Crosby Fund" where it asks where you would like to direct your gift.
---
Fall 2020 Events
FALL OPEN HOUSE FOR PROSPECTIVE MAJORS
Friday, November 6th, 2020 | 12PM - 1PM (EST) | via Zoom
FGSS FALL SYMPOSIUM, Access, Aesthetics, and Activism. 
Friday, November 13, 2020 | 5PM (EST) | via Zoom
This year, the Feminist, Gender, & Sexuality Studies Program's Fall Symposium welcomes Alice Sheppard, dancer, choreographer, and founder of the disability arts ensemble Kinetic Light, and Moya Bailey, Assistant Professor of Africana Studies and Women's, Gender, & Sexuality Studies at Northeastern University.
In her "Intersectional Disability Arts Manifesto," Sheppard writes, "Disability is more than the deficit of diagnosis. It is an aesthetic, a series of intersecting cultures, and a creative force. I hold myself accountable to the lives and loves from this definition of disability."[1] As Kinetic Light's members explain, "Access is a central part of the art and our creative process," which unfolds through "rigorous investment in the histories, cultures, and artistic work of disabled people and people of color."[2]
Bailey approaches access and intersectionality through activism, critical interventions into fields like Digital Humanities, and fostering conversations between Black Feminism and Disability Studies. As Bailey and co-author Izetta Autumn Mobley insist in their article "Work in the Intersections," "When disability is more seriously regarded within Black Studies, race within Disability Studies, and gender in both, there are an infinite number of revolutions that a Black feminist disability framework can help bring about."[3] 
Through the constellation access, aesthetics, and activism, the Symposium aims to foster a space for thinking in concert the revolutionary possibilities that intersectional disability arts and intersectional disability studies imagine and engender.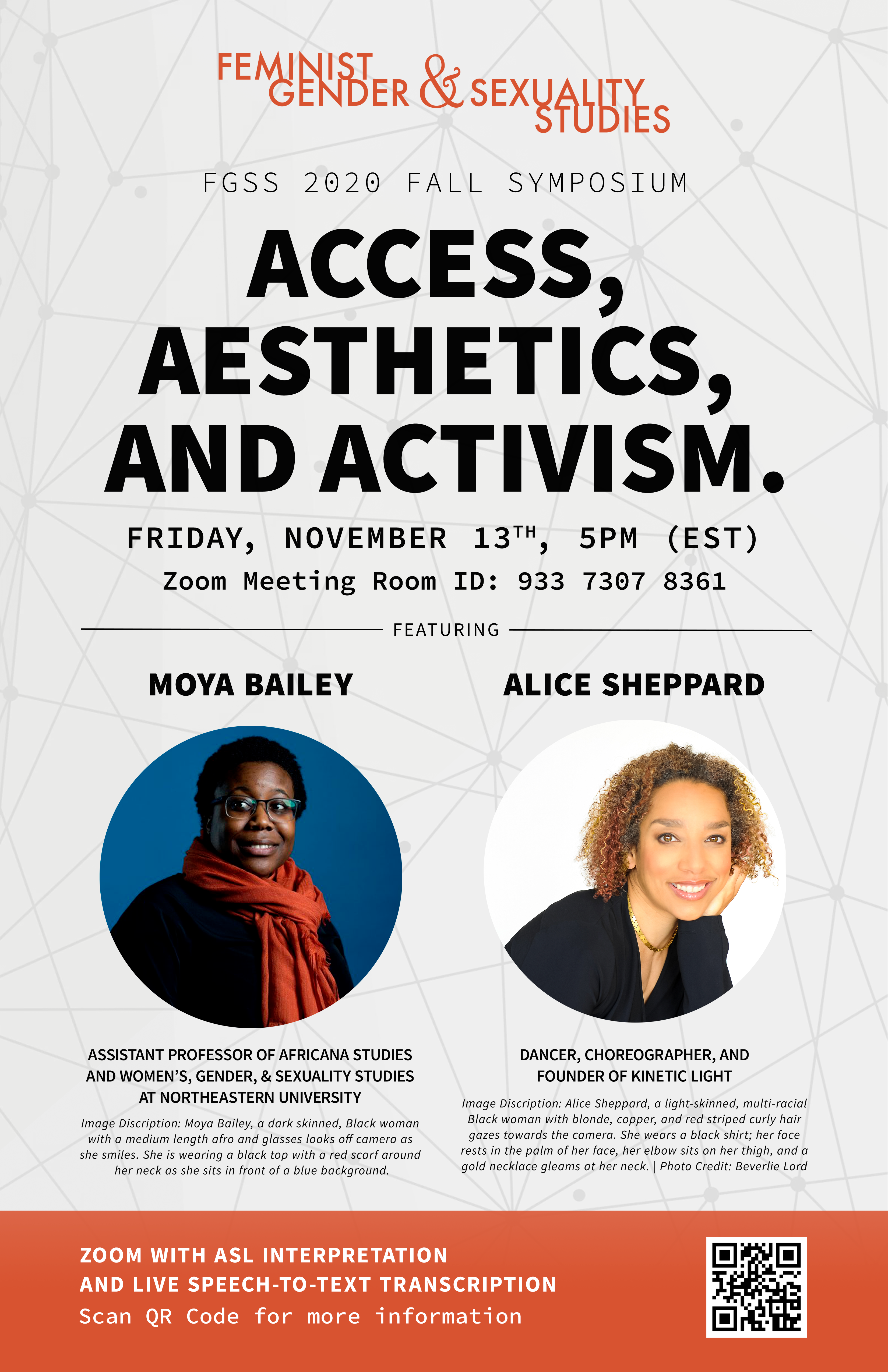 [1] Alice Sheppard, https://alicesheppard.com/intersectional-disability-arts-manifesto/.
[2] Kinetic Light, "About," https://kineticlight.org/about.
[3] Moya Bailey and Izetta Autumn Mobley, "Work in the Intersections: A Black Feminist Disability Framework," Gender & Society 33, no. 1 (Feb. 2019): 19-40 (35).
Signature Events:
Symposia Sponsored by FGSS Department (click to learn more)