Parents Fund
The Parents Fund is an important part of the overall Wesleyan Annual Fund. A vital source of unrestricted support, it is the vehicle for contributions by parents and other family members to the day-to-day life of students at Wesleyan.
For more information, please contact Meg Zocco, director of parent development, at mzocco@wesleyan.edu or (860) 685-2799.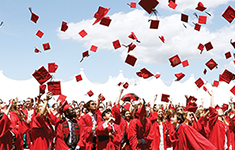 One way to honor your graduating senior's achievements, while helping to make a Wesleyan education accessible to a future student, is to make a gift to the Class of 2021 Scholarship. This year's Senior Parent Gift seeks to raise $200,000 to create the Class of 2021 Scholarship that will fund a student for four years at Wesleyan. Parents and other family members may designate their gift in honor of their graduating senior, a special faculty or staff member, a coach, or other influential mentor.
Join in this effort by making your gift today.