How to Self-submit Your Content to Digital Collections
Go to Digital Collections and click Login (in the top right corner).
You will be prompted to sign in using your Wesleyan Single Sign On and then returned to the Digital Collections page.
After logging in, you can access the self-submit form at https://digitalcollections.wesleyan.edu/self-submit. If you do not have access to this form, email wesscholar@wesleyan.edu to be added.
Either:

Check the box to "Submit using DOI." Paste in a full DOI (ex. https://doi.org/10.1097/JCP.0000000000001610) to pull in descriptive information. This method is recommended if you have a DOI from your publisher.
OR click "Next" to enter descriptive information manually.
Select the option that is right for you.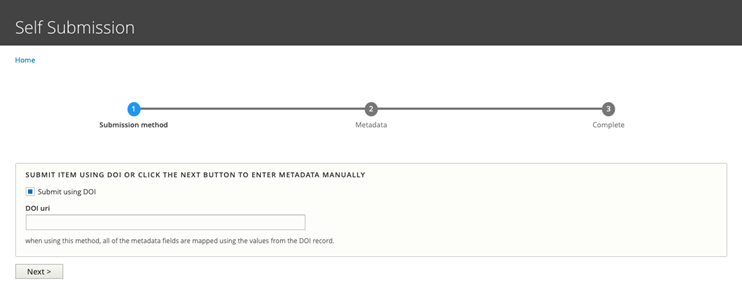 After the fields are auto-populated by the DOI or have been entered by you, make sure to Select your Home Collection, add your Files, Confirm permission to upload, and click the Submit button to complete the submission process.
WesScholar managers will also be notified of the submission. They will confirm that sufficient and accurate information has been provided, and then add the work to Digital Collections. Usually this will happen within 5 business days, but it may sometimes take longer.