Biography of Michael S. Roth
Michael S. Roth '78 became the 16th president of Wesleyan University on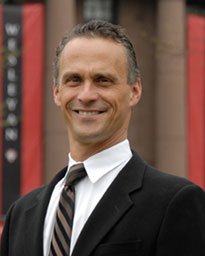 July 1,2007. Formerly president of California College of the Arts, Roth is known as a historian, curator and author.
A professor in history and the humanities since 1983, Roth was the founding director of the Scripps College Humanities Institute in Claremont, CA, a center for intellectual exchange across disciplines. He developed a reputation for his scholarly leadership in the arts community as associate director of the Getty Research Institute in Los Angeles, and for enhancing the academic excellence, national reputation and financial strength of California College of the Arts.
Roth describes his scholarly interests as centered on "how people make sense of the past." He has authored four books: Psycho-Analysis as History: Negation and Freedom in Freud (Cornell University Press, 1987, 1995); Knowing and History: Appropriations of Hegel in Twentieth Century France (Cornell, 1988); The Ironist's Cage: Trauma, Memory and the Construction of History (Columbia University Press, 1995), and Irresistible Decay: Ruins Reclaimed, with Clare Lyons and Charles Merewether (Getty Research Institute, 1997). Roth curated an exhibition entitled Sigmund Freud: Conflict and Culture for the Library of Congress, which attracted praise for its balanced and wide-ranging view of Freud's intellectual and cultural heritage when it opened in 1998. The exhibit traveled internationally in subsequent years. Roth's most recent co-edited volumes are Looking for Los Angeles: Architecture, Film, Photography and the Urban Landscape and Disturbing Remains: Memory, History, and Crisis in the Twentieth Century (both Getty Research Institute, 2001). In recent years, Roth has published essays and book reviews in such publications as the San Francisco Chronicle, the Los Angeles Times, Book Forum, Rethinking History, and Wesleyan's History and Theory.
A native of Brooklyn, NY, and in the first generation of his family to attend college, Roth entered Wesleyan in the fall of 1975. He designed a university major in "history of psychological theory" and wrote a thesis titled Freud and Revolution, which began the exploration that would become his first book and the basis of the Library of Congress exhibition. He completed his undergraduate studies in three years, graduating summa cum laude and Phi Beta Kappa, and went on to earn his doctorate in history at Princeton University in 1984.
Roth began his teaching career at Scripps College and Claremont Graduate School in 1983, where he became Hartley Burr Alexander Professor of the Humanities in 1989. He was also the director of European Studies at the Claremont Graduate University, where he helped to found the Ph.D. program in Cultural Studies.
In 1994, Roth was invited to participate as a visiting scholar in the Getty Research Institute's year on memory. Two years later, he was asked to lead the scholars and seminars program at the Getty. Roth focused research around such topics as the history, architecture and arts of Los Angeles and built partnerships with cultural organizations in the East and South Central sections of the city, as well as with international centers of research. In 1997, Roth became associate director of the Getty Research Institute and focused his energies on making the institute a producer and disseminator of scholarship. While at the Getty, Roth curated the Library of Congress exhibition on Freud, as well as another on ruins, Irresistible Decay, as part of the opening of the Getty Museum.
At CCA - a San Francisco Bay Area institution devoted to fine arts, architecture, design and writing - Roth led an effort to revise the school's curriculum to emphasize interdisciplinary work and liberal learning. The school added new academic programs, including undergraduate degrees in community arts, creative writing, visual studies and animation, as well as masters programs in curatorial practice, visual criticism, design, writing and architecture. Roth developed and raised funds to support a Center for Art and Public Life, which fosters community partnerships in the San Francisco Bay area and models ways art can benefit underserved urban neighborhoods and their schools. Similarly, he strengthened the CCA Wattis Institute for Contemporary Arts, which has developed an international reputation for its exhibitions and public programs.