15th Reunion Class of 2004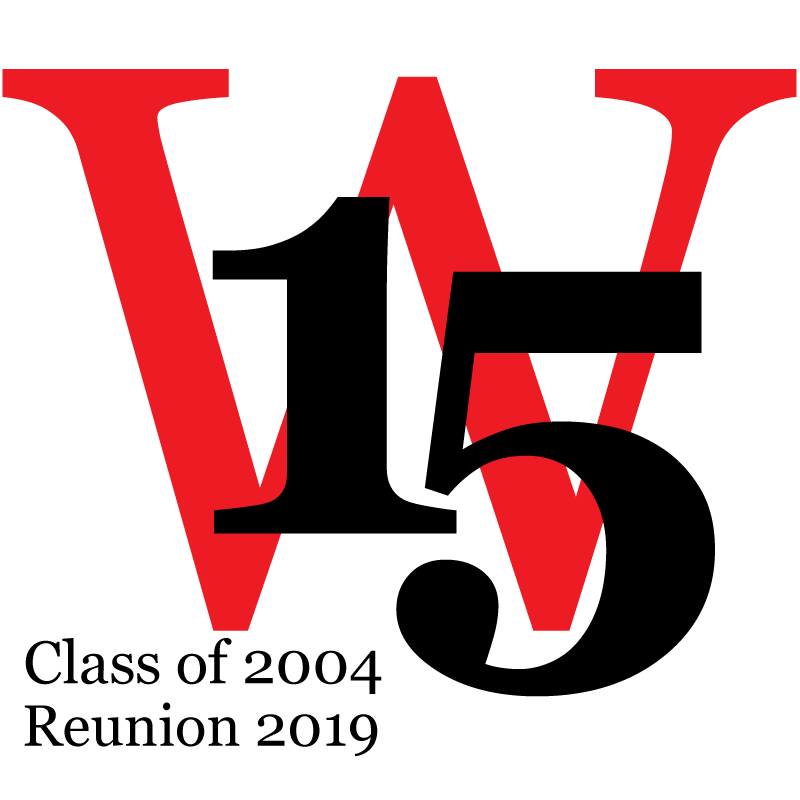 Mark your calendar! Our 15th reunion is May 23-26, 2019. REGISTER NOW.
Reunion Committee Members
Inam Ahmed
Alyssa Boffoli
Benson Gillespie
Mosah Goodman
Vanessa Guida
Mary Allerton Livingston
Raven Maldonado-Brown
Brian McKenna
Jenina Nunez
Mariah Reisner
Meeghan Ward
15th REUNION CLASS GIFT
Classes celebrating their 15th Reunion have the opportunity to continue the tradition of leaving a legacy through their philanthropic commitments to Wesleyan. The 15th Reunion Class Gift is unique, counting all Wesleyan Annual Fund and Capital Gifts during the four years leading up to Reunion, during your 15th
Reunion year, and pledges made for the four years after—a total of 9 years of gifts and pledges.
Classmates may also have a larger impact with a multi-year comprehensive gift through outright gifts of cash or stock, charitable gift annuities, and planned gifts. To learn more about your 15th Reunion giving options, please contact your Class Liaison, Matt Glasz at mglasz@wesleyan.edu or (860) 685-3231.
Please see the 15th Reunion Class fundraising pyramid here.
Events
Thursday, May 23, 2019
Friday, May 24, 2019
Saturday, May 25, 2019
Sunday, May 26, 2019
Accommodations
Residence Inn by Marriott, Rocky Hill
860-257-7500
Rate: $209-$299/night
Block cutoff date: 5/2/19
Please either call the hotel directly at the number above or make your reservation online using this special link for Wesleyan alumni.
Class Notes

Please send new notes to the Class Secretary.
Your contact information

Be sure to update your contact information so that your classmates can get in touch. 
Staff Contact
Staff contact information can be found
here
.