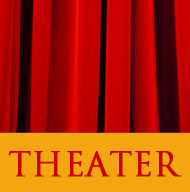 Video Clips
Wes Out-Loud
This is a condensed video of the Wes Out-Loud production.
http://video.wesleyan.edu/videos/video/5128449441001
Wes Out-Loud is one-and-one-half mile walking loop through different campus locations. Conceived and created for the Wesleyan campus through the collaboration between theater students and Assistant Professor of Theater Marcela Oteíza. Presented by the Theater Department.
The stories of Wes Out-Loud contain mature content.
For more information and photos, visit the event page.

Writer/Director Rinde Eckert discusses his new work, The Last Days of the Old Wild Boy."
Theater major Sarah Wolfe '12 speaks about her college experience.

The making of The Great God Brown, fall 2011
Student actors speak about their experience making
Doctor Faustus Lights the Lights
, spring 2012