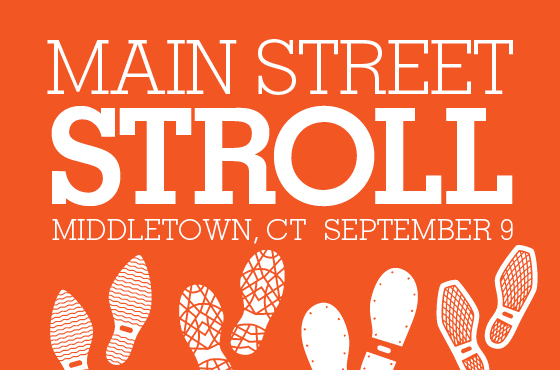 Main Street Stroll
Saturday, September 9, 2017 at 10:00am
Various locations on Main Street, Middletown
FREE!
Stroll between Wesleyan's campus and Middletown's Main Street to enjoy two festive events in one day.

A family-friendly celebration of Middletown's Main Street and the new Wesleyan RJ Julia Bookstore, the Main Street Stroll will feature music, street performers, specialty workshops, free admission at Kidcity Children's Museum, and much more from 10am to 4pm.

Click here to join this event on Facebook. Scroll down for details on open houses, workshops, and activiites!

Inspired by Fete de la Musique (also known as World Music Day), the sixth annual The MASH festival highlights Wesleyan's student music scene, with multiple stages on campus featuring everything from a cappella ensembles to student, faculty, and alumni bands.

Made possible by the City of Middletown, The Andrew W. Mellon Foundation, Middletown Downtown Business District, and Wesleyan University
WELCOME TO MAIN STREET STROLL!
Below is an evolving list of performers, workshops, activities, craft stations and more (last updated August 11th). This list will be updated regularly as the festival nears and we confirm participants.  On September 9th, a map and schedule will be available online and in print, so you can plot an exciting route for your own Stroll.
MUSIC
Alastair Moock
10-10:30am and 12-12:30pm on Holy Trinity Church Lawn
Alastair Moock is a 2013 GRAMMY Nominee and two-time Parents' Choice Gold Medal Winner. The New York Times calls him "a Tom Waits for kids" and The Boston Globe declares that, "in the footsteps of Pete Seeger and Woody Guthrie, Alastair Moock makes real kids music that parents can actually enjoy." Moock and Friends' live shows are rowdy, rootsy, singin' and dancin' fun for the whole family!
Jocelyn Pleasant and Medusa, with Corey Hutchins
11am-12pm on Holy Trinity Church Lawn
Polly Fiveash and Anand Nayak
11-11:45am at Wesleyan RJ Julia Bookstore  Polly Fiveash (Wes '98) & Anand Nayak (Wes '96) have been making music together ever since they started in the stairwells of Butterfield more than 20 years ago. Their songs are deceptively simple, often blending the sublime and the ridiculous. Anand's spare guitar arrangements and harmony frame Polly's achingly beautiful lyrics and voice.
Anitra Brooks
12-12:45pm at Wesleyan RJ Julia Bookstore  In delivering her truthful, courageous original songs, Anitra Brooks' warm, resonant contralto ranges from ethereal and tantalizing to soulful and grounded. The Connecticut-based singer-songwriter accompanies herself on ukulele and piano, blending pop, jazz, folk and blues with a side of reggae and Latin. Her music - which often comes to her while she is dreaming - is infused with inspiration drawn from some of her favorite artists:  Lila Downs, Lhasa de Sela, Bjork, Ozomatli, Peter Gabriel, Esthero, D'Angelo, and Prince. www.anitrabrooksmusic.com
Main Street Brass Band Parade with The Funky Dawgz
12:30-1pm, beginning and ending at Holy Trinity Church Lawn  Join The Funky Dawgz Brass Band and your fellow Strollers for a short sidewalk parade up one side of Main Street and down the other! Don't be shy — bring your own trumpet, guitar, kazoo, shaker, and/or dancing feet, and help us celebrate Middletown!
Chamber music with Nadya Potemkina
1-1:30pm at Wesleyan RJ Julia Bookstore Violist Nadya Potemkina directs the Wesleyan Orchestra and Concert Choir; for this short program of classical music, she is joined by Wesleyan student instrumentalists.
Funky Dawgz Brass Band
1-1:45pm on Holy Trinity Church Lawn   Born at UConn, based in NYC, and with a trombonist (Marvin McNeill) beginning a PhD program at Wesleyan this fall, The Funky Dawgz are here to help Middletown party down! This internationally-touring 10-piece band plays a contagious mix of traditional New Orleans R&B, original music, hip hop, funk, and current hits with a brass twist. www.funkydawgzbrassband.com
Songwriting with Jess Best (workshop)
12:30-2pm at The Buttonwood Tree. Join Jess Best (Wes '14) as she breaks down her songwriting process, showing the progression from the first seed of a song idea to a full-band arrangement. In this fun and interactive workshop, Jess will share some of the tools she and her bandmates use in their songwriting process, as well as do a group improvisation. Don't miss her performance on Wesleyan's Foss Hill at 6:30 pm!  
Jess Best is a NYC-based vocalist and songwriter who tells stories through sound and emotion. Her recent release, Saturday, is deeply rooted in soul and r&b while also fearlessly jumping into the pop end of the pool.
Holy Trinity Church Praise Band
2-2:45 pm on Holy Trinity Church Lawn
The Coffeehouse Sessions
2-4pm at The Coffeehouse Recording Studio
Jazz Jam hosted by Noah Baerman (workshop)
2:30-4pm at The Buttonwood Tree  Have you always wished you could play with a great jazz combo? Here's your chance! Bring your voice and/or your instrument to The Buttonwood Tree to jam with Noah Baerman (piano), Becket Cerny (drums) and Connor Schultze (bass). Come with song or two to play (and chord chart or lead sheet to share), or just come to listen.
Noah Baerman is a Jazz pianist, composer, educator, author and activist. He has released nine albums as a bandleader and ten music instructional book. He is founding Artistic Director of the non-profit Resonant Motion and director of the Wesleyan Jazz Ensemble. Becket Cerny is a drummer-percussionist, composer and educator from Los Angeles; he studies ethnomusicology at Wesleyan University and performs with various student ensembles on campus.  Connor Schultze is a New York CIty-based bassist, guitarist, songwriter, and producer. A graduate of Manhattan School of Music's jazz program, he also performs with Jess Best, who is headlining The MASH festival on September 9th on Wesleyan campus.
WORKSHOPS, DEMOS, ACTIVITIES, OPEN HOUSES  
(Listed in Alphabetical order by location)
Amato's Toy and Hobby (395 Main)
12-2pm: TrainLand Display 
Swing by Amato's toy store to check out their exhibit of toy trains old and new. The display features trains from the personal collection of founder and owner Vincent Amato, as well as newer models. While you're there, take advantage of the chance to browse all that this unique toy store has to offer!

  
Board Room (514 Main)
2-4pm: Free board games!  
Let the games begin! Test your luck (and skill) on the Board Room's library of hundreds of new and classic board games. Food and drink are also available for purchase.
Community Health Center, Inc. Rooftop Garden (675 Main)  
10-4:00: Open House  
When Community Health Center, Inc. designed its new building in Middletown, it added a roof garden to absorb water runoff, cool the building, and provide educational opportunities for students and visitors. Catch this rare opportunity to enjoy the peace, quiet and beauty of this spectacular green space and snap a selfie with the Arrigoni Bridge!
11am-12:30 pm: Herb Gardening in Small Spaces (workshop)
 Join Ben Davies from MARC Community Resources to learn about growing herb gardens in small spaces, how to use herbs, and their importance; plant and take home an herb of your choice. MARC: Community Resources empowers people with Intellectual and Developmental Disabilities (I/DD) to make their own life choices and aid in the fulfillment of their dreams through employment, housing, social, and community involvement and advocacy; they have been gardening on the CHC roof since 2013.
Family Wellness Center (635 Main)
10-12:30: Face Painting  
Drop in to Family Wellness Center for free face painting with Ana Ughetti — and find out about the free playgroups, support groups, parenting classes and children's activities offered year round here by Community Health Center, Inc.
It's Only Natural Market (575 Main)  
10am-2pm: North End Farmers' Market
This special Saturday farmers' market features Wesleyan's Long Lane Farm, Forest City Farms, and other vendors, with acoustic music from Wesleyan student musicians.
Kidcity Children's Museum (119 Washington)
9am-5pm: Open House with FREE admission all day
Middletown's renowned Kidcity Children's Museum offers three floors of imagination play for kids age 1 to 7 and their favorite grownups. 
Ladybug Boutique (122 College)
12-3pm: Live music and book signing
Drop by Ladybug Boutique to enjoy the original songs and adventurous covers of singer/songwriters Dave Downs (Middletown Music Ambassador) and Danielle Krieger (Wes '19). Middletown author Elizabeth Lupaccino will be signing copies of her book, Food for the Soul: Daily Meditations for a Month of Transformation, for sale at the boutique. Light drinks and snacks will be served.
Mac 650 (650 Main)
10-4pm: Drawing in the Gallery  
Calling artists of all ages! Mac650 hosts still-life drawing from 10-4pm, and live (costumed) figure drawing from 1-4pm. Pencils and paper are provided; feel free to bring your own charcoal or other art supplies.  MAC650 is an art gallery and performance space owned and operated by members of the North End Artist Cooperative, who are all working artists.  www.mac650.com


Middletown Fire Department Headquarters (533 Main)
1-4pm: Firehouse Tours  
Visit the Middletown Fire Department's Headquarters to catch a tour of the station, meet the firefighters on duty, and learn about the vehicles used for different emergency situations. Very child-friendly!


Middlesex Historical Society (151 Main)  
1-4pm: Open House  
Visit Middlesex Historical Society for free entry to A Vanished Port: Middletown & the Caribbean, 1750-1824. The exhibit showcases the luxurious life of merchants and sea captains in early Middletown through furniture and decorative art collections, and explores how Middletown's prosperity rested on the suffering of enslaved workers in the sugar monoculture of the English Caribbean.

Oddfellows Playhouse (128 Washington)
10am-2pm: Open House and Circus Arts Demos 
Since 1975, Connecticut's largest year-round youth theater has offered engaging, accessible, multicultural performing arts programming that builds skills, encourages creativity, and strengthens community. Swing by for a tour led by Oddfellows' Young Artists Council; meet their fall teaching team; try on a circus costume, and test your skills at juggling, diablo, hula hooping and more! www.oddfellows.org
O'Rourkes Diner  (151 Main)
2:30-3:30pm: Tea & Town Talk in the Garden
Join proprietor Brian O'Rourke for Irish tea, fresh scones, and an hour of "Town Talk" with Middletown old-timers and Wesleyan alums in O'Rourke's Diner garden. Bring your stories and curiosity about Middletown's past!
Parade Prep Headquarters (420 Main)
10am-12:30 pm: Free Crafts! Decorate a Hat, Paint a Parasol, Make a Wooden Harmonica  
GPlanning to stroll in our sidewalk parade at 12:30? The headquarters is stocked with free and fabulous art supplies, so you can make your own hats, parasols, funky foot parade signs, and harmonicas and stroll in style!  
Pedal Power (359 Main)
9-10am Community Bike Ride
Meet in front of Pedal Power at 9am for a relaxing ride across town and along the Connecticut River. Just a few minutes from the bustle of our lovely downtown, we'll be on River Road, pedaling through one of the many green wooded areas of central CT and keeping our eyes out for eagles and osprey.  Our speed is the relaxed pace of the slowest rider, and the route is "out and back," so you can always turn around if you find it too challenging. Children under 16 are welcome with an accompanying adult. Helmets are required.

Riverwalk Arcade
10am-2pm: Sidewalk Chalk Art with Middletown Recreation and Community Services  
Join Middletown Recreation and Community Services in decorating our city streets! The Recreation and Community Services Department enhances the quality of life for all Middletown residents with regard to recreational, athletic, leisure, and senior services. Chalk will be available at the Riverwalk, so come on down and make your mark.

St. Vincent De Paul Soup Kitchen (617 Main)
2-4pm: Open House for Abby Carter portrait gallery  
St. Vincent de Paul hosts a spectacular gallery of artwork that most Middletown residents never see: more than 200 sketches of soup kitchen guests by renowned children's book illustrator Abby Carter. Carter is Artist-in-Residence at SVP, where she encourages guests to create their own work — and offers to draw their portraits. The response has been tremendous, and the resulting gallery is a beautiful, moving celebration of the St. Vincent de Paul community. Assistant Director for Community Services, Lydia Brewster, will offer tours, and light refreshments will be served.

Tschudin Chocolates & Confections  (100 Riverview Center)
11am-4pm: Chocolate-making demonstrations

Vinnie's Jump and Jive (424 Main)
10am-5pm: Dance Class Demos  Middletown's own community dance studio offers a full day of dance class demos! No experience needed — just drop in for a half hour of belly dancing, salsa, swing, B-boy/b-girl, hip hop, line dancing, and more. Vinnies' motto is "All kinds of dance. All kinds of people." Don't be shy — that means YOU! www.vinniesjumpandjive.com.

Wesleyan RJ Julia Bookstore (413 Main)
10:30-11:00 pm: Children's Story Hour
2-3:30pm: Author Talk Featuring Anthony Renzoni, author of Connecticut Rock n' Roll: A History  Find Tony Renzoni at RJ Julia Bookstore to learn about rock n' roll in Connecticut, including the Highwaymen folk group that came together as freshman at Wesleyan! Long neglected in the annals of American music, the Nutmeg State's influence on the history of rock'n'roll deserves recognition.  A graduate of Sacred Heart University, Tony Renzoni is a rock 'n' roll enthusiast and an avid collector of rock memorabilia, amassing a record collection of over ten thousand vinyl records. With in-depth interviews as well as rare, never-before-seen photos, Renzoni leads a sonic trip that captures the spirit and zenith of the local scene.

WESU Radio Station (45 Broad)
11am-1pm: Radio Station Tours  Middletown's community/college radio station will be open for tours from 11am-1pm. This beloved local radio station serves our community with an eclectic range of music, political engagement, and opportunities to learn about radio production through practice. Speakers outside the studios let you listen to 88.1, so enjoy music while you wait (the station is small, so tours take 5-6 people at a time.

Yoga in Middletown (438 Main)
1-2:30 pm: "Ask a Yoga Expert" with Sandra Koppell  Curious about yoga? Stop by to learn more! Studio owner and instructor Sandra Kopell will answer questions in an informal group setting about ways your skeletal alignment can be improved through yoga to benefit your overall health (please note: this is not medical advice). Questions about yoga history and philosophy are welcome, as well. No yoga experience is necessary, but do wear stretchy, comfortable, clothes if you would like to try some poses.   Sandra Kopell, E-RYT, M.A.L.S.. has been teaching yoga since 1991, and practicing yoga since 1985. She is a graduate of the B. K. S. Iyengar Teacher Training Program of Greater Boston and holds an M.A.L.S. From Wesleyan University in Dance and Movement Studies.  http://yogainmiddletown.com/
Other cool things to check out downtown on September 9th (requiring admission)
Middlesex Historical Society (151 Main)  
10am-12:30pm: Civil War Preservation March  Saturday morning, members of Company G of the 14th Regiment Connecticut Volunteer Infantry will march through Middletown with the Civil War Preservation March. You are invited to join the march and learn about Middletown's Civil War history along the way. March begins at the General Joseph Mansfield House, 151 Main Street, and ends at the grave of General Mansfield in Indian Hill Cemetery, 383 Washington Street. Admission is $10.
A World of Arts in the Heart of Connecticut