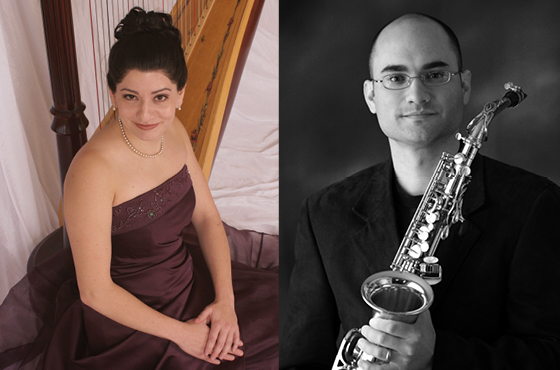 Megan Sesma with Joshua Thomas: French and Modern Masters
Sunday, February 18, 2018 at 3:00pm
The Russell House
FREE!
Wesleyan Private Lessons Teacher and Principal Harpist with the United States Coast Guard Band Megan Sesma returns to The Russell House with her Coast Guard Band colleague and saxophonist Dr. Joshua Thomas, a Conn-Selmer artist. The duo's performance will feature the world premiere of the second movement of Daniel Morel's "Old Farmer's Almanac: 1855" for solo harp; plus works by Bernard Andres, Maurice Ravel, John Plant, Astor Piazzolla, Camille Saint-Saëns, Marcel Tournier, Alan Hovhaness, and Claude Debussy. Ms. Sesma has shared the stage with contemporary and popular music artists such as Quincy Jones, Herbie Hancock, Diana Krall, and Dianne Reeves.
A World of Arts in the Heart of Connecticut