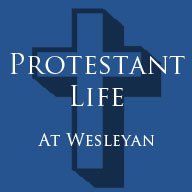 FAQs
What is the population of Protestant students at Wesleyan?

As of the beginning of the academic year 2010-11, of the 2,991 undergraduate students attending Wesleyan, 300 are self identified Protestants, which represents thirty-three percent of the five major religions on campus [Buddhism (45), Christianity (475; Catholic 175; Protestant 300), Hinduism (19), Islam (34) and Judaism (333)] and twenty-five percent of all religions. (Source—students self identified upon admissions.)

What does Protestant mean?

There are various thoughts regarding the meaning of Protestant. A simplified definition of Protestant is—a member or follower of any of several denominations or nondenominational churches not adherent to the Catholic or Orthodox Church.  Protestant Christians typically affirm the Reformation doctrines of justification by faith and not through works, the priesthood of all believers, and the primacy of the Bible as the ultimate source in matters of faith and order. Some of the Protestant denominations represented at Wesleyan as identified by students include Baptist, Church of Christ, Congregational, Episcopalian, Lutheran, Methodist, Presbyterian, and Nondenominational.

Is there a traditional Protestant Worship service on campus?

Although there is not a traditional weekly Protestant worship service on campus, there is an ecumenical Christian gathering that is held on Sundays at 5pm in the Office of Religious and Spiritual Life (169 High Street) when classes are in session.  There is Scripture, prayer, and an activity or discussion related to Scripture, and dinner is served.  This gathering is a safe, sacred place to experience the Holy and to fellowship with one another.  We have special services on campus for occasions such as Ash Wednesday, Good Friday, Christmas, and Easter.

How do I become a worship leader in a worship service?

Student involvement in our weekly gatherings and special services is deeply valued. Please contact Rev. Tracy regarding your interest in becoming a member of the Praise and Worship Team, Liturgical Dance Ministry, Reader, Greeter, and/or Chapel Musician.

What other Protestant campus ministries might I become involved?

Other ministries you might consider are community service projects and the Intervarsity Gulf Coast mission trip. There are many opportunities available through the Protestant student groups and the Protestant Chaplain. See the Protestant Chaplain or a student leader for more details or send an e-mail describing your interest.

Are there area churches I can attend?

Yes, there are several churches of diverse denominations in Middletown and the surrounding area. A list is available in the Protestant Chaplain's office. Some churches provide transportation.

Where is the Protestant Chaplain's office?

169 High Street, 2nd floor, room 209.

Does the Protestant Chaplain have regular office hours?

Rev. Tracy is part-time and is normally on campus Mondays, Tuesdays, Thursdays, and Sundays.  Feel free to drop in to chat or make an appointment.  She can be reached at x2277 or tmehrmuska(at)wesleyan.edu. Her office hours are Tuesdays from 2:00-3:00pm and Thursdays from 10:30-11:30am.

Does the Protestant Chaplain provide counseling?

The Protestant Chaplain is available to serve the pastoral and spiritual needs of students, faculty and staff on-campus. Both Wesleyan students and employees have sought counseling for family, relationship, health, moral behavior, financial issues, stress management, vocational discernment, spiritual formation, crisis, grief and emotional support. Conversations with the chaplain are confidential and done with compassionate listening in a supporting and encouraging environment.*

*If there is a clinical need, the chaplain refers students to the Office of Behavioral Health at 327 High Street (Davison Health Center). Faculty and staff in need of clinical counseling are referred to the Wesleyan Employee Assistance Program (EAP) provider, The Wellness Corporation, to see or speak with an EAP counselor.

What other services does the Protestant chaplain provide?

The Protestant Chaplain performs pre-marital counseling and officiates weddings for students, faculty, staff and those outside the Wesleyan community (particularly if Memorial Chapel is the venue for the nuptials).  The Protestant Chaplain is also available for baptisms, blessings, and other services to commemorate life events.

Does the Protestant Chaplain perform weddings?

Yes, the Protestant Chaplain performs pre-marital counseling and officiates weddings for students, faculty, staff and those outside the Wesleyan Community (particularly if Memorial Chapel is the venue for the nuptials). Please contact her via e-mail at tmehrmuska(at)wesleyan.edu for more information.