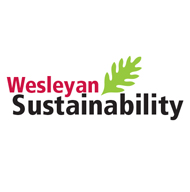 Welcome to Wesleyan Sustainability!
Wesleyan University has been actively promoting sustainability since the 1980s.  Through the efforts of the Wesleyan Sustainability Office, Sustainability Advisory Group (SAGES), and the campus community, Wesleyan has expanded its sustainability efforts, which now include include a climate action plan and many sustainability policies and projects. Please look through the links to the left to learn more about SAGES, the Sustainability Office, student involvement, and our specific initiatives: climate action, dining and food, engagement and events, energy, waste reduction, green building and grounds, transportation, purchasing, and water. 
What's New?
Eco Facilitators Program
The Eco Facilitators are here!  EFs are peer-to-peer sustainability educators who promote sustainable lifestyle habits on campus. EFs will enroll in a year-long seminar course designed to equip them with the tools to collaborate with first-year students to encourage these behavior changes.  The first class of 12 EFs are now in Clark, 200 Church, WestCo, Butterfield A, and Butterfield C.  Contact ecofacilitators@wesleyan.edu with questions about the program.
SAGES
The first SAGES meeting of the fall semester will be Monday, September 15th at 4:15 PM in Usdan 110.  Come to learn about the sustainability progress made over the summer, discuss the sustainability action plan, and get involved.  New members are always welcome!
Sustainability Action Plan
We are in the process of writing our first Sustainability Action Plan and are currently developing goals, objectives, and strategies in working groups.  A first draft will be complete by early 2015.