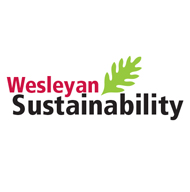 Welcome to Sustainability at Wesleyan!
Wesleyan University has been actively promoting sustainability since the 1980s.  Through the efforts of the Wesleyan Sustainability Office, Sustainability Advisory Group (SAGES), and the campus community, Wesleyan has expanded its sustainability efforts, which now include include a climate action plan and many sustainability policies and projects. Please look through the links to the left to learn more about SAGES, the Sustainability Office, Green Team, student involvement, and our specific initiatives: climate action, building and grounds, dining and food, engagement and events, energy, waste reduction, transportation, purchasing, and water. 
What's New
Waste Not
This year's Waste Not collections begin the week of May 11.  Visit our Waste Not page for more information on what we collect (hint: nearly everything!) and where to donate.
Composting
DeNeile Cooper '15 has created a new interactive composting map!
Dorm, Fauver Lo Rise, and Hi Rise residents: Please empty and return composting buckets to the UOC (190 High) by 5/16).  
Woodframe and Program House residents: Please empty compost buckets and leave by your back door before you leave campus.
Earth Month
Earth Month 2015 runs from March 30 - May 9.  View our complete schedule for updates!
Solarize Wesleyan
Wesleyan is one of six CT universities taking part in the Solarize U program to promote solar installations on faculty and staff homes. The next Solarize event will be at the Taste of Middletown on 4/29 if you have unanswered questions!
Eco-to-Go
Did you know that faculty and staff can now participate in Bon Appétit's Eco-to-Go program?   Eco-to-Go is available at Usdan and Summerfields dining halls. Employees who wish to join the program pay a one-time $5.00 fee to buy-in. Participants get an Eco-to-Go key chain when they sign up; this key chain can get swapped for a reusable container after a meal. Participants can bring back containers to be washed by Bon Appetit staff in exchange for a new container or a key chain to use at their next visit.
Recycling Change
Due to the Exley Science Center lobby renovation, the current recycling location for batteries, CDs, ink cartridges, and other recyclables has been temporarily removed.  A new lobby collection area will appear soon; in the meantime, visit the where we recycle page to learn how to recycle these and other non-conventional recyclables.
Energy Conservation Policy
Wesleyan has adopted a new policy to reduce energy use and costs and reduce our carbon footprint through adjusting building temperatures.
Sustainability Action Plan
Drafts of Wesleyan's first Sustainability Action Plan are complete.  The nine sections are currently being reviewed and will be open for public comment in early Fall 2015.