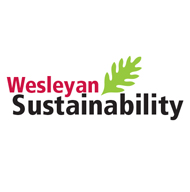 Welcome to Wesleyan Sustainability!
Wesleyan University has been actively promoting sustainability since the 1980s.  Through the efforts of the Wesleyan Sustainability Office, Sustainability Advisory Group (SAGES), and the campus community, Wesleyan has expanded its sustainability efforts, which now include include a climate action plan and many sustainability policies and projects. Please look through the links to the left to learn more about SAGES, the Sustainability Office, student involvement, and our specific initiatives: climate action, dining and food, engagement and events, energy, waste reduction, green building and grounds, transportation, purchasing, and water. 
What's New?
Earth Month 2014
Wesleyan is holding its second annual Earth Month this April 2014.  We hope to see you this month!
Waste Not
The Sustainability Interns are running the 6th annual Waste Not collection from May 12-26th to collect reusable items for donation and resale in the fall.  Visit the Waste Not page to learn more about what and where to donate.
Eco Facilitators Program
The Sustainability Office is launching the Eco Facilitators Program in Fall 2014 and have just hired our first class of 12 EFs!  Eco Facilitators (EFs) are peer-to-peer sustainability educators who promote sustainable lifestyle habits on campus. EFs will enroll in a year-long seminar course designed to equip them with the tools to collaborate with first-year students to encourage these behavior changes. 
Sustainability Action Plan
We are in the process of writing our first Sustainability Action Plan and are currently developing goals and strategies in working groups.  To join a working group or learn more, visit our SAP page.
STARS
In October, Wesleyan received a STARS (Sustainability Tracking, Assessment, and Rating System) Silver rating following our year-long evaluation, put out by AASHE (Association for the Advancement of Sustainability in Higher Education)!  We're proud of our efforts and are looking forward to using our STARS data to set new goals.  Learn more about what we're doing to promote sustainability on the STARS website and look for our first STARS Report this spring.