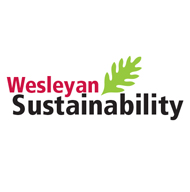 Welcome to Sustainability at Wesleyan!
Wesleyan University has been actively promoting sustainability since the 1980s.  Through the efforts of the Wesleyan Sustainability Office, Sustainability Advisory Group (SAGES), and the campus community, Wesleyan has expanded its sustainability efforts, which now include include a climate action plan and many sustainability policies and projects. Please look through the links to the left to learn more about SAGES, the Sustainability Office, Green Team, student involvement, and our specific initiatives: climate action, building and grounds, dining and food, engagement and events, energy, waste reduction, transportation, purchasing, and water. 
What's New
Apply to be an Eco Facilitator!
The Sustainability Office is looking for freshmen and sophomores to serve as Eco Facilitators!  Students will take a student forum in spring 2016 and then become Eco Facilitators for the 2016-17 school year.  Applications are due by 11:59 PM on Saturday, December 5th. 
Green Fund Grant Campaign
The student-run Green Fund is launching a campaign during November to solicit new funding proposals.  See the video below to learn more or apply here.
Sustainability Action Plan
Drafts of Wesleyan's first Sustainability Action Plan are complete. The sections are currently being reviewed and will be complete in Fall 2015.
New Recycling Stations
There are two new (bright green) recycling locations on campus!  One is in Exley lobby (near Pi Cafe) and the second is in Usdan (by the north entrance).  Both stations accept batteries, CDs, ink cartridges, string lights, CFLs, and other non-conventional recyclables.  To recycle other items, visit the where we recycle page.
Eco-to-Go
Did you know that all students, faculty, and staff can participate in Bon Appétit's Eco-to-Go program?   Eco-to-Go is available at Usdan and Summerfields dining halls. To join the program, pay a one-time $5.00 (5 point) fee. Participants get an Eco-to-Go key chain when they sign up; this key chain can get swapped for a reusable container after a meal. Participants can bring back containers to be washed by Bon Appetit staff in exchange for a new container or a key chain to use at their next visit.