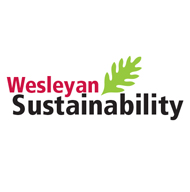 Welcome to Sustainability at Wesleyan!
Wesleyan University has been actively promoting sustainability since the 1980s.  Through the efforts of the Wesleyan Sustainability Office, Sustainability Advisory Group (SAGES), and the campus community, Wesleyan has expanded its sustainability efforts, which now include include a climate action plan and many sustainability policies and projects. Please look through the links to the left to learn more about SAGES, the Sustainability Office, student involvement, and our specific initiatives: climate action, dining and food, engagement and events, energy, waste reduction, green building and grounds, transportation, purchasing, and water. 
What's New?
Do It in the Dark starts 10/12
This year, DIITD is open to ALL student residences.  Learn more about the DIITD contest and the JouleBug app, which we'll be using to track data.
Eco Facilitators Program
The Eco Facilitators are here!  EFs are peer-to-peer sustainability educators who promote sustainable lifestyle habits on campus.  The first class of 11 EFs are now in Clark, 200 Church, WestCo, Butterfield A, and Butterfield C.  
Sustainability Action Plan
We are in the process of writing our first Sustainability Action Plan and are currently developing goals, objectives, and strategies in working groups.  A first draft will be complete by late 2014.
College Sustainability Map
Professor Mary Alice Haddad collaborated with Second Nature and the Harvard Center for Geographic Analysis to create the new College Sustainability Map, which compares greenhouse gas inventory information from Wesleyan and all other ACUPCC signatory schools.